Global Markets on Edge Over Fears Chinese Real Estate Company Will Collapse
Markets remain nervous about the future of China's heavily indebted Evergrande Group, despite being offered a sliver of relief by the property company's main subsidiary on Wednesday.
In a statement to the Shenzhen Stock Exchange, Hengda Real Estate Group said it would meet an interest payment of $35.9 million for a bond due on September 23. Hengda's filing added that the last-minute deal had been struck through "private negotiations," but did not offer more details.
This payment, however, represents only a tiny proportion of Evergrande's $300 billion in debt, accumulated through rapid expansion into various industries in China.
The group faces two more deadlines for interest payments in the next seven days, beginning with an overseas bond payment of $83.5 million, also due on Thursday, September 23. Another $47.5 million is due on September 29.
Evergrande—one of the country's largest property developers, responsible for creating nearly 4 million jobs a year—has yet to announce whether these payments will be made. It would be given a 30-day grace period to settle the interest or risk defaulting and filing for bankruptcy.
The uncertainty sparked protests by homeowners and investors outside the group's Shenzhen headquarters and at other regional offices last week.
Meanwhile, the months-long trend of Evergrande stock sell-off is continuing this week.
Before the demonstrations outside its offices last week, Evergrande said there was "no guarantee" that it would be able to pay its liabilities, having struggled to find buyers for its products and services.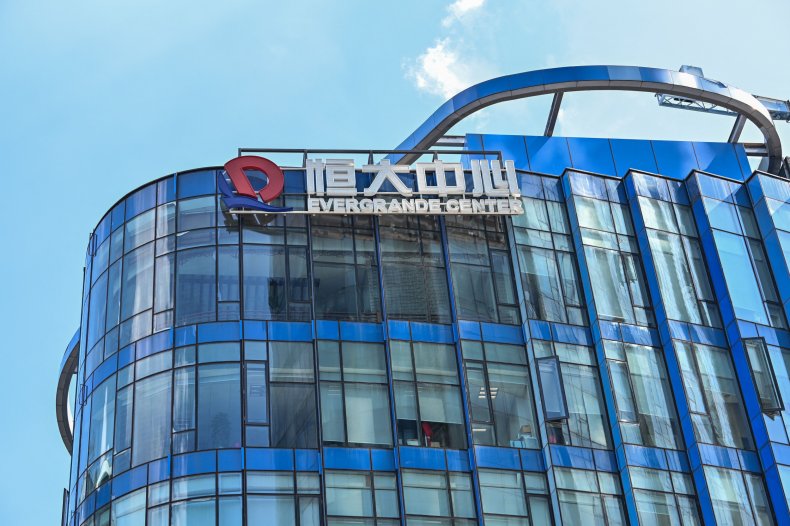 A Bloomberg report on Tuesday said the property titan had informed two Chinese banks the day before that it would not be able to make its interest payments on time.
In a letter to staff sent as China celebrated the mid-autumn festival holiday, the group's chairman Hui Ka Yan tried to rally morale by promising its 200,000 employees a solution.
"I firmly believe that with your concerted effort and hard work, Evergrande will walk out of its darkest moment, resume full-scale constructions as soon as possible," said the 62-year-old Hui, according to Reuters.
Some observers have described Evergrande's woes as China's "Lehman moment," predicting that a Lehman Brothers-style collapse could have a far-reaching impact on the world's second largest economy—sparking an economic slowdown or crash.
The fears also stem from the knowledge that China is the United States' largest trading partner and concerns that a downturn could affect American markets, too.
Other market watchers, however, do not believe a potential Evergrande default will have a global impact. Financial analysts are watching for the Chinese government's reaction and whether Beijing decides to bail out the flailing company.