Trump Mocks 'Good Old Global Warming' Amid US Winter Storm, Freezing Temperatures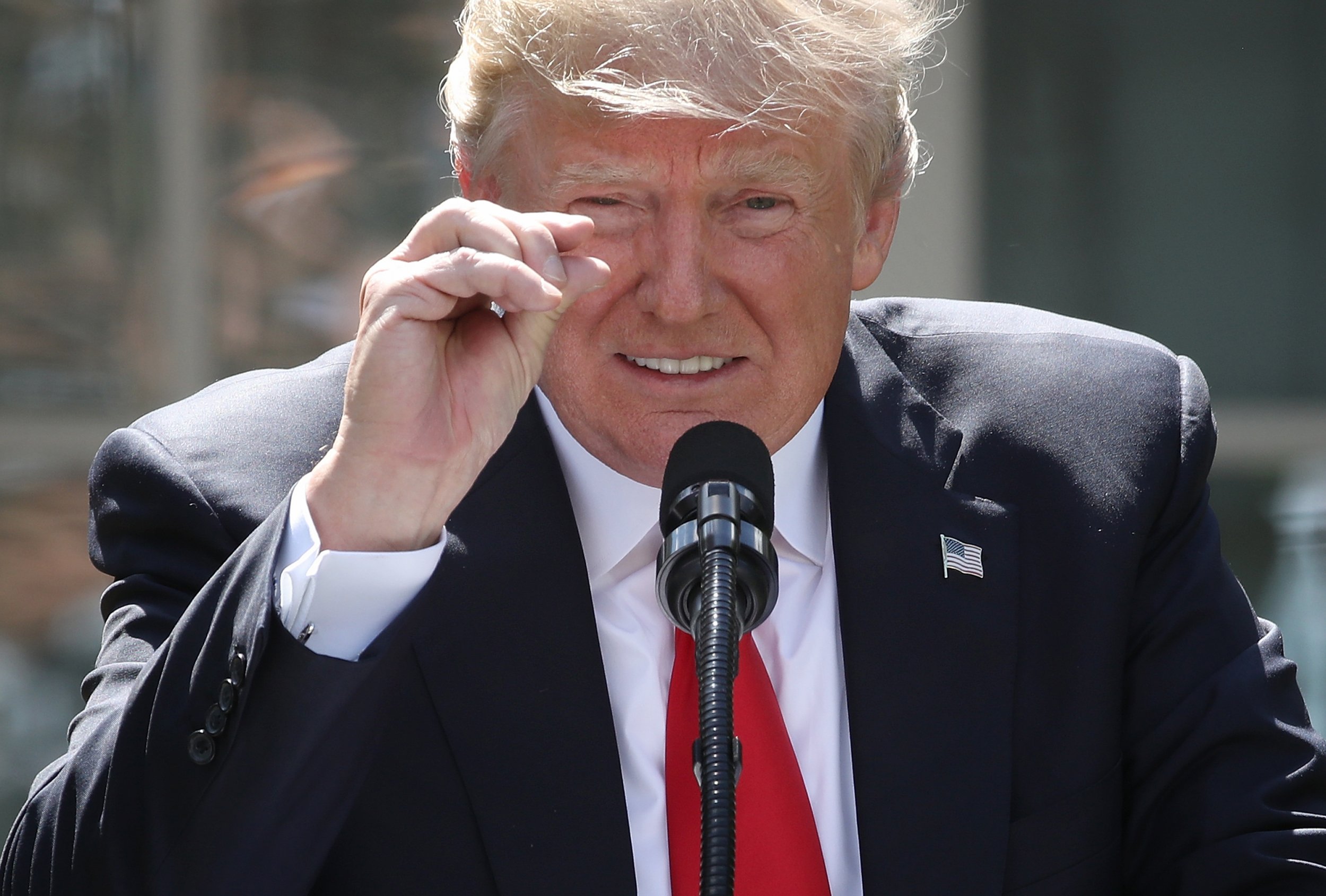 In an attempt to be either funny or ironic, President Donald Trump started his Sunday morning by launching into several Twitter rants, including a recycled joke to appeal to his base in which he compared a massive U.S. cold front and "global warming."
A major winter storm dropped Midwest temperatures to record lows this week and unloaded a barrage of blizzards and snow on the region as the wintry front now heads deeper into the East Coast and Northeast. This major storm caused by an Arctic high pressure system clashing with an Ohio Valley low pressure system prompted Trump to take a shot at Old Man Winter Sunday via tweet. Trump returned to a climate change-denying joke he has made frequently in the past, calling for some "good old fashioned Global Warming" to heat up the country in January.
"Be careful and try staying in your house. Large parts of the Country are suffering from tremendous amounts of snow and near record setting cold. Amazing how big this system is. Wouldn't be bad to have a little of that good old fashioned Global Warming right now!" Trump tweeted Sunday morning.
Several quick-witted commenters inquired whether Trump's proposed border wall could keep the winter weather out, while others expressed outrage at the president's climate change denying commentary.
After Trump took office in January 2017, the president rejected the scientific findings of 13 federal agencies, the Intergovernmental Panel on Climate Change and the World Meteorological Organization and ordered the removal of the terms "global warming" and "climate change" from several federal government websites. An NBC News/Wall Street Journal poll released last year found that only 15 percent of Republicans, versus 71 percent of Democrats, believe "immediate action" is required to halt climate change effects.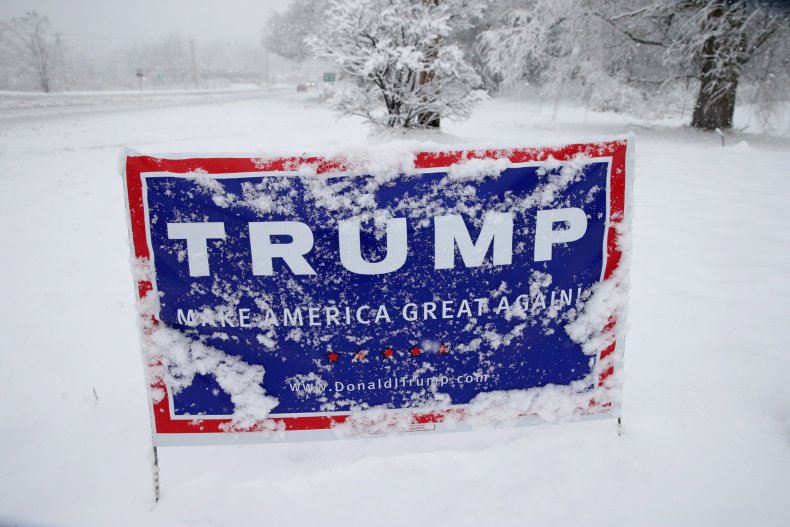 Ice storms and blizzard conditions across 15 states stretching from Missouri to Maine have cancelled hundreds of flights and dumped up to 10 inches of snow on parts of the Midwest, the National Weather Service reported early Sunday. At least one fatality was tied to the storm after a snowplow driver in Kansas was thrown under his vehicle, the Associated Press reported, and a plane at Chicago's O'Hare International Airport skidded off a slick, icy runway, with no injuries reported by Chicago Fire officials Saturday.
Trump urged Americans in the affected regions to seek shelter from the massive winter storm front in between irate tweets about his Southern border wall proposal, Speaker of the House Nancy Pelosi and his poll numbers among Hispanics. The president's shot at climate change being led by human effects, something agreed upon by an overwhelming majority of the worldwide scientific community, is hardly his first. Trump's sarcastic reference to "good old" global warming isn't even a new punchline for the president.
"In the East, it could be the COLDEST New Year's Eve on record. Perhaps we could use a little bit of that good old Global Warming that our Country, but not other countries, was going to pay TRILLIONS OF DOLLARS to protect against. Bundle up!" Trump tweeted in December 2017 in a swipe at the Paris Agreement he pulled the U.S. from earlier that year.
"Brutal and Extended Cold Blast could shatter ALL RECORDS - Whatever happened to Global Warming?" Trump tweeted last November, using the same low-hanging line to draw appeal from the Republican base voters.
In 2012, Trump managed to attack climate change and another of his favorite punching bags, China: "The concept of global warming was created by and for the Chinese in order to make U.S. manufacturing non-competitive," he tweeted in November 2012.
Trump's Sunday global warming tweet immediately prompted "global warming is a myth" feedback from his supporters as well as ridicule from people accusing him of spreading anti-science conspiracy theories. Many pointed out that climate change creates the extreme weather patterns and temperatures -- something lost to Trump supporters focusing solely on the "warming" portion of "global warming" amid the January weather.
Weather reports show the winter storm is set to deluge the Northeast with ice, feet of snow and blizzard conditions through late Sunday.
"Behind this heavy snowstorm, an Arctic blast will grip much of the eastern U.S.," AccuWeather Meteorologist Brett Edwards told the AP. "This cold air from the Arctic will dive down into the central Plains on Saturday and shift through the Northeast on Sunday."