Heiress, fashion designer, author and actor Gloria Vanderbilt has died at the age of 95. She passed away Monday morning, surrounded by family and friends, after a short battle with stomach cancer.
Her son, CNN anchor Anderson Cooper, remembered his mother in a statement that aired on the network Monday morning. "What an extraordinary life. What an extraordinary mom. What an incredible woman," he said. "Gloria Vanderbilt was an extraordinary woman who loved life and lived it on her own terms."
Cooper isn't exaggerating when he says this. While best known as a fashion designer during the 1970s and 1980s, Vanderbilt lived an exceptionally eventful and full life by virtually any standard. The subject of a high-profile custody battle of her early years, she was an actor on stage and television during the 1950s. She went on to essentially invent the concept of designer jeans in the 1970s. Life magazine referred to her as a feminine version of the "Renaissance Man" in 1968, owing to her many successes across a variety of pursuits.
In subsequent years, she expanded her fashion empire to include a wider variety of clothing items, as well as home decor and beauty. Though she was born into one of New York's most prominent wealthy families, she became extremely successful in her own right.
Her personal life was full of dramatic highs and lows over the years. She was married four times, along the way reputed to have had affairs with Frank Sinatra and Marlon Brando. She was a close friend of Truman Capote, and has long been rumored to have been the inspiration for the iconic character of Holly Golightly from Breakfast at Tiffany's.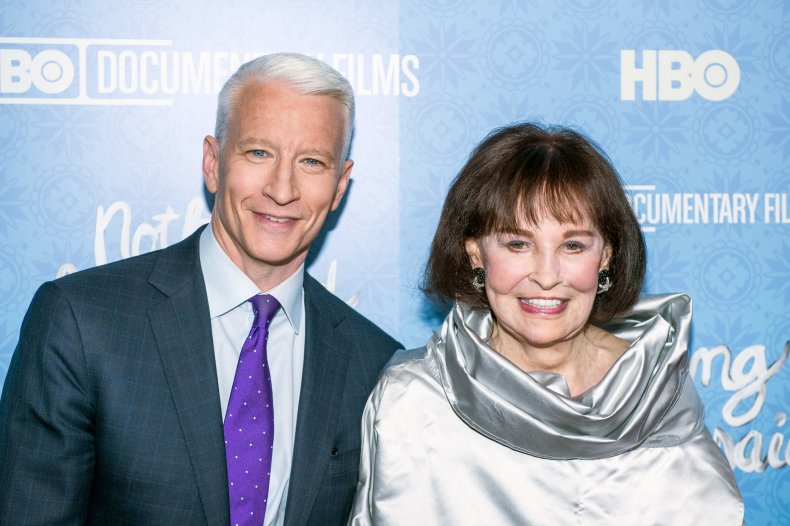 Writer Wyatt Cooper, her fourth husband, died during heart surgery in 1978. Her eldest son with Cooper, Carter, died by suicide in 1988 in the family's New York City apartment. During the 1990s, she sued her lawyer and psychiatrist, claiming they had defrauded her. She won the case, but never got the money he was owed.
Most recently, Vanderbilt was one of the subjects of a 2016 HBO documentary Nothing Left Unsaid, which included a number of candid conversations between the CNN anchor and his mother. They later teamed up for a book on similar themes, titled The Rainbow Comes and Goes: A Mother and Son on Life, Love and Loss.
"My mom has lived many different lives and has inhabited many different skins," Cooper said of his mother in the documentary. "She has this public face, but the reality of her life is so different than what the public face is."