GloRilla Speaks Out as Two Fans Confirmed Dead After Her Rochester Concert
Rapper GloRilla has spoken out after it was confirmed that two concert attendees have died following a stampede at her show in Rochester, New York, which police believe may have been caused by rumors of gunfire.
The "Blessed" hitmaker, whose real name is Gloria Hallelujah Woods, performed at a sold-out concert held at the city's Main Street Armory—with a main area that accommodates up to 5,000—on Sunday night. Finesse2Tymes was also on the bill.
Shortly after the concert, multiple tweets were shared alleging that there had been casualties after incidents at the show. There were claims of a shooting, an overdose, a stabbing, and a number of attendees being transported to the hospital.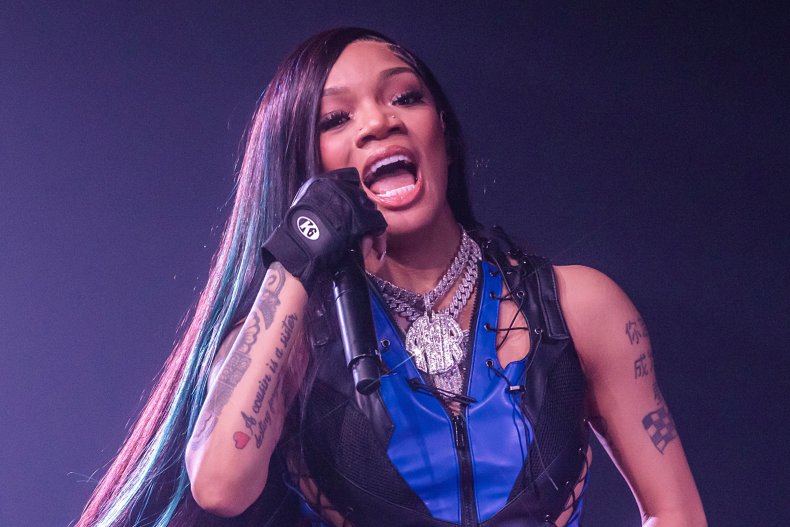 The Rochester Police Department later confirmed in a news briefing on Monday that a woman named Rhondesia Belton, 33, had died and nine others were injured. Police Chief David M. Smith said that they "do not have any evidence of gunshots being fired or of anyone being shot or stabbed at the scene."
It has since been reported by the Associated Press that a second attendee, a 35-year-old woman whose name has not been released, has passed away.
Reacting to the news, GloRilla took to her Twitter account late Monday to share a statement.
"I am devastated & heartbroken over the tragic deaths that happened after Sunday's show," the rapper tweeted. "My fans mean the world to me...praying for their families & for a speedy recovery of everyone affected."
A number of potential causes for the fatal surge are being investigated, police said, including "crowd size, shots fired, pepper spray and other contributing factors."
GloRilla initially posted on Twitter following her concert shortly after midnight to share photos of herself performing at the show. The Memphis native tweeted again a few minutes later to express concern about the news and claims that had been circulating on social media.
"I'm just now hearing about what happened wtf," GloRilla tweeted, alongside a trio of crying-face emojis. She added that she was "praying everybody is ok."
A number of the musician's fans commented under GloRilla's post to ask what she was referring to, prompting a number of others to post allegations.
One Twitter user responded by uploading a harrowing video that they said showed the aftermath of a "crowd surge while exiting" the venue. According to the person who uploaded the clip, some people were "trampled, some suffocated."
Alec Richardson of Rochester news station WROC-TV echoed some of the claims that had been made on social media in a tweet of his own.
Alongside a photo that showed a heavy police presence and a cordoned-off area around the venue, Richardson detailed eyewitness accounts, including his own.
"Major emergency response at the Main St. Armory after a concert," he wrote. "Had witnesses telling me at least three women were trampled as concertgoers left the venue. I also saw a firefighter performing cpr presumably on a victim on scene."
Amid the ensuing conversation about what took place on the night, one Twitter user shared a photo of the inside of the venue during the show.
"This was inside tonight. Looks way over capacity," they captioned the image. It was taken from the upper stands of the venue and showed a dense crowd below.
Newsweek reached out to the Rochester Police Department and the Main Street Armory via email for comment.
Update 03/07/23, 9:51 a.m. ET: This article was updated with additional information.