'GLOW's Best Tag Team Talks Training, Comedy and Flying Candy Sharks
The Netflix series GLOW is all about women coming together to learn how to wrestle and create a new TV show. It sounds like for the actresses, this was pretty much how working on the show went in real life as well.
Kimmy Gatewood and Rebekka Johnson, the two tag partners best known in GLOW for being the prank-calling Old Bitties, talked to Player.One about training for the show, how comedy helped the duo learn to wrestle and what they would like to see in the (hopefully confirmed soon) second season.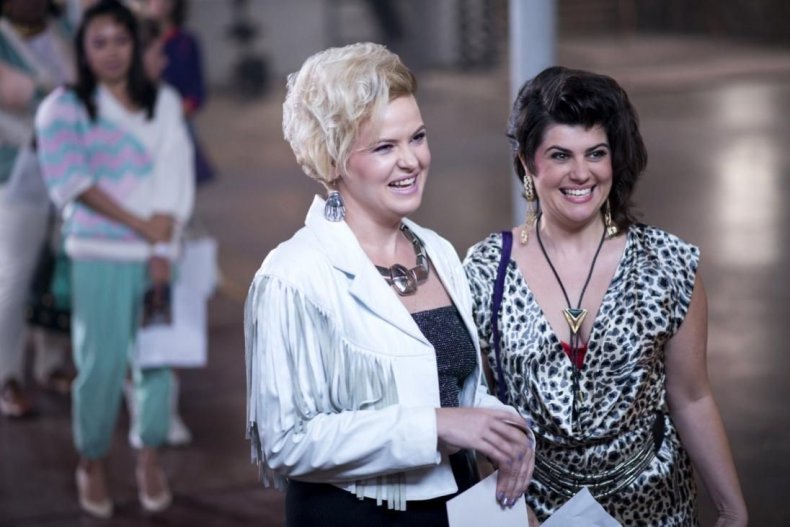 "We did not imagine we'd become wrestlers. We're comedians and we do slapstick comedy," Johnson told Player.One. "We do this 1940s-style comedy show called The Apple Sisters for 10 years and in that, we do a lot of Three Stooges-style slapstick."
This background in comedy, especially a style so animated and focused so much on body movement, helped the pair understand what to do in the ring. "I feel like once we understood what wrestling actually was, we realized it isn't that much different from what we do already," Gatewood said.
They describe wrestling training as an intense experience (complete with way too much lower back pain), but the duo, along with all the other cast members of GLOW, took lessons from wrestling icon Chavo Guerrero. While learning how to wrestle was certainly challenging, it was filming afterward that was even harder.
"When we first learned how to wrestle it was really scary and we went so slow," Gatewood said. By the end of training we were all pretty good at it, doing headscissors and suplexes. But when we started shooting, we had to pretend to forget it all."
"We had to pretend to do a forward roll, but in a bad way," Johnson added. "We had to dumb it down a bit."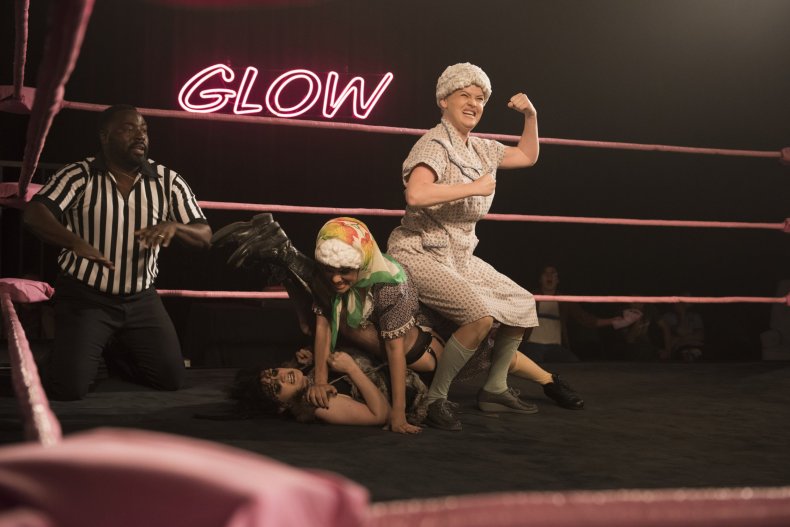 Thankfully, Chavo was a great teacher who was assisted along the way by GLOW actress Kia Stevens. Fans of wrestling may know Stevens by her in-ring names Awesome Kong, Amazing Kong or Kharma.
"Chavo is a strong dude who can throw guys around. But when you're wrestling him, it's the most gentle, nurturing feeling because he's really taking care of you," Johnson said. "If you're going to do a three-quarter flip, he'll guide you around and it's just, like, this gentle hand. In his arms you just feel really safe. It's not like you're actually getting your butt beat."
Of course, it wouldn't be a proper wrestling story without someone ribbing someone else. A "rib" in the wrestling world is another name for a practical joke, and is a common occurrence in wrestling locker rooms the world over. The unfortunate victim this time was Britt Baron, the actress who plays Justine in GLOW.
"On one of the first days, [Stevens] played a prank on Britt. Kia and Chavo locked up and then went at it, throwing each other around and ripping out hair," Gatewood said.
"Britt was like 'what are we doing?!'" Johnson added, explaining how terrified Baron was upon seeing the (simulated) violence. "She was cast at the very last minute, so she had missed the first day of training and didn't know Kia was a wrestler."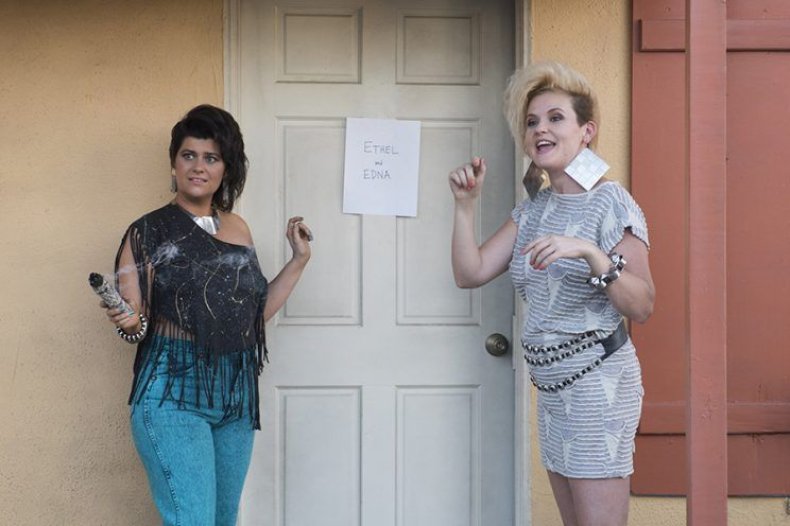 Speaking of pranks, Gatewood and Johnson had plenty of funny stories to share from the set, including a candy food fight that you can even catch on-screen if you're quick enough. While filming in Bash's mansion, the set was filled with every kind of candy you could imagine. When the director told the actresses to do whatever they wanted with the candy, things started flying fast.
"None of that made it into the show, but I think we hit Kia in the head with a gummy shark in episode three," Gatewood said.
Gatewood and Johnson are beyond pleased with what they've done and how much they've learned. "If we had a dream job and wrote it down, it would be this in every way. It was just such an incredible experience," Johnson said.
"And we got to look at Marc Maron's moustache," said Gatewood.
GLOW Season 1 is now available to stream on Netflix, Season 2 will be available starting on June 29. Look for more GLOW interviews throughout the week.
So what do you think? Are you surprised to know how much wrestling training the GLOW actresses went through? What do you want to see in a second season? Let us know your thoughts in the comments section below.