Netflix Pulls the Plug on Final Season of 'GLOW,' Citing COVID-19 Challenges
Fans may now never know whether Ruth and Sam finally end up together after Netflix announced it will not proceed with the planned final season of the hit series GLOW. In its announcement on Monday, Netflix blamed COVID-19 issues as the reason the show wouldn't be wrapping up with the planned fourth season.
"We've made the difficult decision not to do a fourth season of GLOW due to COVID, which makes shooting this physically intimate show with its large ensemble cast especially challenging," a spokesperson for Netflix said in a statement to Deadline. "We are so grateful to creators Liz Flahive and Carly Mensch, Jenji Kohan and all the writers, cast and crew for sharing this story about the incredible women of GLOW with us and the world."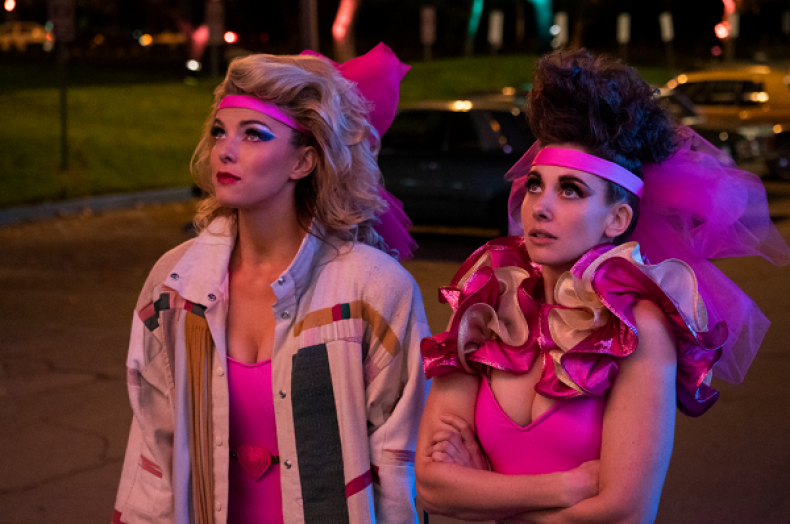 GLOW was a Reagan-era period piece very loosely based on the real-life 1980s female professional wrestling promotion Gorgeous Ladies of Wrestling. Prominent names from the world of professional wrestling made appearances on the show, including John Hennigan (known to WWE fans as John Morrison), Joey Ryan and Chavo Guerrero Jr. Meanwhile, Kia Stevens, who is currently signed to AEW and has wrestled for WWE and TNA, impressed critics with her acting chops in a breakout role on GLOW as well.
The principal stars of the series were Alison Brie ("Ruth"), Marc Maron ("Sam") and Betty Gilpin, who received three consecutive Emmy nominations for Outstanding Supporting Actress in a Comedy Series for her portrayal of Debbie "Liberty Belle" Eagan.
"COVID has killed actual humans. It's a national tragedy and should be our focus. COVID also apparently took down our show," creators Flahive and Mensch said in their own statement to Deadline. "Netflix has decided not to finish filming the final season of GLOW. We were handed the creative freedom to make a complicated comedy about women and tell their stories. And wrestle. And now that's gone. There's a lot of sh**ty things happening in the world that are much bigger than this right now. But it still sucks that we don't get to see these 15 women in a frame together again."
Flahive and Mensch also added, "We'll miss our cast of weirdo clowns and our heroic crew. It was the best job."
The show was co-executive produced by Jenji Kohan, who saw another show of hers, Teenage Bounty Hunters, also canceled by Netflix only two months after its first season premiered. Kohan will still be receiving checks signed from Netflix, though. Her eagerly anticipated pandemic anthology, Social Distance, will premiere on October 15, as well as an unspecified docuseries in development.
GLOW was approximately three weeks into filming its fourth season when COVID caused production to halt in mid-March. One episode was reportedly already finished filming and work on a second one had begun. The show was shot entirely in Los Angeles, which is a problematic location for big productions during the pandemic, and GLOW was having a particularly difficult time navigating safety protocol give the physical contact necessary to create wrestling sequences, according to Deadline. The already heft production costs would have only increased with the large cast and crew. Nonetheless, all of the series regulars were paid in full for the aborted fourth season.
Maron also addressed the cancellation on Twitter, in a characteristically dry way.
Updated 10/5/2020, 6:00 p.m. ET: This post has been updated with additional context and details.