'Glow' Season 3 Release Date and Time, How to Watch and More
The Gorgeous Ladies of Wrestling are back for another season of ringside-glory. The Netflix original series GLOW is slated to return with a third season full of florescent spanks, big hair and butt-kicking.
New episodes of GLOW will be available for streaming on Netflix on Friday as of 12 a.m. ET.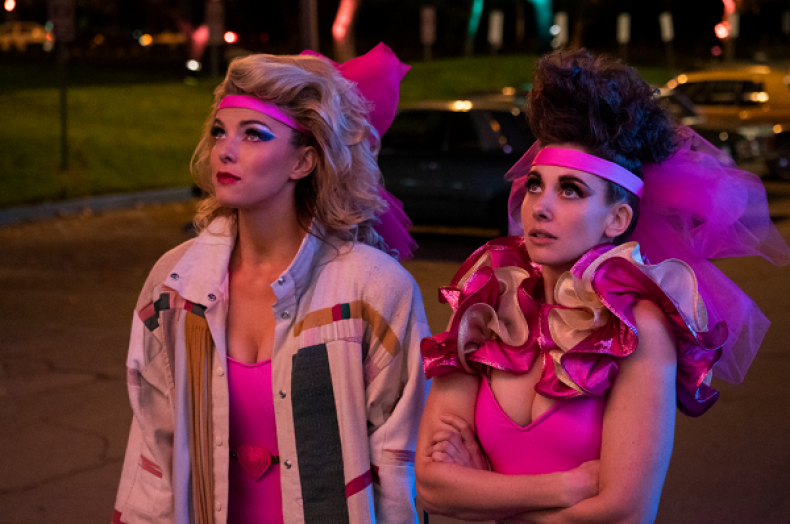 The show will pick up right where Season 2 left off with the G.L.O.W. wrestlers chasing fame and fortune in the glitzy town of Las Vegas. Many of the original players will be back for the journey including Alison Brie's Ruth "Zoya the Destroya" Wilder; Debbie "Liberty Belle" Eagan, played by Betty Gilpin; Sydelle Noel as Cherry "Junkchain/Black Magic" Bang and G.L.O.W.'s leader Sam Sylvia, played by Marc Maron.
There's a new face also joining the cast of GLOW. As the women bring their blossoming wrestling show to viva Las Vegas they'll be blessed with a new mentor of sorts named Sandy Devereaux St. Clair, played by Geena Davis. The former showgirl is now the entertainment director of the Fan-Tan Hotel and Casino where the G.L.O.W. show is held.
While many of the wrestlers will take an immediate liking to Sandy, the entertaining matriarch, her expertise won't initially be so appreciated by one of G.L.O.W.'s leading wrestlers—Debbie. "I have quite a running through-line with her because she is determined to elevate herself and take the reins more in her own life and career," Davis said during an August interview with Entertainment Weekly.
"I latch onto her and then she latches onto me. We work on some of those challenges together. I'm pretty tough, and I lay down for her how tough she's going to have to be," she continued. "Sandy, when she first met [Debbie], immediately thought about mentoring her, and then she seemed a little stubborn and not willing to take my advice. But finally, we do work out a great way of relating to each other. It's really great."
Davis added: "This show does so much to show different kinds of female relationships and highlight women's strengths and ambitions. It's such a pleasure to help do that."
While all of the women of G.L.O.W. will be using their time in Vegas to push their careers forward, the attention and success of the wrestling show will, of course, face some personal dramas along the way. Season 3 will be particularly interesting for Ruth as she navigates maintaining her star status and relationship with cameraman Russell (Victor Quinaz), despite having mixed feelings for her boss.