'GLOW' Star Rebekka Johnson Talks Picking a Make-out Buddy
GLOW Season 2 is almost here! We caught up with Rebekka Johnson (one half of The Beatdown Biddies) ahead of the debut to talk all about what fans can expect from the 80s wrestling romp. If you missed it, be sure to check out our other interview with Johnson and her comedy partner (and GLOW co-star) Kimmy Gatewood.
"Season 1 was about us learning how to wrestle, and it ends with us making the pilot for GLOW. Season 2 is about us making the first season of television," Johnson told Newsweek. "You see us struggle with becoming a little more famous and we struggle with some competition between the girls."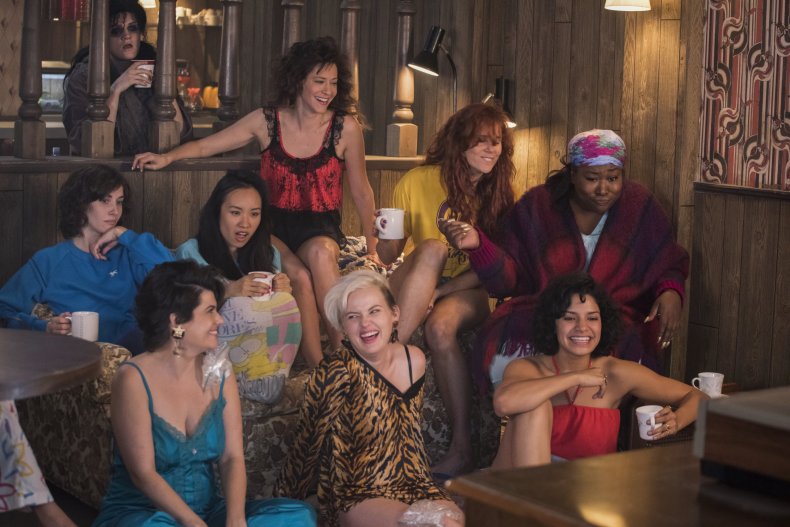 Of course, GLOW is about more than just the in-ring competition, exploring the lives of the women behind the wrestling personas. "The fun thing is, we also start to branch out from the identities we were given and we start to figure out who we really want to be. That theme hits with all the girls' storylines," said Johnson. "It's fun to see the girls become empowered by being unified and not be told by the men on the show what to do. Instead they are like, 'this is what I think I'm going to do.' It's a cool thing to explore."
Fans can expect even more wrestling in Season 2, and the show's stars were sent back to training camp to prepare for the new episodes. Johnson says the first week of the four-week camp was a refresher on previous lessons, but the group spent much of the time learning bigger and more intense moves. The more experience Johnson got in the ring, the more she wanted to keep going. "I wish there was a place I could wrestle in the offseason, because then I'd be even better," she said.
Due to her work on the show, Johnson has sought out more pro wrestling, becoming familiar with many of the tropes of the art form. Because she's prominently featured in a tag team known as The Beatdown Biddies with comedy partner Kimmy Gatewood, Johnson has questioned the long-term friendship between the characters.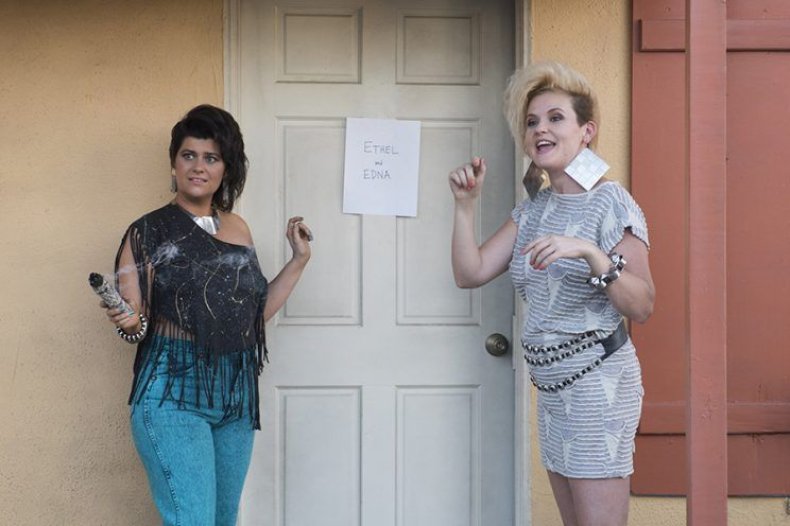 "I was telling the writers, 'traditionally, now is the time when these girls would turn against each other,'" Johnson said. "There's not really going to be a rivalry between us now, but hopefully in future seasons we'll be able to explore that. We can't get along forever!" Johnson thinks this split could take place outside the ring, rather than in it. "We might want to sleep with the same heavy metal drummer or something," she said.
Off-set, the cast members are nothing like the competitive women they play on the show. "We hang out when we're not shooting and we have a text chain. We're all really, truly close," Johnson said. "It was awesome how close we got in the four months of shooting Season 1. Getting back together is like a constant sleepover with wrestling. This time we got slightly bigger trailers, so we could all hang out in one a little easier."
One of Johnson's favorite memories came while filming at a mall for a scene this season. The mall was still open during the shoot, meaning while the cast members weren't on set they were off wandering the stores in their 80s outfits. "I'm in my Edna Rosenblat outfit and we went to Forever 21 and Victoria's Secret literally buying clothes. People shopping were looking at us and wondering what was going on," she said. "All of us are looking like lunatics."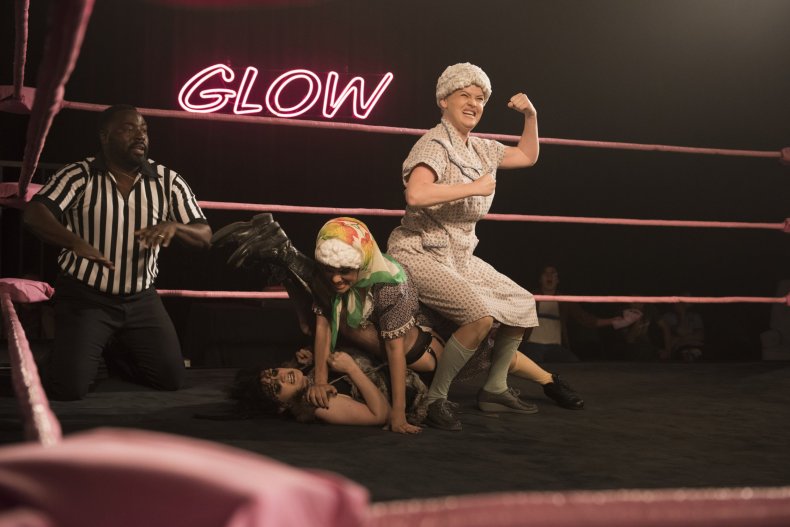 As for other fun memories from the second season, Johnson says her character gets to make out with someone and she was responsible for casting the man. She didn't reveal whom she plays tonsil hockey with, promising it will be a fun cameo.
"It was weird to have to text my friends saying 'hey, would you like to have a role in GLOW? It's a one day part, but you'll have to make out with me,'" said Johnson. "I had a few people turn me down." Thankfully, her top choice eventually responded with a yes.
Johnson has also slipped into the world of wrestling and met many current stars. Along with appearances on Chris Jericho's podcast, she has met current WWE Champion AJ Styles, many of the women on the WWE roster and beyond.
"When I met Natalya, I was really starstruck. I'm also a big fan of Total Divas," said Johnson. "I get more starstruck meeting a reality star or a wrestling star because an actor is like me. Even though I'm wrestling now and I consider myself a wrestler to a certain degree, I'm not a pro wrestler out there touring for 300 days. I love Trinity Fatu (WWE's Naomi) and Charlotte Flair and Becky Lynch. Gail Kim is great and is good friends with Kia [Stevens] on the show."
When not working on GLOW, Johnson and Gatewood can be seen performing their comedy act The Apple Sisters. Johnson also recently directed a parody music video, which can be watched below.
GLOW returns to Netflix on June 29. Be sure to also check out our interview with GLOW costar Britt Baron.
So what do you think? Are you excited to see the GLOW ladies' latest adventures and mishaps? Do you think the Beatdown Biddies will ever turn on each other? Let us know your thoughts in the comments below.