'Glue Girl' Protests Timberwolves Owner by Sticking Self to NBA Court
An animal rights activist superglued her hand to the Minnesota Timberwolves court in the middle of an NBA game on Tuesday.
The unusual form of protest was directed at Glen Taylor, owner of the Timberwolves, who has a factory egg farm in Iowa. The activist, later identified as Alicia Santurio, wore a t-shirt that read "Glen Taylor Roasts Animals Alive" while she sat affixed to the court beneath a basket at the Target Center in Minneapolis, Minnesota.
Television announcers struggled to identify what was happening during the second quarter of the game between the Minnesota Timberwolves and the Los Angeles Clippers, wondering aloud if an arena worker had fainted or fallen onto the court.
Sideline reporter Allie LaForce eventually explained on live TV that the protestor had "glued herself to the floor and she refused to lift her wrist up," adding, "I don't mean to laugh but this really happened." A clip of this revelation was shared on Twitter by sports website Bleacher Report, reaching over 720,000 views.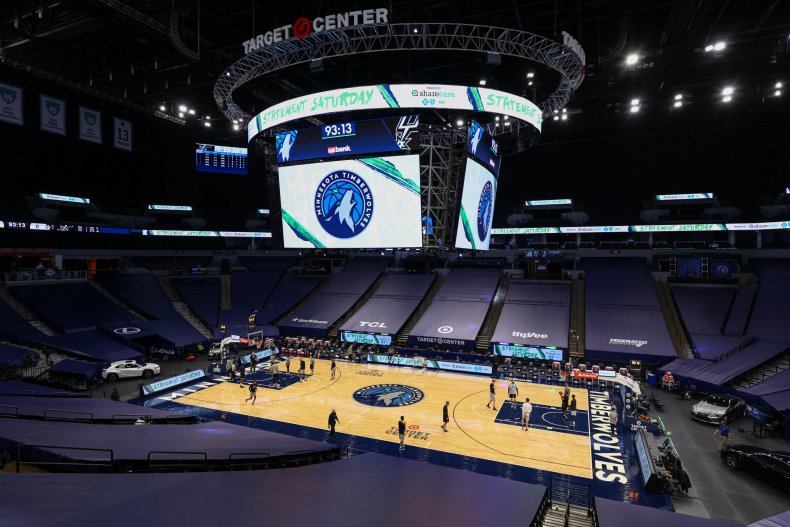 Santurio was quickly escorted off the court by security officers, leaving a white handprint on the hardwood.
The activist quickly started trending on social media as #GlueGirl. She confirmed on Twitter that she had superglued herself to the court in order to "bring attention to the mass killing of chickens at Glen Taylor's factory farm."
Santurio was working with Direct Action Everywhere, an animal rights group, which also confirmed the stunt in a press release. The organization alleged that 5.3 million chickens were recently slaughtered after an avian flu outbreak on Rembrandt Enterprises, a factory egg farm owned by Taylor. According to the statement, the birds were killed through "ventilation shutdown plus" (VSD+), a method of mass suffocation. Direct Action Everywhere claimed that VSD+ was inhumane and violated state law.
Despite the serious cause, viewers had a laugh about Glue Girl's protest on Twitter.
"I was glued to the TV set," one viewer quipped.
"Why would anyone want to 'stick' around an NBA game?" asked another.
Matt Johnson, a press coordinator with Direct Action Everywhere, noted in a video that Santurio was not jailed—although she received a trespass notice that said she would be arrested upon re-entering Target Center.
The Timberwolves acknowledged the interruption with a brief statement on Tuesday, saying only that "a fan disruption occurred during the second quarter" and the team was "in touch with Target Center Security to address the incident."
Newsweek reached out to Rembrandt Enterprises and Direct Action Everywhere for comment.