On Tuesday, the owner of a 2017 Chevrolet Bolt EV posted photos of his vehicle burnt to an unsalvageable state in a parking lot on Reddit.
The owner, Jesus Damian, who posted to the r/BoltEV subreddit, commented that, "My car exploded at 2am while sitting unplugged in a parking lot. Chevy has no response and has just told me to wait for me to get a call back. They are acting as if it's no big deal"
Cars parked around his in the lot were also damaged in the blaze.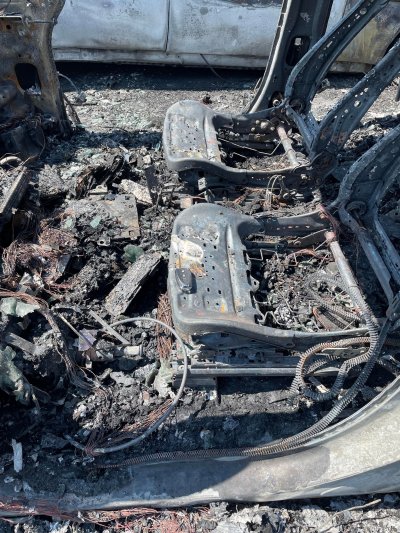 Responding to numerous questions in the thread, Damian said that the car had 34 miles left on its range and about 36,000 miles on it.
He also said that he usually charges the car on a Level 2 charger while at work, normally reaching an 85 percent charge.
In a short video taken by a neighbor at the time of the incident, firefighters are seen responding to the blaze, unspooling a fire hose.
Reached by email, Damian told Newsweek that he's waiting for a call from Chevrolet to go over the incident.
"So far Chevy has said that they do not know what the cause of the fire is and therefore can not give me a definitive answer," he said.
When asked for comment via email, Daniel Flores of GM Communications sent this statement to Newsweek:
"We have been in contact with the owner who posted about the recent incident. We have begun an investigation to determine the potential cause of this fire."
When asked on the Reddit thread about how he found out about the fire, Damian said that he woke up to an alert on the myChevrolet app.
"I was walking to my car to go to work in the morning and found it like that."
GM recently issued a recall for all Chevy Bolts, roughly 142,000 cars, after initially limiting the recall to about 69,000 of the vehicles from model years 2019 to 2022.
The company has attributed the handful of fires to a defect in the lithium-ion batteries produced by LG. Production of the Bolt has stopped and isn't expected to resume until mid-September.
The repair process on the recalled vehicles is also on hold until the company is confident in the replacement batteries supplied by LG.
GM has said that until those repairs can be completed, Bolt owners should set a charge limitation of 90 percent, charge it more frequently, avoid going below 70 miles of remaining range and park their vehicles outside immediately after charging.