'Go Back Where You Came From': White Man Allegedly Yells at Black Grandmother and Two Little Girls Campaigning for Beto O'Rourke
A black grandmother and her two granddaughters were allegedly accosted and told to "go back where they came from" while out campaigning for Democratic Senate candidate Beto O'Rourke.
The 70-year-old Texas woman was walking with her granddaughters—who are 8 and 10—when a white man allegedly began to verbally abuse them, calling the grandmother a "stupid bitch." The mother of the children, Allison Odom, recorded and uploaded a video of her daughters explaining what happened.
Odom said her mother and daughters "while doing this 'American as apple pie' activity [campaigning] within walking distance of my mother's house, a man approached my mother and daughters and (among other choice words) demanded that they 'go back where they came from' because this is his neighborhood," Odom wrote on Facebook.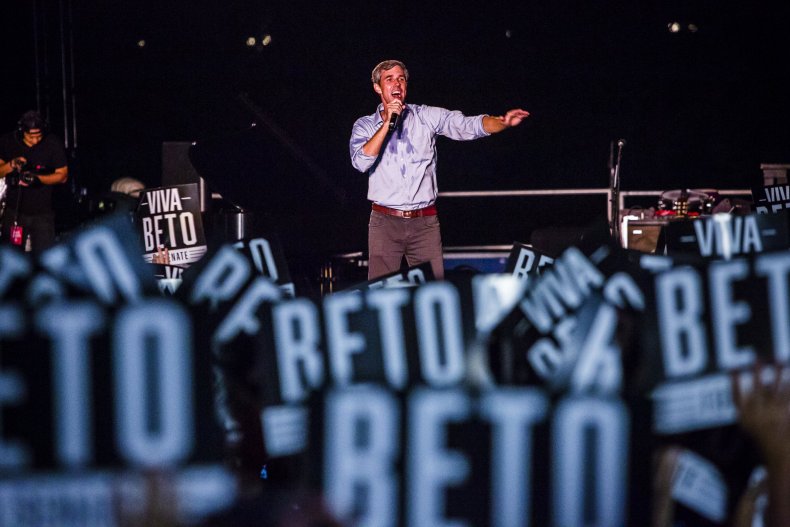 Speaking in the video, the young girls said the only reason they had stopped in the area was to figure out directions. "A guy walked up to her and said, 'What are you doing here,'" the girls said. "She said, 'What are you doing here?' And he said, 'I'm just walking my dog, I live here.' And she said, 'So do I.'"
The sisters said this was the point where things became nasty. "After she said that, he said, 'That still doesn't explain what you're doing here.' He called her a moron, so she called him an idiot. He told Granny to get the f*** [the older daughter spelled this word out] back where she came from."
The older daughter told her mother that they felt "really bad, insulted and afraid."
"He, I guess, suspected because we were black we were about to rob his neighborhood. He probably wouldn't have done that to a white person."
Despite the abuse, the younger daughter said she would not be deterred from campaigning in the future. "We'll do it again, no one discourages me," she said. "I can do whatever I'm allowed to, whenever I want, without anyone stopping me."
Odom said the story needed to be told, and heard, in her daughters' words. "Please let this be a wake-up call of how real and unhinged the hate has become," Odom said. "We must call it out, and we must demand better."
The video has been viewed more than 18,000 times since it was uploaded on Sunday.
O'Rourke's office did not immediately respond to a request for comment. O'Rourke, a congressman from El Paso, is the Democratic candidate in a tight, contentious race against Republican incumbent Ted Cruz for the Texas U.S. Senate seat.