Is The 'Go Bald For Black Lives Matter' Movement Real?
On Thursday a night, a sudden influx of tweets with the "#gobaldforBLM" started appearing on Twitter. Pictures of caucasian women with shaved heads, saying that they went bald in solidarity for the cause started to gain traction and spread confusion. By Friday morning, over 24,000 people had tweeted using the hashtag to express their confusion.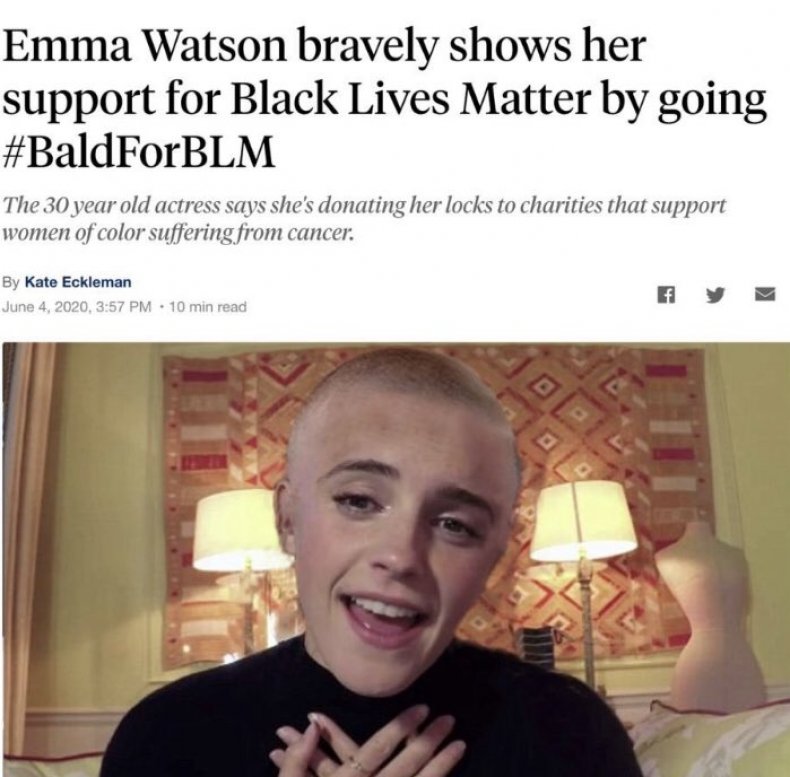 The hashtag itself originated on the /pol/ section of 4chan. According to a screenshot from the original 4chan thread (which has since been archived), the goal of the fake hashtag is "to get women, particularly white women, to shave their heads for BLM." Dozens of fake accounts were created for this purpose, posting stolen images for their own purposes.
Stephanie McFields, a fake account on Twitter, posted an image of a woman with a shaved head with the caption "reject the patriarchy and white domination. Reject your ancestors, NOW!"
(Update 6/8 7:00 p.m. EDT) A reference to the real name of the woman in the tweet has been removed at her request.
The accounts who started the hashtag have under 10 followers and have been posting bait for those willing to engage. A photoshopped article claiming to be from ABC News about actress Emma Watson shaving her hair also started to spread online but is easily debunked. Other accounts, like AshleyWats2K, which gained viral traction on Twitter have since been removed from the platform.
Another fake account, LAINEYBOT20K, grabbed an image from someone who posted their head to Pinterest.
Looking through, it doesn't seem like anybody actually shaved their heads in response to this movement and only trolls continue to post fake images. K-pop stans have been flooding the hashtag with their own tweets decrying the movement, causing the hashtag to gain more viral traction. AdeZero3, which 4chan has been touting as a win, posted an image of her with a shaved head but it's clear from the thread that she's an eager partipicant in the joke.
4chan users seem to be fairly mixed with the results of the hashtag. In newer threads, users posted statements like "it's very uninspired, and has technically already failed. The table is open to other dumb ideas." Another user wrote "Where do I find a bald girl's pictures to pretend that 'I shaved my head'?"
This isn't the first time 4chan has managed to trick people into shaving their heads. In 2012, the board tried to create a movement with a faked screenshot claiming that the singer had cancer and that fans were shaving their own heads to show support.
Don't shave your head for Black Lives Matter, there are much better ways to show solidarity.