Go Forth, Madam Secretary: Memories of Madeleine Albright | Opinion
No matter how many pieces are written about the late Madeleine Albright, there will always be more to say. And it will never be too late to say it.
I once asked Secretary Albright if I should accept a position at the State Department as an under secretary of state for public diplomacy and public affairs—something she had recommended earlier. Time had passed and I finally got the call to gauge my interest in the job, but by then it was already the fourth year of the Obama administration, and I worried that it would be hard to join the State Department so late in the first term. "Go forth" she said. "Don't look at the calendar. Never ask if you should serve, but when." Like so many women in foreign affairs, I followed her advice. Whatever she said mattered.
I first met Albright while working in the Clinton White House as a deputy director of communications in the late 1990s. I had a small office not far from the Situation Room. Albright told me that she had once sat in that very office while working for National Security Adviser Zbigniew Brzezinski early in her career. It was inspiring to think about her spending each day in that small space—a woman of only slightly under 5 feet tall, working for a rather imposing man. As I learned over time, physical height means little when you have the type of mind Albright did.
Over the years our paths crossed often. At the United States Institute of Peace, where I served as executive vice president, the secretary was a frequent guest. It was during those years at the institute that I worked with Secretary Albright on the Genocide Prevention Task Force with the American Academy of Diplomacy and the U.S. Holocaust Memorial Museum. She co-chaired the task force with Senator William Cohen, former secretary of defense.
It is often the case with task forces in Washington D.C. that the co-chairs are ceremonial leaders who do very little of the actual work, which is left to the staff. That was not at all the case with Secretary Albright. She read every draft of every document, and repeatedly asked for more materials. She had almost a frenzied commitment to it, which I later realized was, in part, because the subject of genocide was so deeply important to her. As a refugee from what was then Czechoslovakia, Albright understood survival. During the Balkans crisis she consistently pressed for military action, demanding that a genocide could occur—her nightmare being mass graves. As history will record, when it came to the Balkans, Albright was among the first to demand action. Widely considered the most hawkish, intervention-oriented cabinet member of the Clinton administration, she pushed successfully for military action when she became secretary of state in 1997. She pushed for the NATO bombing of Yugoslavia and the independence of Kosovo.
Inaction in Rwanda was one of Albright's great regrets. She wished that more had been done to address the Rwandan genocide during her time as United Nations ambassador in 1994. Unlike most high-profile political figures, Albright spoke from the heart. I remember her telling me that she recalled sitting in the General Assembly session listening to the Rwandan representative drone on about the fighting in a way that struck her as inappropriately dispassionate, even cold.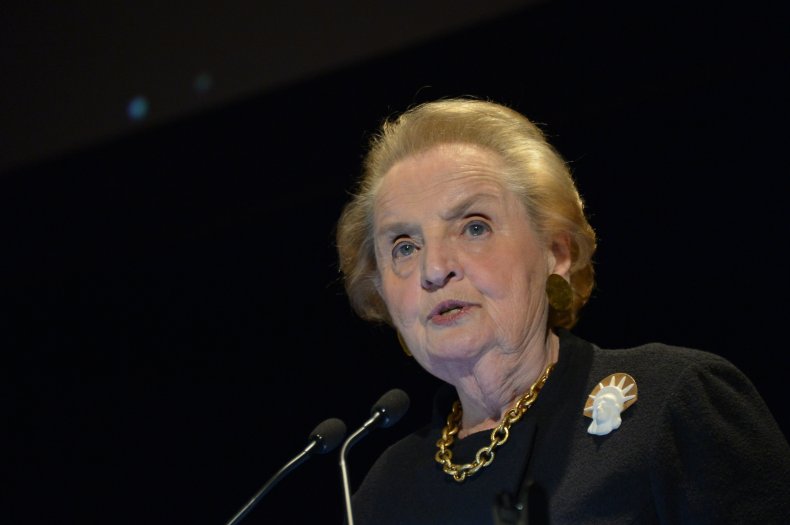 Madeleine Albright was, above all, a teacher. Students who took her classes at Georgetown University still rave about them years later. She would often start a sentence with "What I tell my students..."
Albright taught me the most important of all lessons: power with grace. Washington D.C.'s currency is political power. When people leave government they are "formers" without the same traction as "insiders." Except, that is, in the case of Madeleine Albright. Audiences clamored for her. Congressional committees demanded her service. Her commercial firm was booming. There were book talks and speeches to give, media appearances and her famous salon dinners where great minds were invited to discuss the difficult foreign policy issues of the day. I recall her telling me at one dinner that what she loved most in life, after her family and sister, was the time she spent with women foreign ministers. I have no idea if it was a formal group or just wonderful women getting together to talk. I imagine they are missing her terribly today.
As powerful as Madeleine Albright was, she never flaunted it. You never felt a big ego in the room. The famous pins on her suits said it all: graceful, grounded, bold and in need of no explanation.
The former secretary of state loved conversation. After a joint appearance at an Aspen Institute forum, we found ourselves on the same plane back to Washington. Albright was in first class; I was in the back with my husband and son. I learned that a fire at a control tower near the DC airport would force us to land in Philadelphia at a late hour—likely too late to get on another flight. I went to first class to tell her. Within minutes, she let me know that a driver would be meeting the flight and taking "us" home. All of us. I don't think my son will ever forget that ride home. Albright never took a nap. She told him stories of how she discovered her Jewish roots and how much it meant to her—to learn she had relatives who died in the Holocaust.
Madeleine Albright never stopped—speaking out, traveling, organizing, writing and arguing for democracy. Just months before her death, her columns appeared with insights and wisdom.
There is a hole in the world today. Albright is gone; her voice remains. But the light and the legacy, the meaning and the memory shines bright. "Go forth, Madame Secretary." We will miss you.
Tara D. Sonenshine is Professor of Practice of Public Diplomacy at The Fletcher School of Law and Diplomacy at Tufts University.
The views expressed in this article are the writer's own.