Jane Wiedlin of the Go-Go's on the Band's Acclaimed Documentary and 40-Year History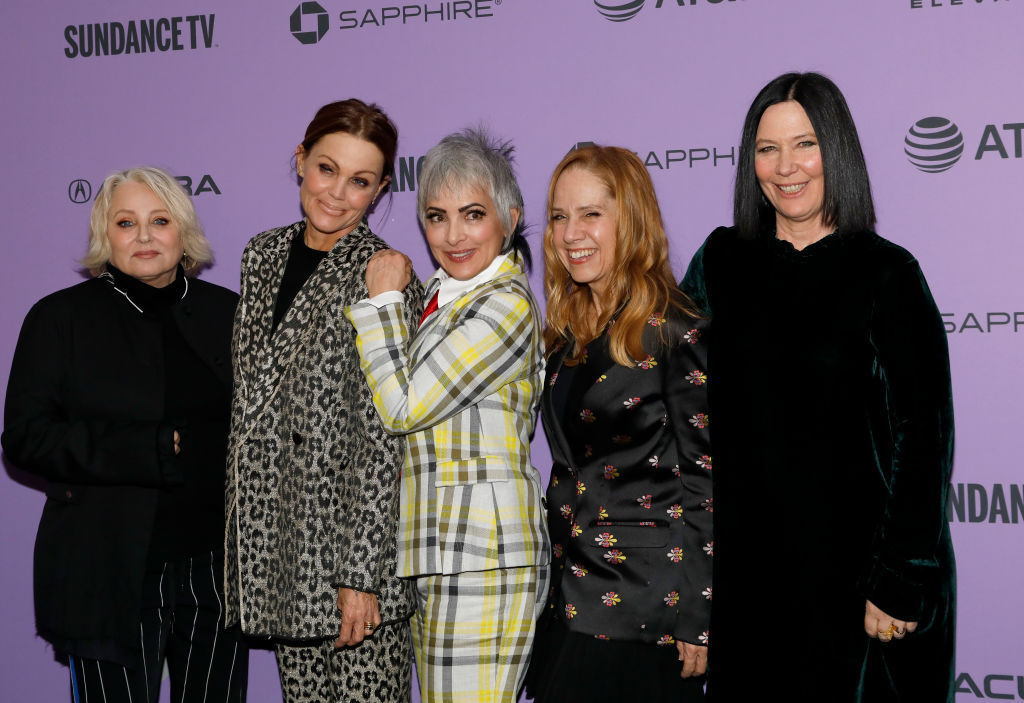 If there was one bright spot for music during the pandemic year of 2020, it would be The Go-Go's, the documentary about the popular and beloved all-female rock band. First broadcasted on Showtime this past July, the Alison Ellwood-directed film garnered rave reviews and put a renewed spotlight on the Go-Go's, who achieved tremendous success during the first half of the 1980s. The documentary's reception even caught Jane Wiedlin, the band's guitarist-singer, by surprise.
"It was because we've been around for so long, and the glow of the early '80s when everyone loved us has definitely worn off," she explains to Newsweek. "So I expected very little attention. I didn't expect the reviews that the reviewers gave us were like, 'Wow!' I'm flattered. And then being in a movie theater [at the Sundance Film Festival] with the crowd and how [they] just went crazy--they loved it. (laughs) It's been super thrilling to see how people have responded to it."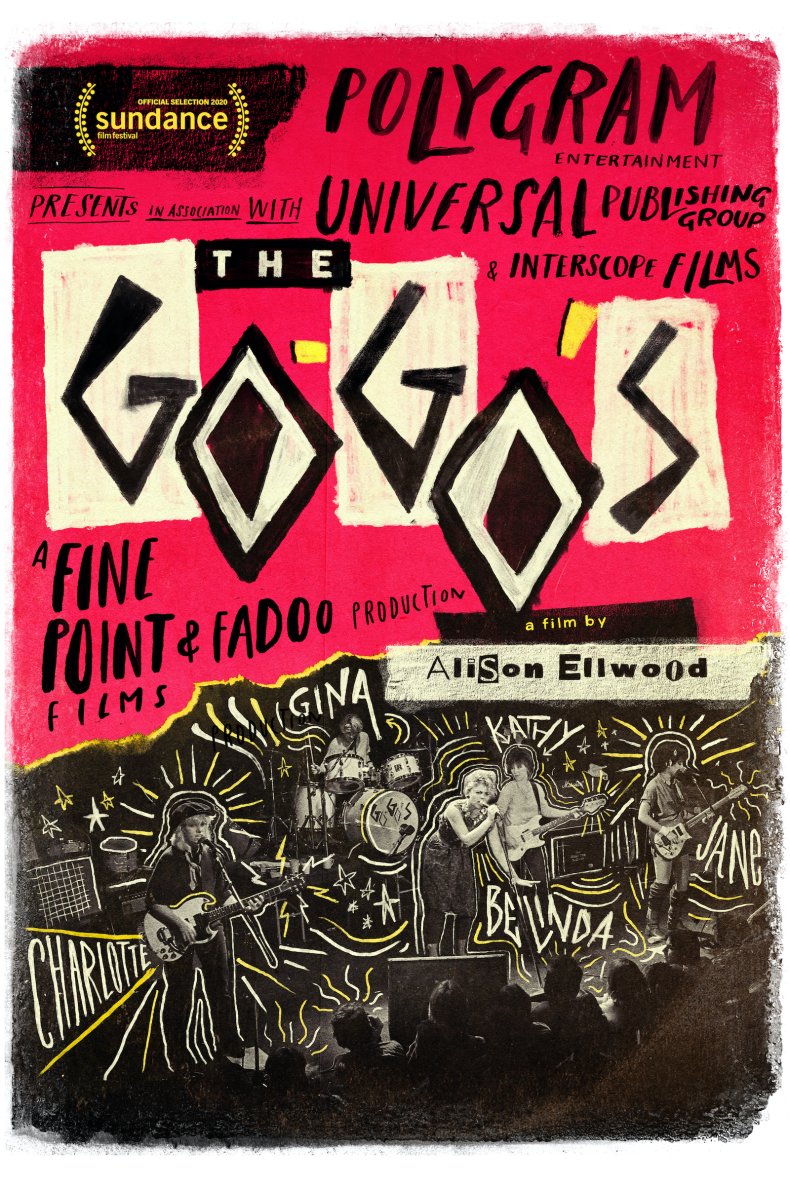 Earlier this month, The Go-Go's documentary was released commercially via digital download and rental services through Eagle Vision; the DVD/Blu-ray set will be available on February 26 via Polygram/UMe. Its timing coincides with the upcoming May reissue of the band's 2001 record, God Bless the Go-Go's, as well as the 40th anniversary of their classic debut album Beauty and the Beat. This past Tuesday, the group--Wiedlin, guitarist-keyboardist Charlotte Caffey, lead singer Belinda Carlisle, drummer Gina Schock and bassist Kathy Valentine--was announced as a nominee for this year's Rock and Roll Hall of Fame.
According to Wiedlin, she was heartened to see the close-to-finished cut of the documentary prior to its premiere at Sundance. "I was really focused on the technical aspects and how people looked and how the lighting was. And I thought, 'Okay, this is a good effort. This is great. [Alison] didn't do anything salacious or focused on the partying, because all of that was so tired. And let's face it, Behind the Music already did that documentary.
"And then the second time I saw it was at Sundance, and it was in a theater full of people. Charlotte and I were sitting next to each other and we held hands the whole time (laughs), turning each other with these beaming faces. I started crying a couple of times, and then I really realized the power of the film. It was a really good movie."
Featuring recent interviews with the band members and their contemporaries, the documentary traces the history of the Go-Go's starting with their punk rock origins in Los Angeles in the late 1970s. "That's where we came from," says Wiedlin. "I think a lot of people probably think that we're a manufactured band. But that's not the case. We really came from the gutter up, and it was a wild ride. Looking back, those punk days were the best years of my life."
One particular moment told on the film is the early U.K. tour the Go-Go's undertook alongside Madness and the Specials, during which they faced a hostile reception from the predominantly male audience members. "It's one of those things that brought the band even closer together," Wiedlin says, "because we were experiencing so much disdain and hatred from these English boys who were sexist, racist and hated Americans. It was shocking that they were spitting [and] throwing bottles at us. But it made us join together, and Madness and the Specials were very supportive. They stood by their decision that they wanted us to be their opening act."
Having developed a strong local following, the Go-Go's were signed to I.R.S. Records. Their debut album, Beauty and the Beat, released in July 1981, went to number one on the Billboard chart; it yielded the iconic hits "Our Lips Are Sealed" and "We Got the Beat." That started a tidal wave of popularity for the next three years with more hits such as "Vacation" and "Head Over Heels"; high-profile media appearances like Saturday Night Live and the cover of Rolling Stone magazine; and touring.
"I always say that I was super naive," Wiedlin says. "So I was always like, 'Oh yeah, we're gonna be big.' I didn't realize how big, and I certainly didn't really think about or visualize us going to number one. And it was shocking and amazing and I feel like we were kind of shell shocked. At the time, we were touring 300 days a year. It was like, 'Wait, just what happened?'"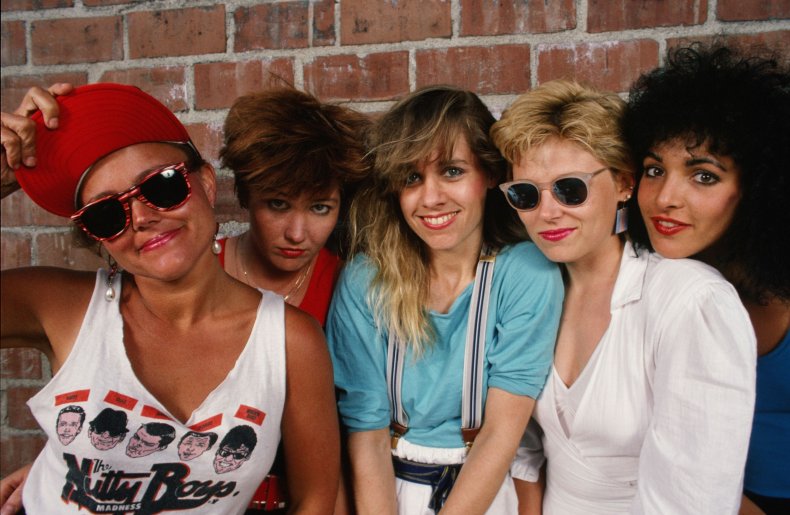 But as the documentary recounts, the growing pressures from that success caused tensions within the Go-Go's, prompting Wiedlin's departure in 1984 and the band's breakup the following year. "We were just completely burned out," she says now, "and we were still in our early 20s when we broke up. It took its toll. Maybe artists these days are more prepared for that, but we certainly were not."
She also said: "I wasn't the only one that was unhappy. Everyone was unhappy, and I just was the one that pulled the trigger first. And then the fact that we only stayed broken up for a few years, and we've been together ever since [1990]. We've been together since the breakup way longer than we were originally."
Among the poignant moments mentioned in the film is Wiedlin's battle with depression, which she experienced since her youth. "At the point that they were doing our interviews for the film, I had more than a year of [getting] the right therapy and right meds, and me working so hard. It finally worked. I just didn't see any downside to admitting it. The huge upside is that I've gotten so many letters from people saying they have the same struggle. It's amazing that people are reaching out, and I'm able to say: 'You know what? There is hope. You don't have to live like that.'"
Today, the Go-Go's remain an active band and still perform shows (they were scheduled to do a tour last year until the pandemic forced them to push those dates to this summer). In 2018, the musical Head Over Heels, featuring the band's music, was performed on Broadway. For The Go-Go's documentary, the band recorded the anthemic and empowering rocker "Club Zero," their first new song in 20 years. Looking back at the band's 40-year-history, through the ups and downs, Wiedlin says the relationships among the members have been better than ever.
"Charlotte and I have been very close for a really, really long time because we have that magic synergy of co-writing together. It's almost like when you see a couple finishing each other's sentences. That's Charlotte and I, except for songwriting. (laughs) And then everyone else in the band: I feel like I've really, really done a lot of work and made a lot of amends of old resentments, which are so pointless to carry on for your whole life. I think once all of us realize that, it was a lot easier to feel a lot better about each other and I feel a lot closer. I have to say that the documentary was huge in bringing empathy to the five of us about the other band members and about just how much each person contributes to the Go-Go's, and how we wouldn't be the Go-Go's without these five people."