'Go Set a Watchman': Scout From the Film Talks About Scout on the Page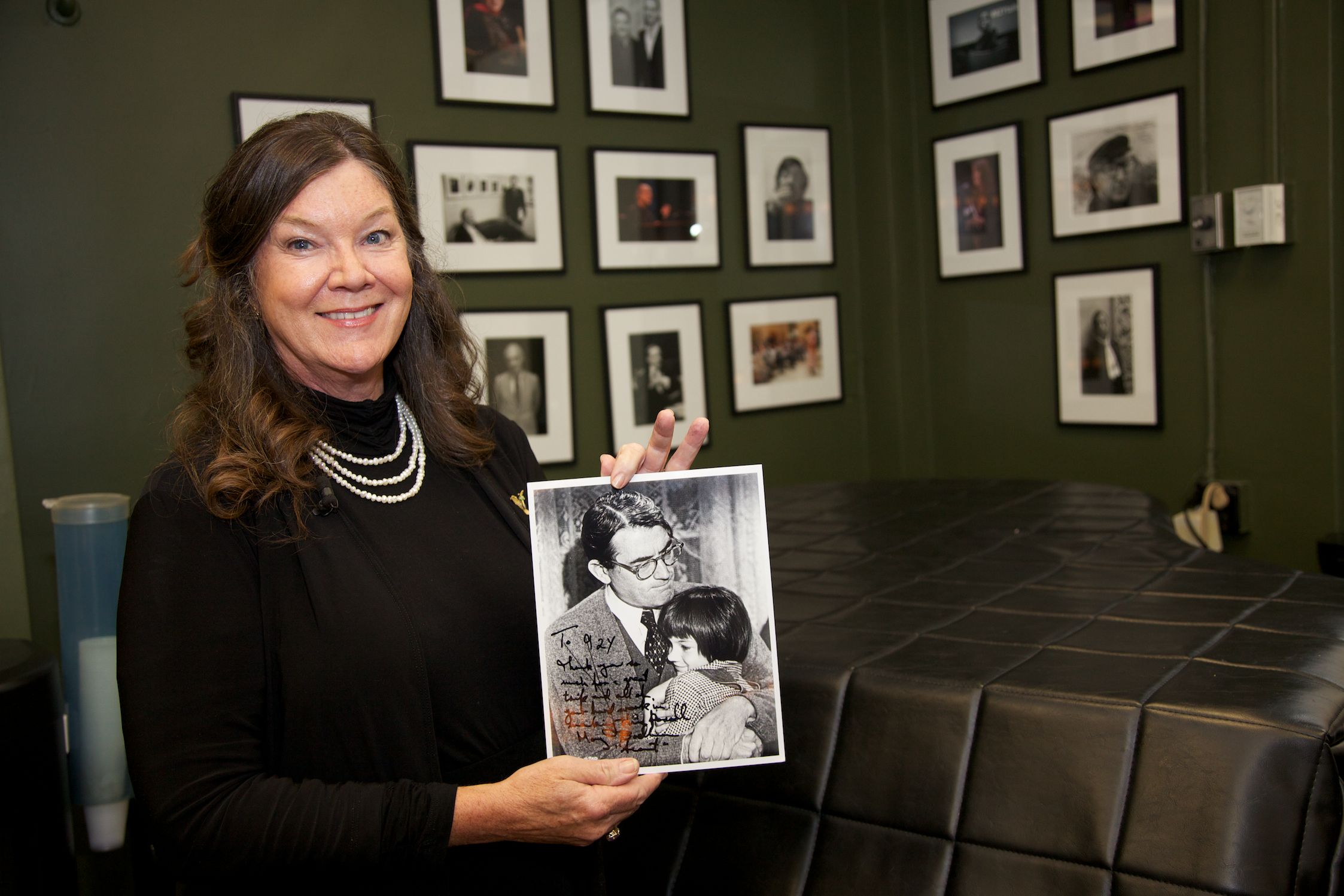 More than five decades after she appeared on the big screen as Jean Louise Finch (aka Scout), Mary Badham stepped onto the stage of Manhattan's 92nd Street Y Tuesday evening to a roar of applause. A few audience members gave standing ovations in what seemed like a tribute not only to Badham but also to what she represented: To Kill a Mockingbird, Harper Lee and the author's new book, Go Set a Watchman, published Tuesday.
"Thank God for Miss Nelle Harper Lee," Badham said as she reached the podium. And then she began reading aloud to a rapt audience, starting with a familiar description of the fictional town of Maycomb, Alabama, excerpted from Mockingbird. "Maycomb was an old town, but it was a tired old town when I first knew it. In rainy weather the streets turned to red slop; grass grew on the sidewalks, the courthouse sagged in the square."
The strains of Birmingham, Alabama, in her voice make it easy to blur the line between the woman and the character she portrayed in the 1962 black-and-white film, alongside Gregory Peck's Atticus Finch. The distinction was further muddled when she transitioned to another excerpt, this one written from the perspective of an adult Scout in the book released 55 years after Lee's debut novel, her sole work of fiction until now.
"Watchman," she said, turning to pages readers thought they wouldn't see, since Lee had reportedly vowed to never publish another book. The novel became the object of much anticipation after HarperCollins announced the novel's release in February. In the months that followed, Watchman broke the publisher's record for preorders and became Amazon's most preordered book of the past four years.
"Since Atlanta, she had looked out the dining-car window with a delight almost physical," Badham read. "Over her breakfast coffee, she watched the last of Georgia's hills recede and the red earth appear, and with it tin-roofed houses set in the middle of swept yards, and in the yards the inevitable verbena grew, surrounded by whitewashed tires. She grinned when she saw her first TV antenna atop an unpainted Negro house; as they multiplied, her joy rose."
Badham read the entirety of Watchman's first chapter, which had been published by The Guardian and The Wall Street Journal last Friday morning, a few days prior to the book's release. As she made her way through the dozen or so pages, the crowd laughed and murmured in all the right spots: when Scout imagines her "aunt's sniff of disapproval" at her clothing, when she declares that "for the present she would pursue the stony path of spinsterhood," and when she slips in the fact that her brother Jem "dropped dead in his tracks one day." Nostalgia filled the air. It was as though the room full of adults had been whisked back in time to their earliest encounters with Mockingbird.
"What's better than a grown-up Scout reading a grown-up Scout?" said Mary McDonagh Murphy, director of the 2012 documentary Hey, Boo: Harper Lee and To Kill a Mockingbird, as the two women sat down for a question and answer session after the reading.
The grown-up Scout "is just fabulous, she is still pushing buttons every time she gets a chance," said Badham, who had already read the complete Watchman before Tuesday evening's event. The young narrator of the beloved 1960 novel "hasn't changed a whole lot," Badham said, promising that readers would recognize her personality in its adult form. Less recognizable in Watchman was Scout's father, Atticus Finch. The New York Times revealed in an early review, published Friday afternoon, that the moralistic hero and inspiring role model of Mockingbird is "a racist who once attended a Klan meeting" in Watchman.
"What you have to do is, you have to put your mindset in that time period," Badham said. "I, being from Alabama, can attest to this," she added, later explaining that one of the many positive results of her role in the film adaptation of Mockingbird was that it showed her something outside of her hometown. "If I had stayed in Birmingham, Alabama, I would have become a product of Birmingham, Alabama," she said. "California and Alabama were like two different countries," and encountering the diversity and culture of the former had a big impact on her as a child.
Still, Badham was too young when she was on the Universal Studios set to understand the significance of what she'd participated in. But she did become very close with those she worked with, she told a full auditorium. On the last day of filming, when they were working on the mob scene outside Tom Robinson's jail cell, she suddenly couldn't get her lines right. "I had no trouble with my lines up until that day," she recalled, but "I knew at the end of the day I would have to say goodbye to these people I had fallen in love with." She had become attached to them over the course of five months of filming. Both Peck and Brock Peters, who played Robinson, became father figures to her, especially after her own father passed away, she said, and she kept in touch with them into adulthood.
Badham didn't read To Kill a Mockingbird until after her daughter was born, not wanting to alter her memories of the world she'd helped create on the screen. Now she calls it a teaching tool that puts "all of life's lessons into this one little, simple book. And it says it in such a way that we can hear it." For a long time she has traveled widely, on top of her work as a professional art restorer, to give lectures on "the film's message of social injustice," according to her bio in the event's program. Her goal is to ensure "that each generation of students experiences the film's impact."
As for Watchman, she has nothing but praise. It's "brilliantly written," she said, infused with a great deal of humor and constructed with the deft ability to have readers crying one moment and cracking up the next. "Some of it is so poetic. It's just beautiful." Asked if she thought Go Set a Watchman would and should be taught in schools, Badham replied, "I certainly hope so.
"Especially now with what we've got going on in this country," she added, citing current events that highlight "issues of race and tolerance and bigotry." And just as she does when she speaks in classrooms around the country, she made the audience repeat after her: "Ignorance is the root of all evil, and education is the key to freedom."