From Goalkeeper to Insurgent: 'Return to Homs' Risks All on Syria's Frontline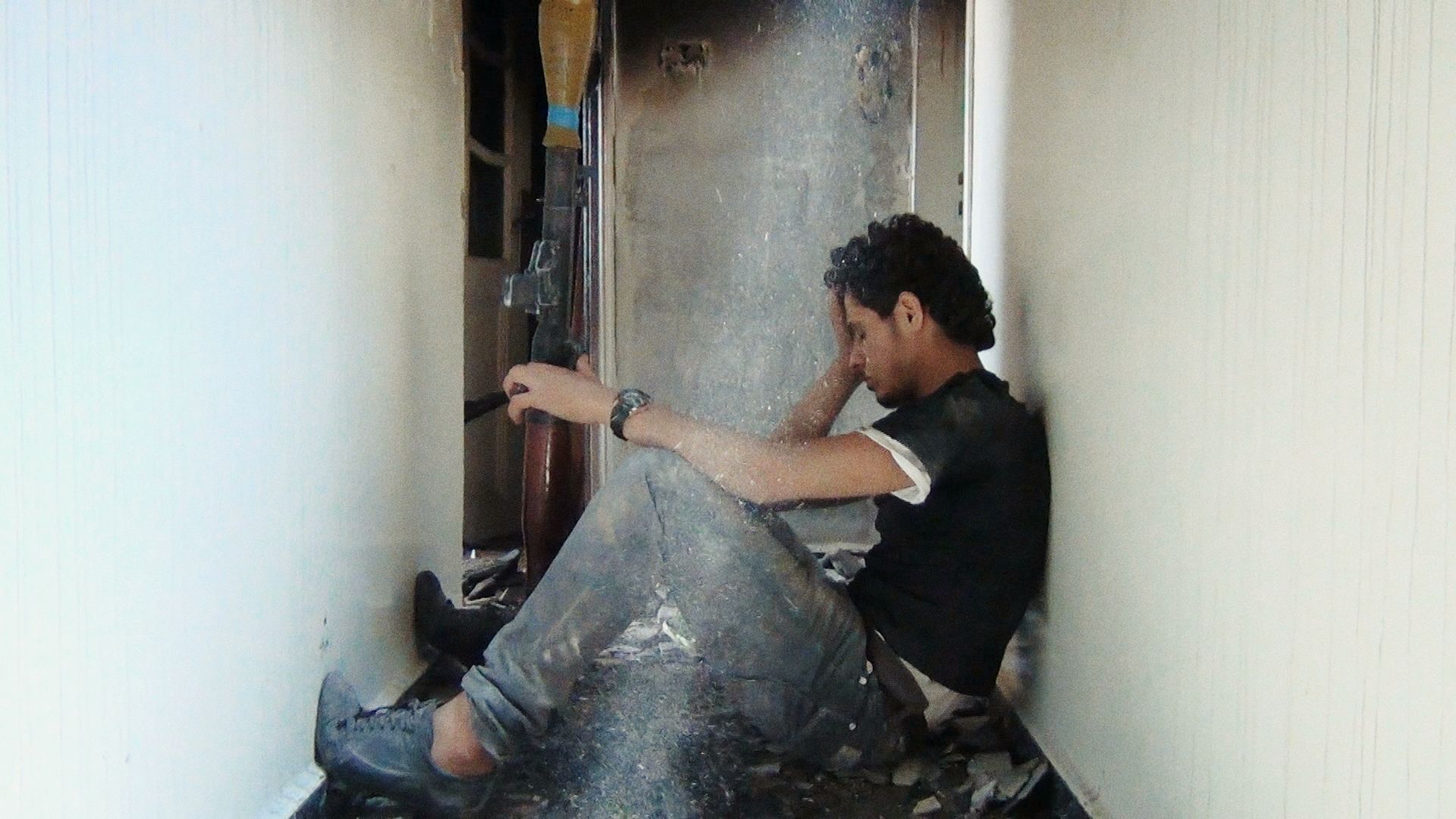 How does one of the Middle East's best-known soccer stars, the self-professed second-best goalkeeper in Asia, become a leader in the Syrian revolution? Return to Homs, a new film by Damascus-born director Talal Derki, follows his journey and Syria's descent into civil war.
Football player Abdul Baset Al-Saroot, who was 19 when filming began, became an activist in the Syrian uprising in 2011, when his popularity and fame drew large crowds to chant anti-government songs with him in the streets of Homs. The destruction and siege of the city in western Syria and Saroot's subsequent attempt to return are the focus of Derki's film, which takes an unflinching look the unraveling of society in Syria, including daily indiscriminate killings and the decimation of entire neighborhoods.
Filming a documentary during a media blackout in the city where journalists Marie Colvin and Remi Ochlik were killed, and where filmmakers were routinely labeled terrorists, was an enormous risk, said Derki. When Derki fled to Berlin, Orwa Nyrabia, the Syrian filmmaker who produced Return to Homs, was arrested at Damascus airport and detained in an underground prison for three weeks, accused of making a film with a terrorist. He was released amid international pressure from prominent filmmakers including Martin Scorsese and Robert De Niro.
"I had this film in Homs and nobody knew my real name," said Derki, who was based in Damascus, Syria until the end of August 2012. Return to Homs was filmed between August 2011 and April 2013 and won the World Cinema Grand Jury Prize for Documentary at the 2014 Sundance Film Festival.
Derki and his wife eventually moved to Berlin, where many of his friends from Syria now live. His son, now 2 years old, was born later. Derki's wife was the only member of his family, many of whom left Syria for Turkey, who knew that he was making the film.
Even Saroot, who is seen morphing from an optimistic young leader into an exhausted, frantic commander of 200 men, didn't know Derki's real name, although he does now. The film was edited in Derki's small flat in Damascus, which was situated right above a street checkpoint, he said.
"It was a lot of risk. When you look at it right now, it looks like suicide. But this is why it's called revolution," he said.
There is no respite in Homs, once considered the capital of the revolution. Doctors catch what sleep they can at makeshift medical clinics before the next victim of gunshots or shelling is carried in by groups of men and crying fathers. Children die from random sniper attacks. To travel undetected in Homs, the camera follows Saroot's fellow rebels as they make a trail through the holes left in shelled houses, an alternative route through old sofas and living rooms instead of exposed streets.
Six United Nations observers eventually show up, "without any power, any authority," says Derki. In the film the observers, who stopped in the city for 30 minutes, are essentially useless as residents, full of hope at their arrival, tell them about the daily killings and destruction.
"They're like tourists," said Derki of the observers, one of whom we see snapping photos in his blue helmet.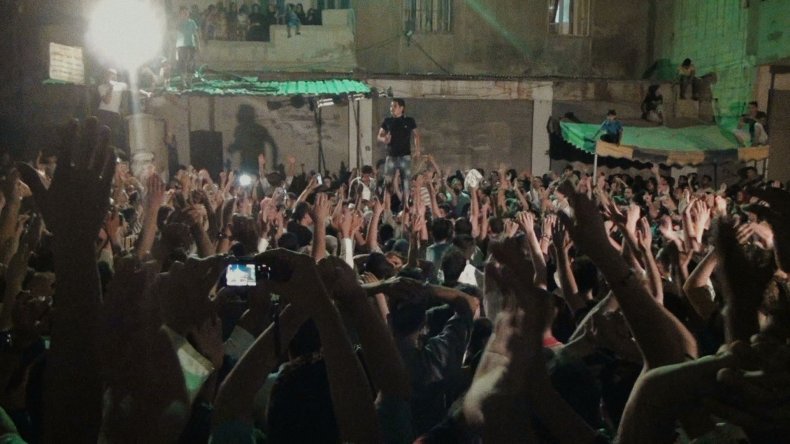 Saroot, who played for Syria's national soccer team until 2011, has seen the film many times and it was shown in Homs in April 2014. The siege of Homs ended in May 2014. Derki sent Saroot and his group a link to the film for the screening.
"He asked every five minutes to stop the film so he could explain background stories," said Derki.
Return to Homs also follows Saroot's friend Ossama, 24, a pacifist activist and videographer who was captured by authorities during filming. His whereabouts are still unknown and Derki is afraid of what might have happened to him.
"[Saroot] was a popular face. Everyone wanted to interview him. A lot of journalists, media people, wanted to ask him about the revolution and what's happening in Homs as an activist," said Derki. While everyone else covered their faces, Saroot wasn't afraid to attend demonstrations using his real name.
Saroot's journey is painful to watch. At the outset of the uprising, Saroot is optimistic and determined. After months of fighting and several injuries, he is ready to give up and says he wants to die. Derki says that despite being an inspirational figure to the men pulled into his orbit to fight, Saroot felt a great weight and responsibility for those around him, many of whom we see shot dead on camera. Derki lost two uncles, his father and numerous friends in the war.
"What happened to him is reflecting what happened to all this generation, that they are alone," said Derki. "Nobody wins a war when you lose your best friends who you're side by side with, fighting for what's right."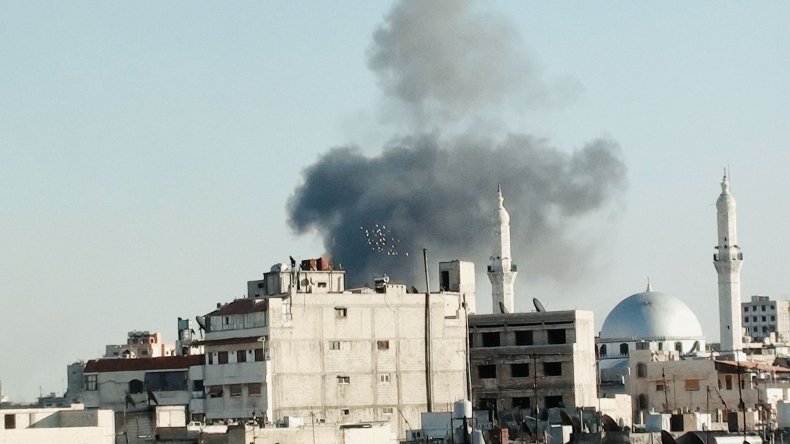 As far as Derki knows, Saroot is in an area to the north and east of Homs surrounded by Islamic State militants, a foe that didn't even exist when Derki was filming. Derki is worried about him and hears from him rarely.
Derki's next project will focus on the new generation of Syrian children growing up in the shadow of war. Like Return to Homs, it will be funded in part by the International Documentary Film Festival Amsterdam (IDFA).
Return to Homs will make its U.S. national broadcast debut on PBS's POV series this summer. On Wednesday, Derki received the first-ever George Polk Documentary Film Award for the film.