A goat platoon commanded by a dog has been called in by officials in Sacramento, California, to help fight wildfires in the area.
Thousands of goats will work to eat through troublesome, dry weeds along the Clarksburg Branch Line Trail, to the west of the city, ABC News reported.
Following months of heavy rain, the weeds in the city have been growing more rapidly. Now, with the spring and summer months approaching—and an ongoing drought—the weeds have begun drying out.
There are fears among government officials that come the summer, the area will be a tinderbox.
Shawn Aylesworth, park maintenance manager with the City of Sacramento, told ABC News that the goats will be able to get into "very small nooks and crannies." Many of the weeds are on rugged terrain, and can be hard to get to with lawnmowers. The city is also concerned that lawnmowers could create a fire if they were to hit rocks in the area, ABC News reported.
Once the goats have eaten all the grass on the Clarksburg Branch Line Trail, they will move to North Laguna Creek Wildlife Area, to help tackle the same problem.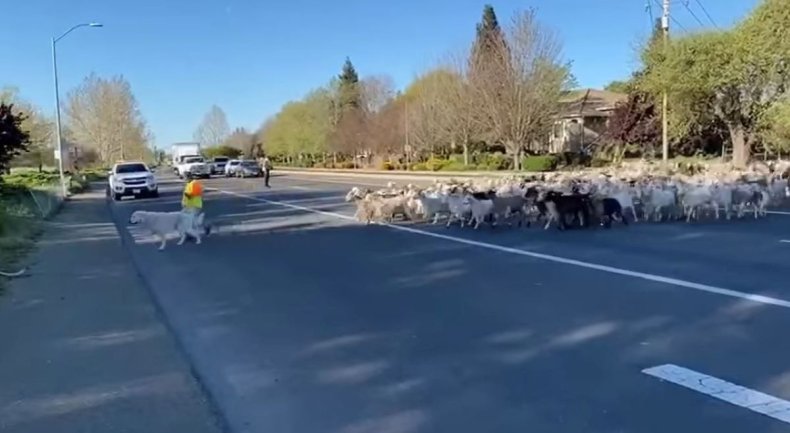 A video from the City of West Sacramento shows a dog shepherding the goats across the road in Jefferson, Locks Drive. In the footage, a row of cars can be seen held up the road while the platoon of goats runs across, following the dog. As they cross the road, a man can be seen running up behind them to herd them into the grass. Another dog then begins rounding the goats up before the video finishes.
The so-called 'goat grazing program,' is an environmentally friendly option to clear hazardous vegetation. It is also cost-effective and takes intensive labor away from people, especially in vast areas where there is lots of grass.
Aylesworth told ABC News that the decision to deploy the goats was "the right thing for the community and for the environment."
In recent years, California has seen some of the worst wildfires in its recorded history. What is deemed 'fire season' in the state, during the hot summer months, has been getting longer. Experts have put this down to a changing climate causing droughts and intense heat.
In 2020, 58,950 wildfires burned through 10.1 million acres of land. This was the second-largest acreage in a year since 1960.
Wildfire expert Craig Clements told ABC News that most big fires usually start in the grass. Grass fuels fire very easily, he told the news outlet and can catch on nearby shrubs, gradually reaching forests.
Clements said the coming summer seasons could look "pretty grim."
Given the "severe drought," and the drying grasses, Clements told ABC News that Northern California could have "a pretty busy June in terms of fires."