Goat Yoga World Record Attempt Will Raise Money to Help Stop Human Trafficking
A Florida goat farm is hoping to break a Guinness world record on Saturday for a good cause. The Grady Goat Farm is hoping to break the record of the largest-ever goat yoga session while raising money to end human trafficking.
For those who are unfamiliar, goat yoga is precisely what it sounds like — people do yoga while goats cavort around them. Goats, known for their love of climbing, often try to get on top of the yoga practitioners who don't seem to mind. The Grady Goat Farm has been offering goat yoga since April 2017.
According to the Tampa Bay Times, over 500 people are coming to the farm to break the record to do yoga with 110 goats. The previous Guinness record for goat yoga was set February 23, when Arizona Goat Yoga and Visit Mesa, the tourist information organization for Mesa, Arizona, invited 351 people and 84 goats to the Mesa Amphitheatre.
"We are going to smash the record," Debbie Canton, 56, told the Times. Canton and her husband Rob run the Grady Goat Farm, and they've been planning the event for almost a year.
The Cantons don't just run a goat farm — they also launched the Grady Goat Foundation, a charity for children. The latest initiative for the organization is the Global Offensive Against Trafficking, also known as Project GOAT. Project GOAT is dedicated to ending human trafficking, as well as stopping the sexual exploitation of children. Debbie Canton expects to raise at minimum $100,000 for Project GOAT.
"Everything we are doing this Saturday, and things we are going to be doing over the next year are raising money for the fight against human trafficking," Canton told WTVT.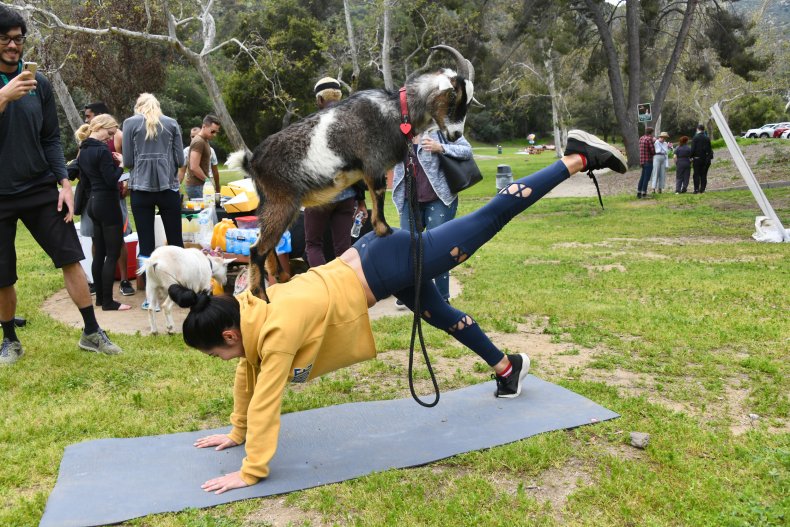 The record was unofficially broken this June in British Columbia, Canada at an event with over 400 people, however, the Cantons are working to make sure their record is an official Guinness world record, and there are a number of rules that must be followed. Thankfully, in addition to the more than 500 people expected to participate in the record-breaking attempt, there will be another 50 volunteers to help coordinate.
Guinness requires that the goats are at least one year old, and that there is one goat for every five people. Participants need to be at least 13 years old and must do a half-hour of yoga to qualify — and there will be timers to make sure no one tries to stop early to play with the goats. The event will be recorded on video and submitted to Guinness. However, no previous yoga experience is required, and the Grady Goat Farm will even supply the yoga mats.
Sadly for any latecomers, the event is sold out — however, those just finding out about the event can put their name on a waiting list. Though there's an age limit on trying to break the world record, kids of all ages — both human and goat — will be welcomed. After the world record attempt, there will be a number of child-friendly events on the premises, including games, crafts and opportunities to see and interact with ponies and baby goats.