'God Decides Who Lives or Dies' Says School Board Member Against COVID Prevention
Barbara Crosby, an elected member of the Dorchester School Board in South Carolina, said that "God decides who lives and dies" during a TV news interview about her school district's COVID-19 prevention measures. As of September 3, approximately 20 percent of the students in her district have been quarantined due to possible COVID-19 exposure.
"Now, I hope and pray that our kids don't get deathly ill or we don't lose any children, but you know what? That's not my...that's up to God," Crosby said in a Thursday interview with WCSC-TV anchor Raphael James.
When James asked her for clarification, Crosby responded, "I said that's not gonna be my decision...It's gonna be...I mean, God decides who lives and dies, right?"
Crosby walked out of a school board meeting on Wednesday upset over a vote to have district students switch to virtual learning for seven school days after Labor Day. The board voted on the option because over 20 percent of the district's student body is either out with COVID-19 or in quarantine after potential exposure to the virus. On Wednesday, the district logged 264 staff absences and 5,085 students in quarantine.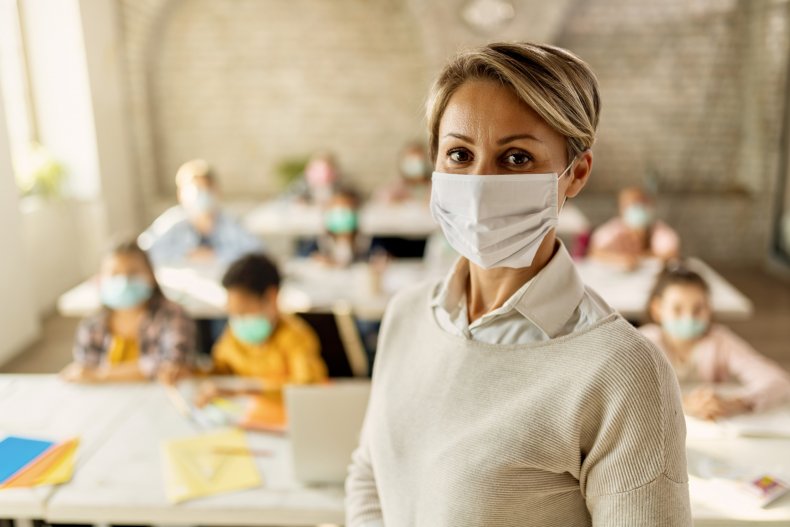 Crosby explained that she walked out of the meeting because she was upset over the votes of some of her fellow board members. They had originally signaled to her that they would only vote in favor of distance learning for four school days, she said. Instead, they voted for seven days.
"I say what I believe and I don't flip flop," Crosby told James, "and I was very hurt and disappointed they did that. And I just thought I just had to get up."
She told James that she opposes virtual learning because younger and special needs students benefit more from "one-on-one contact with their teachers." She also said that she supports wearing masks in schools, but only if parents are given the option to opt-out.
"They said actually the germs and the bacteria that's in the mask can make you sicker than not wearing the mask," Crosby added. She didn't name the source behind her claim, but the fact-checking site Snopes.com has noted that face masks do not store germs if they're regularly disposed of or laundered after use.
"I don't believe this virus or variants or whatever else is gonna go away anytime soon," Crosby told James. "We just gotta suck it up. It's not gonna go away, and need to leave the kids in school, and try to do the best we can with it."
A South Carolina state law passed last year bans school districts from enforcing mask mandates. If they defy the order, they risk losing state funding. A group of disability rights groups and parents filed a lawsuit against state leaders and school districts this week to stop the ban from going into effect, local news station WIS-TV reported.
Newsweek contacted Crosby for comment but did not hear back in time for publication.