'God of War' How To Use Enchantments To Make The Best Armor
Wondering how to use enhancements in God of War and which ones you need for the best armor? Check out our complete guide, here.
One of the best things about God of War is it's intense, visceral combat. But as the game progresses enemies get more sophisticated, and advanced arms and armor become a necessity. You'll pick up a number of enchantments along the way but it's hard to know what's best and how to use them. Here's everything you need to know about using the best enchantments in God of War.
God of War Enchantments: How To Equip To Your Armor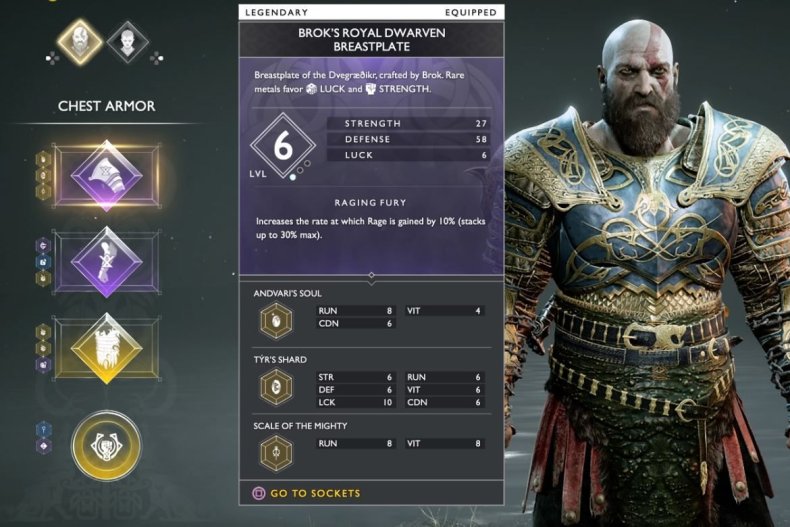 How to Equip: Equipping enchantments is easy, provided you have advanced enough armor to accommodate them. To use an enchantment on a piece of armor it must have at least one available socket. You'll know if an armor is socketed or not by selecting it on the menu screen. If it has a socket, you'll see a prompt in the item description telling you to push square to go to sockets (as pictured above). Once you hit square you'll enter this menu: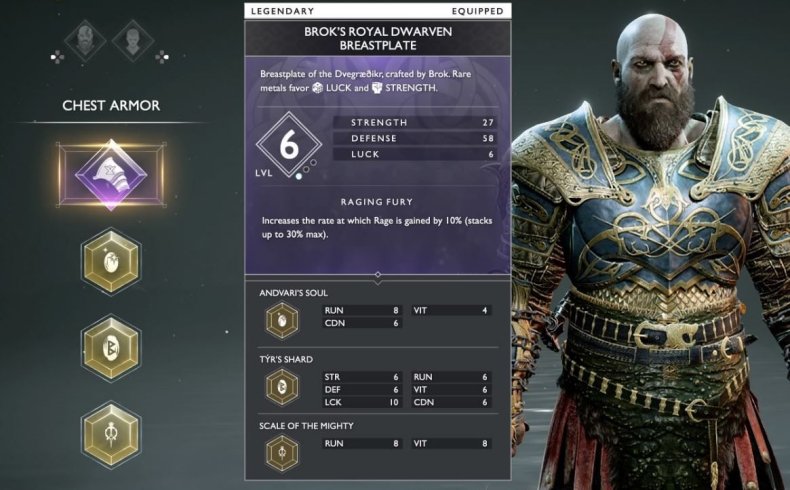 Socketing Enchantments: This lets you see which enchantments you already have socketed. In this example, my breastplate has three sockets and each one has a different enchantment in it. The next thing to do is pick an enchantment slot on a piece of armor (or talisman) and hit X. Now you'll enter the enchantment menu.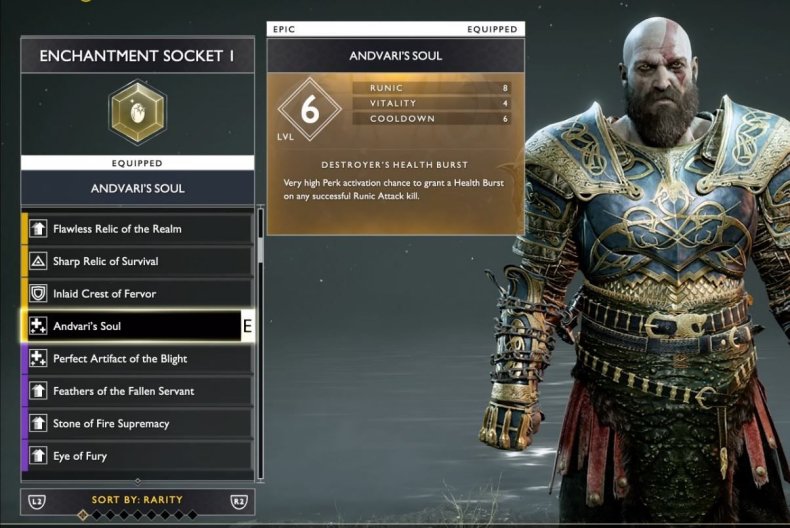 Available Enchantments: From here you can select any enchantment you want for the armor you have equipped. Depending on the enchantments available, you may want to consider carrying multiple sets of armor for different situations. This is definitely necessary if you're going to tackle the game on harder difficulties. Sets that maximize frost or fire resistance, for example, are handy backups to have.
God of War Enchantments: The Best Health Enchantments
When starting out you won't be accessing the highest level enchantments for your gear so it can be tough to tell which sets are better than others. Overall, I found enchantments that contributed to my vitality to be the most useful. As you'll soon discover if you're just starting out, you don't find lots of health during battles and Kratos only carries one resurrection stone. Finding an enchantment that adds to health can be a literal lifesaver.
God of War does have a specific language it uses in the titles of the randomly generated enchantments depending on what they do. If you're concerned with health you want enchantments that start with the word Polished. Those all impact health in some way. There are also specific perks that benefit health. You'll find these in the enchantment description. Here's the full list:
Duelist's Health Burst
High Perk activation chance to grant a Health Burst on any successful parry.
Evasive Health Burst
Moderate Perk activation chance to grant a Health Burst on any successful last-second evade.
Regenerating Essence
Adds a very small amount of constant Health regeneration. (Stacks up to 5 times max.)
Striking Health Burst
Moderate Perk activation chance to grant a Health Burst when using a Runic Attack.
Destroyer's Health Burst
Very high Perk activation chance to grant a Health Burst on any successful Runic Attack kill.
As for other enchantment perks, it really depends on your playstyle and the enemies giving you trouble. In general, though, the best enchantments by far are the ones that have the health perks listed above. They can be found on the following high-level enchantments: Heart of Svartalfheim (Legendary), Andvari's Soul (Epic) and Scale of the Mighty (Epic).
Which enchantments do you find to be the most helpful? Let us know in the comments!