'God of War' Frozen Flame: Tips for Beating Magni and Modi Boss Fight and Gaining The Leviathan Axe Upgrade
Need tips on defeating Magni and Modi Boss fight and gaining the Frozen Flame Leviathan Axe upgrade? Check out our full guide, including best armor, weapons, skills and gear to get the job done.
God of War is full of so many fantastic things, including epic boss fights. Not all boss fights are created equal, however, and the encounter with Magni and Modi in the ruins underneath the fallen giant Thamur can be particularly challenging. Both sons of Thor, Magni and Modi are big beefy lugs with strong attacks and huge health bars. (They'll also transfer health to each other if you give them too much distance). Each has a different attack style, and the key to winning the Magni and Modi boss fight is managing the different tempos of both foes throughout the battle, which occurs in multiple stages.
God Of War: Best Armor, Weapons & Skills For Magni and Modi Boss Fight
This is a long, hard fight. Make sure you purchase a resurrection stone from the blacksmith beforehand. You'll also want to have the shield breaker skill unlocked in your skill tree, too. Double check your gear and make sure you have all the upgrades you can, including socketed enchantments (anything that reduces lightning damage is best.) If you're close to an upgrade on something it might be worth your time to explore for the necessary resources before attempting this fight.
God of War Magni and Modi Boss Fight: Stage One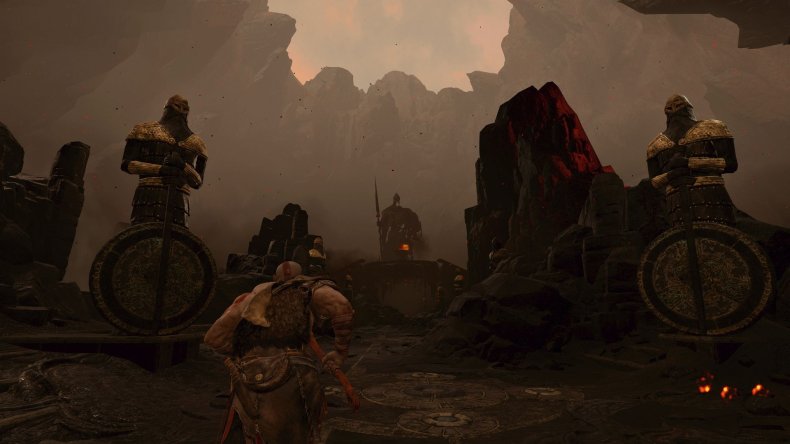 Shortly after you smash your way through the ice into the temple where you'll find the magic chisel, Magni and Modi show up and start talking smack. It's clear they know Kratos and Atreus have anger management issues, as they continually work to goad you into an overreaction. Kratos has more control, but you'll see a side of Atreus you haven't before.
Magni is the more powerful and aggressive of the two. He should be your first priority because Modi uses a shield for defense and takes longer to stun. You'll notice the long health bars for each of the Norse gods has a stun bar underneath. The key is to fill the stun bar for the brothers one at a time. Once stunned, a blue force field appears over the downed enemy so you can't do further damage, freeing you to focus solely on the remaining brother.
Magni has two basic attacks that should be familiar because they're similar to some of the moves used by other heavy enemies throughout the game. He has a big overhead smash and a sweeping side attack. Both are telegraphed, so the strategy for fighting off Magni is to get in a few light attacks, roll out of the way when he winds up for a big swing, then dash in after with a heavy. Keep an eye out on your HUD for any blindside attacks from Modi and be prepared to break away and help Atreus if he gets snatched up.
Once you've felled Magni, focus on Modi and his super-annoying shield nonsense. If you haven't already unlocked the double-tap shield break skill in the skill tree you should. Break his guard, have Atreus shoot him from a distance, and unleash some combos and he'll go down in no time.
God of War Magni and Modi Boss Fight: Stage Two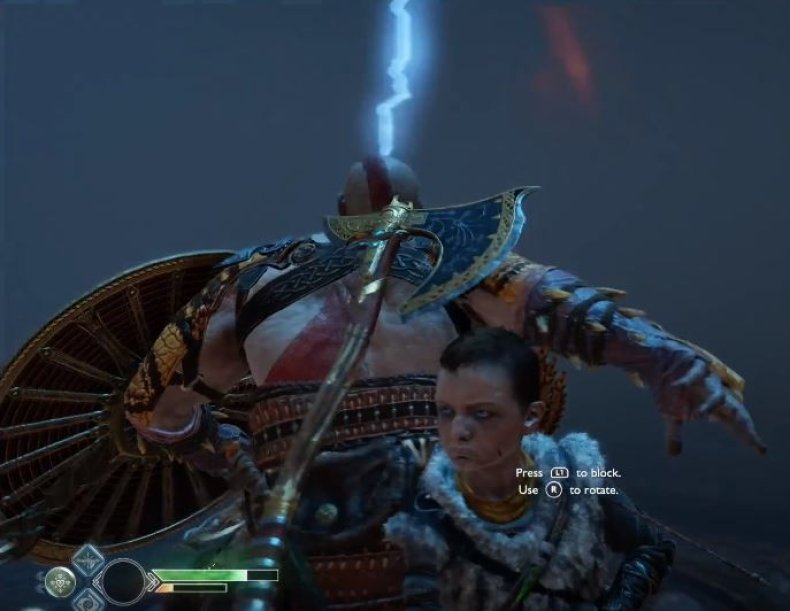 After stunning both of them, Kratos and Atreus get hit with a blinding spell and go into the back-to-back stance seen above. Basically, all you need to do is keep spinning and waiting for the attack indicator to pop up as Modi and Magni rush at you from the shadows. After three successful parries (hit L1 just before the attack lands) you'll go back to brawling.
God of War Magni and Modi Boss Fight: Stage Three
You go back to fighting Magni and Modi simultaneously, only now they've added some new moves to their repertoire. The most jarring is a new grapple from Magni, which you need to break with a well-timed QTE. You hit square at the right moment and Atreus hits him with an arrow, allowing Kratos to counter with a headbutt. Fail and you'll take a pretty big hit.
There's also new elemental and ranged attacks in the mix. Magni adds lightning damage to his sword, and will do an attack that sends bolts of electricity coursing through the ground. Sideways dodging is the best tactic to avoid those. Modi will lob lightning balls around the area that detonate after a few moments. Pay attention to your HUD to avoid running into them. They have a larger AoE than you'd expect, so give them a wide berth.
Otherwise, there isn't much else to do to counter the new attacks in this stage except play a bit more conservatively and dodge A LOT. Continue to focus on Magni first, as it's easier to rack up damage on him.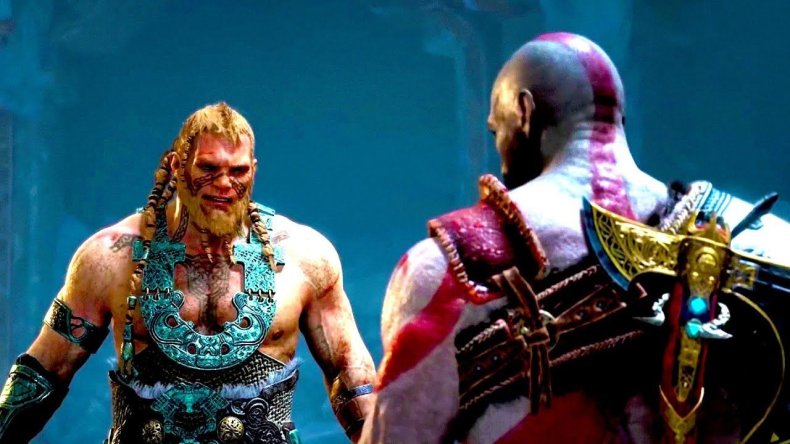 God of War Magni and Modi Boss Fight: Stage Four
You'll have to do the back-to-back sequence again but this time there's a twist: both brothers might attack. One brother will come in for a fake out and then the other will dash in from the opposite side. How do you counter? The key is to keep spinning and anticipate a need to keep moving. You'll still need to square off against the first brother but he usually pulls away fast, then do a 180 to intercept the next.
Magni and Modi Boss Fight Rewards: The Frozen Flame
Depending on the health you're draining during each brawl phase, you may need to repeat stages three and four again to finally defeat the two. Your reward will be a lot of Hacksilver and XP, plus some rare resources and, most importantly, a Frozen Flame for upgrading the Leviathan Axe.
The end of the Magni and Modi boss fight also sets off a few major plot points, too. Be prepared for some serious drama.