'In God We Trust': Florida Public Schools Must Now Display Religious Motto and Other States Could Soon Follow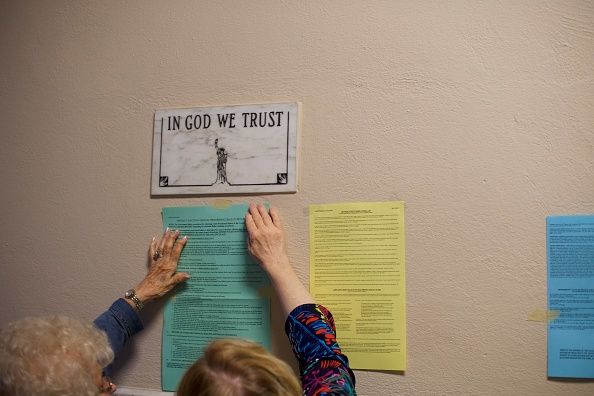 Starting this fall, signs with the phrase "In God We Trust" must be displayed in every public school in Florida.
Republican Governor Rick Scott signed the measure into law back in March, as part of the state's latest education bill. The legislation was sponsored by Representative Kimberly Daniels, a Democratic lawmaker who also runs a Christian ministry, according to the Orlando Sentinel.
The statute requires any public school, and any other buildings utilized by local school boards, to display the motto in a "conspicuous place."
When the bill was introduced, Daniels argued that because the motto "is inscribed on the halls of this great capitol and inked on our currency, and it should be displayed so that our children will be exposed and educated on this great motto, which is a part of this country's foundation. The "In God We Trust" motto has been a feature of Florida's state seal since 1868 and its state flag since 1900.
The measure to force public schools to display the religious motto is included in a massive, 207-page education bill. The sweeping legislation also included controversial provisions that stripped teachers' unions of their right to negotiate for things like better wages and health care benefits if the union cannot get more than 50 percent of a school's employees to pay membership dues.
Also included in the bill was the first-ever private school voucher program for bullied students in the country. The program allows students who are victims of bullying and other kinds of emotional or physical violence to move to a different public school or receive a private school voucher under a scholarship program.
But in recent days it has been the "In God We Trust" motto enforcement that has garnered the most controversy. Its critics point to some of the state's more pressing education problems. A cartoon featured in the Pensacola News Journal mocked the motto aspect of the bill amid larger educational issues like statewide teacher shortages and school safety in the wake of a rise in school shootings—like the one at Marjory Stoneman Douglas High School in Parkland, Florida, that killed 17 students and staff members in February.
Across the country, numerous organizations sued the government over the placement of "In God We Trust" in public spaces and on items such as coins and other currency. It's critics say that the phrase violates the Constitution, which says that there must be a separation of Church and State. But a federal judge ruled in June that the expression doesn't amount to a religious endorsement and therefore does not violate any U.S. laws.
Soon, Florida will likely be joined by other southern states in displaying the motto in public schools. Officials in Alabama are looking to put "In God We Trust" signs on display after state lawmakers approved a bill back in February that allowed the phrase to be showcased on public property. After passing a similar law this past March, when Tennessee students head back to school in the fall the religious motto will be on display in all schools in the state.