'Goddamn Asians': Man Allegedly Rammed Truck Into Group of People After Yelling Racist Remarks
A Chicago man was charged with attempted murder on Monday for allegedly striking a woman with his truck after he shouted anti-Asian remarks and complaints about "yuppies" on Saturday.
Police say Timothy Nielsen, 57, is in custody after intentionally driving his truck into a group of people picnicking in Chicago's Logan Square neighborhood on Saturday evening. Rob Lopez, one of the roughly 10 people gathered, told The Chicago Tribune that Nielsen shouted "f------ Asians" or "goddamn Asians" at his fellow picnicker Nick Lau, who is Asian.
"I 100% heard 'Asian', that's what kind of stood out. We're a multicultural group, just hanging out," Lopez said, before going on to explain that the comments resulted in the argument between Nielsen and the group quickly escalated at that point. "He said that, and that immediately — 'f--- out of here, f--- off' whatever."
Lau told the paper that he did not hear or remember Nielsen making racist comments towards him. He did remember telling Nielsen that other "unsolicited comments were unwelcome" and dismissively waving his hand before Nielsen drove his truck into the group. Nielsen also reportedly complained about "yuppies with dogs" to a witness just before attacking the group, some of whom had dogs with them.
An unidentified 42-year-old woman was struck by Nielsen's vehicle, which was prevented from moving further due to a Yeti cooler that became lodged underneath it. The woman was reportedly in serious condition after being taken to Advocate Illinois Masonic Medical Center but was released from the hospital later that same night. Lopez said that the group planned to "tell Yeti the cooler saved our friend's life."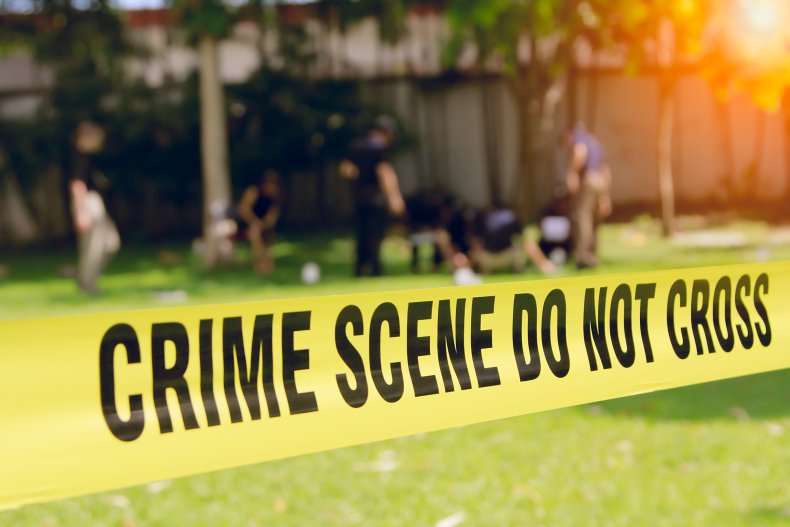 Nielsen was charged with four counts of attempted murder after "he intentionally jumped a curb in his vehicle and drove at a group of pedestrians gathered for a picnic," according to a Chicago Police Department news release obtained by Newsweek.
"The offender struck one 42-year-old female victim with his vehicle," states the release, which was issued on Monday. "The victim was briefly trapped underneath the vehicle and sustained serious injuries from the collision. The offender was immediately placed in custody and charged accordingly."
Nielsen has a violent history and three previous felony convictions, according to CWB Chicago. He received a four-year prison sentence for a 1989 incident where he and another person abducted a man at gunpoint while dressed as police officers and held him for ransom. He was given a 12-month sentence after smashing glass into the face of an escort service operator in 2000. In 2012, he was charged with retail theft and sentenced to three years.
Saturday's attack happened on the first day of Asian American and Pacific Islander Heritage Month. Experts believe that anti-Asian rhetoric amid the COVID-19 pandemic has helped fuel a surge in anti-Asian incidents and attacks since early 2020. There was a 169 percent surge in attacks against Asian Americans during the first quarter of 2021 when compared to the first quarter of 2020, according to the Center for the Study of Hate & Extremism at California State University, San Bernardino.