'Goddamn Disgrace': Cornered McConnell Turns $2000 Stimulus Cudgel on Democrats
After blocking a Senate motion to vote on boosting stimulus checks to $2,000 on Tuesday, Senate Majority Leader Mitch McConnell introduced a proposal that connected fattening direct payments to some of President Donald Trump's requests, including investigating election fraud and removing protections for social media platforms.
Presented with the original COVID-19 economic stimulus bill, Trump indicated that he would not sign the legislation without large changes being made to the bill, including boosting checks from $600 to $2,000. Trump also wanted a repeal of Section 230 of the Communications Decency Act, which protects social media platforms from being sued over third-party content. Additionally, Trump asked for investigations into his claims of election fraud, which have been described by many as unsubstantiated.
McConnell's proposed legislation gives the president what he wants while still allowing the $2,000 direct payments, a measure endorsed by lawmakers from both sides of the political aisle. Some Republicans have also come out in support of the higher stimulus checks including Georgia Republican Senate candidates Kelly Loeffler and David Perdue.
By introducing the legislation, McConnell may be trying to work his way out of a corner. Democrats quickly opposed his legislation and called for clean $2,000 direct payments to be passed without any "funny business attached."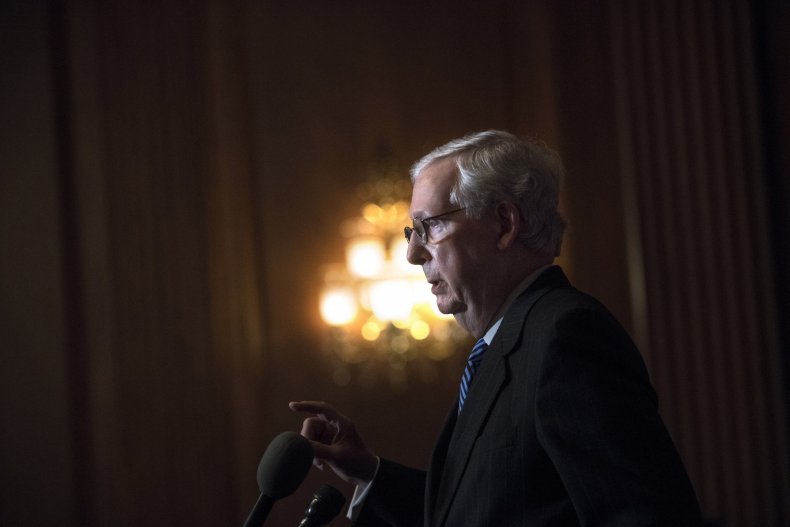 "To block you from getting $2000 mitch mcconnell is demanding a 'commission' to spew lies about the election trump lost and attack democracy," tweeted New Jersey Democratic Congressman Bill Pascrell, Jr. "This is a goddamn disgrace. The depravity of republican leaders has no bottom."
"People are furious with Mitch McConnell for blocking a vote on the bill we passed to send Americans $2,000 checks, so now he's planning to try to kill it by adding poison pills that have nothing to do with Covid relief," tweeted Virginia Congressman Don Beyer. "Don't be fooled."
"I think it's a big mistake to not approve a clean bill sending $2k checks out to people, so let's call it even. Keep going @BernieSanders! Make the Senate countdown the New Year on the Senate floor until they pass $2k checks, no funny business attached," New York Congresswoman Alexandria Ocasio-Cortez tweeted.
"Mitch McConnell, Kelley Loeffler & David Perue are standing between your family and a $2,000 survival check Georgia," tweeted Massachusetts Representative Ayanna Pressley. "Vote @ReverendWarnock @ossoff likes lives depend on it because they do."
In a Tuesday statement, Senate Minority Leader Chuck Schumer said McConnell's proposal was filled with "partisan provisions."
"Senator McConnell knows how to make $2,000 survival checks reality and he knows how to kill them," Schumer said. "If Sen. McConnell tries loading up bipartisan House-passed CASH Act with unrelated, partisan provisions that will do absolutely nothing to help struggling families across the country, it will not pass the House and cannot become law."
McConnell's move has put Democrats in a difficult position. The party will likely kill the bill, which could allow Republicans to claim that the opposition ended an effort to approve the popular $2,000 checks. However, if Democratic leaders allow the measure, the accompanying voter fraud commission and repeal of Section 230 could lend credence to Trump's unproven claims that widespread voter fraud caused his election loss to President-elect Joe Biden.
Perdue and Loeffler could also stand to benefit if McConnell's legislation passes. Most Senate Republicans oppose bigger stimulus checks, but Loeffler and Perdue's endorsement of the $2,000 payments could boost their chances at reelection, which would deny Democrats control of the Senate.
When McConnell's legislation will receive a vote is unclear. He indicated on Tuesday that the Senate would "begin a process" to focus on the issues outlined in his proposal this week.
Newsweek reached out to McConnell's office for comment.