'Goddamn' as Offensive as the N-Word, Says San Antonio Police Union President
San Antonio Police Officers Association President Mike Helle defended an officer's use of the n-word by comparing it to Mayor Ron Nirenberg using the word goddamn.
San Antonio Police Department (SAPD) officer Tim Garcia was fired in January 2019 for repeatedly using a racial slur during the arrest of a Black man. He was reinstated in November when an arbitrator reduced his termination to a 10-month suspension. In defending the officer getting his job back, Helle claimed officers were held to higher standards than the mayor.
"If a policeman would have said the exact same thing that the mayor had done, he would have been facing discipline and probably termination because they're saying that you brought discredit to the police department," Helle told news station KSAT.
On June 4, Nirenberg told attendees of a police brutality protest to hold him accountable, adding, "I'm the mayor of this goddamn city and we're going to make change together." Helle told KSAT that for a person who had a religious upbringing, use of the word goddamn could be comparable to using the n-word.
The officer acknowledged that he shouldn't have used the n-word and said it was a "lapse in my moment," Helle told the San Antonio Express-News. Just as the officer had a "lapse in a moment," Helle said the mayor lost his composure by using the "exact same offensive like cussword."
Asked if he believed goddamn was as offensive as the n-word, Helle told the Express-News, "For me, yes it is. Why don't you go ask one of our pastors or anybody that that's their faith?"
Helle told Newsweek the Express-News reporter "characterized my response to fit his narrative." The officer and the mayor should never have used the words they used, Helle said, but the comparison was based on people losing their composure and saying things they shouldn't.
Both words, Helle said, are "inappropriate and offensive" and "goddamn" violates the Third Commandment to not take the lord's name in vain. He added that his point—that "the language by an officer can get you fired but language from a politician was seen as appropriate"—was "obviously not understood."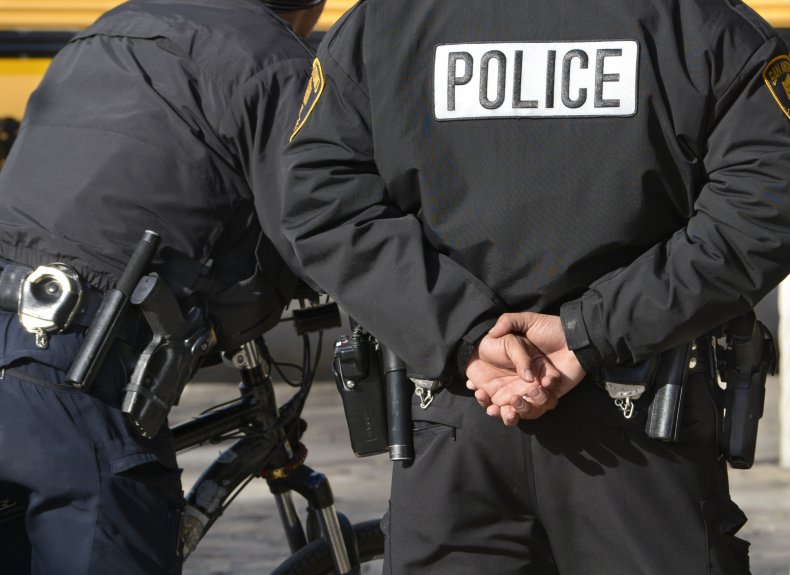 Joshua Fletcher, the Express-News employee who interviewed Helle, told Newsweek he was quoted accurately in the story. He said Helle brought up the case of the officer who used the N-word on his own, and the reporter denied they advanced an argument or took a position. "I only asked questions in order to understand his position," the reporter said.
U.S. Representative Joaquin Castro, whose district includes San Antonio, tweeted that Helle has "truly done damage and disservice" to local police officers.
Newsweek reached out to Nirenberg for further comment but did not hear back before publication.
As part of a larger, national movement, activists are calling for the SAPD to be defunded. A Change.org petition received more than 20,000 signatures, and some activists have voiced their concerns directly to City Council members. They called for a better investment in community programs, including health and human services.
Nirenberg told news station KENS5 that failing to finance certain community programs produces results that need policing and that there's "something wrong with that." He added that building safe and healthy communities is about "way more than just policing it."
Changes to the police budget also require an understanding of what the City Council has discretion over and what is in the domain of the collective bargaining agreement, the mayor said.
Helle was crucial in negotiating the last two agreements that afford protections to police officers accused of misconduct, KSAT reported. A new round of talks is expected to start in January, but Helle won't be a key player this time around.
The police association president announced earlier in June that he would not seek re-election and plans to step down when his term is up in February 2021. He will also retire from the SAPD.
This article has been updated with a comment from Mike Helle and Joshua Fletcher.