'The Godfather' Turns 50: How Coppola's 1972 Masterpiece Came to Be | Opinion
Few people create a hit movie. Fewer still create a blockbuster. Fewer still create a critically acclaimed movie classic with staying power. Francis Ford Coppola managed to do all three when he created the masterpiece The Godfather, which was released this week in March of 1972.
The story of how the movie got made, captured beautifully by Harlan Lebo in his book The Godfather Legacy, is so unlikely, it too could be turned into a film or documentary. In the end, it is about the intersection of art and commerce. And the will of one man, the artist as entrepreneur, seeing his vision through to the end, against all odds.
How did a young Coppola, then in his early 30s, end up directing The Godfather? A lot of other directors turned it down. Previous mob movies had taken a real drubbing in the box office: 1968's The Brotherhood was the latest in a string of bombs. But Coppola's film, it turns out, would have more in common with classic Shakespearean tragedies. "It's a romance about a king with three sons," the director once told reporters.
"It's certainly not a family picture in the traditional sense of a rated G film, but it is a movie about a family," Lebo told me for a recent episode of Our American Stories. "Of course, there are many things about the mafia and violence in the film, but at the heart of the story are the struggles within a family—a very powerful man and his three sons."
Coppola had originally turned down the job to direct the movie, but he reconsidered for financial reasons: The young director was low on money. He gave the pulp fiction page-turner by Mario Puzo, which stayed on the best-seller list for nearly 70 weeks, a second chance and discovered some real potential.
"I got into what the book is really about—the story of a family, this father and his sons, and questions of power and succession," Coppola said. "If you could cut out all the other stuff, I decided it could be not only a successful movie but also a good movie.
Much of Coppola's motivation and drive to succeed and take risks was the product of his upbringing in Detroit, where he was born in 1939. "His father, Carmine, was a very talented musician and composer, but he always felt like he was waiting for his break to come, like he was waiting for that knock to come on the door, and it never did," Lebo explained. "Coppola realized that you just can't wait around for these things. You need to go out and make your own breaks."
Coppola also had the good luck to be raised in a home with a healthy appreciation of Italian culture. "What explicitly wasn't taught was acquired," Lebo added. "Coppola absorbed the Italian heritage of his parents and grandparents: the food, the clothes, the language and the music—all the colors and textures of heritage that would figure so prominently in the film."
Coppola's life was altered fundamentally when, at the age of 9, he was diagnosed with polio. Confined to his room for nearly a year, the youngster took refuge in the world of make believe and play.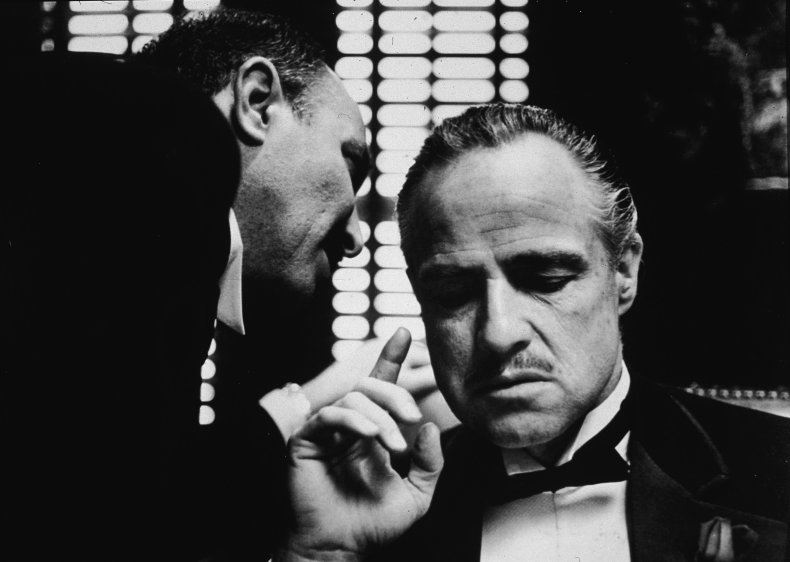 It was during that difficult time, Lebo believes, that Coppola's artistic temperament was birthed. When he was 17, Coppola saw the Eisenstein classic October: Ten Days That Shook the World. The movie shook Coppola's world and changed the direction of his life forever.
He would soon make his way to UCLA and Roger Corman, who was at the time the king of the cheap movies and a guy some film greats, like Martin Scorsese and Robert DeNiro, got their start with.
Coppola's big break came when he was offered a writing job for a film about General Patton. As was the case with The Godfather, Coppola was low on cash and took the job. He would end up winning an Oscar for his screenplay, a remarkable thing given that he was in his 20s and never served in the military.
Coppola took The Godfather job knowing there would be many artistic battles he'd need to fight with the studio. Of the many fights Coppola would win, the biggest and costliest had to do with filming on location. He also wanted the movie to be a period piece, set in post-World War II America.
"The New York City of the 1940s and '50s is a very real character in the movie," Lebo explained. "The film was shot primarily in the spring and summer of 1971, and they were filming in what was supposed to be 1946, '47 and '48, which was only 23 years earlier, but the city really looked nothing like it did in 1946. Constant attention to detail and fixing the streets and cars and putting up posters or big trucks to block things that would otherwise be seen on screen was a constant challenge when making the film."
Coppola's next big fight involved casting the movie's biggest parts. Every actor in Hollywood wanted to play the part of Vito Corleone, but Coppola wanted only one: Marlon Brando. Many executives thought Brando was, at the age of 47, past his prime: His last few movies had been box office disasters, and he had a reputation for being a problem on set. To make matters worse, Brando didn't want the part.
But that didn't stop Coppola, who was also a master salesman, from getting what he wanted. To placate the studio and buy himself time to win Brando over, Coppola tested dozens of actors. None made the cut, and for good reason. "The Don is in the movie no more than 30 percent of the time," Al Ruddy, the film's producer, explained in The Godfather Legacy. "We had to have an actor with the power to permeate those scenes in which he didn't appear. Brando has that blunt power."
The other big casting fight involved an unknown actor named Al Pacino. At the time, he had only two movies to his name, neither of which had box office success. But he'd recently won a Tony Award for best supporting actor in Does a Tiger Wear A Necktie? and drawn rave reviews. Jack Kroll, in his Newsweek review, said that Pacino had "the choreography of a hood, with a poetic soul."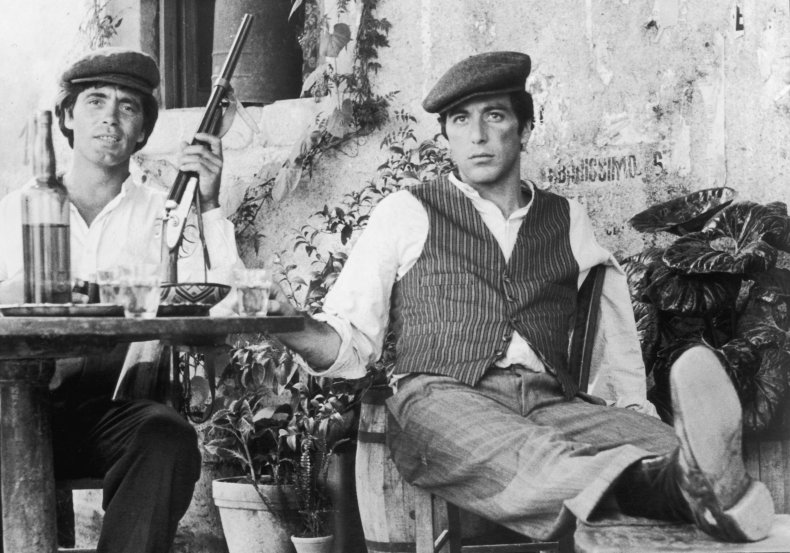 Perhaps Coppola's greatest victory revolved around the script, which he co-wrote with Puzo. "Keep in mind that The Godfather was a huge book with many subplots, but Coppola relentlessly made the case that he was going to focus as much as he could on the trials and tribulations of the family, and the problems of succession. There were many times over the next few months that he had to stand his ground," Lebo said.
Coppola would fight for the script, too, and was willing to call outside help to get what he wanted. For the most important scene in the film, Puzo brought in script doctor Robert Towne to do his magic. The short scene between father and son may be one of the most memorable in movie history—and brought the plot, theme and two central characters together in one final, beautiful sequence.
The setting was Don Corleone's home garden, father and the son sitting close on lounge chairs. The father starts the conversation by reviewing family business, and the talk soon switches to more personal matters. "I knew that Santino was going to have to go through all of this," the father confessed. "And Fredo, well, Fredo was...well...I never...I never wanted this for you."
The father wasn't finished: "I don't apologize—that's my life—but I thought that when it was your time, that...that you would be the one to hold the strings. Senator Corleone. Governor Corleone...something."
The son made a joke in Italian to ease his father's sense of regret, and his father completed his plea for forgiveness. "There wasn't enough time, Michael. There wasn't enough time," Don Corleone lamented.
Michael tried his best to lighten his father's sense of disappointment. "We'll get there, Pop," he said. "We'll get there."
The scene, acted to perfection, was and still is a master class in screenwriting.
"He understood better than anyone that the key to writing any great scene is often what you don't say," explained Lebo.
"I'd like to thank Bob Towne, who wrote the beautiful scene between Marlon Brando and Al Pacino in the garden," Coppola said after receiving the Oscar for best screenplay. "That was Bob Towne's scene."
It was Towne's scene, but it was Coppola's movie. The Godfather would become the biggest seller of all-time and the first summer blockbuster, in addition to garnering three Oscars, for best picture, best screenplay and best actor (Brando). The movie also changed the career arcs of everyone in it, actors, producers—and director, too.
Coppola would go on to make another masterpiece (The Godfather Part II) and another movie that nearly drove him to the brink of insanity (Apocalypse Now). But one thing is certain: Without the drive of one man with one singular vision, an American classic would never have come to be.
Lee Habeeb is vice president of content for Salem Radio Network and host of Our American Stories. He lives in Oxford, Mississippi, with his wife, Valerie, and his daughter, Reagan.
The views expressed in this article are the author's own.
Update 3/15/2022 6 p.m. EDT: This story was originally published in March 2020. The text and the headline have been updated to reflect that The Godfather has just turned 50.