God's Garage Is Giving Away Much More Than Free Cars | Opinion
Several years ago, Pastor Chris Williams was driving home from church on a Wednesday night in Conroe, Texas, just like he always did. "It was dark and raining hard, and I could barely make out two people walking on the road," he recalled.
Born and raised in Louisiana, Williams often watched his pastor father go out of his way to help people in distress. So he did something his dad would have done: He asked the two women if they needed a ride.
They jumped in, and Williams learned why they were walking: Their truck was in the repair shop. It had been there for nearly three months.
"I asked the woman who owned the truck why it was in the shop so long, and the woman hung her head and told me, 'I can't afford to fix it,'" Williams continued.
Williams, a youth pastor, had always dreamed of opening his own auto repair garage that would help women in need. "Right then and there, I decided I needed to figure out a way to get my dream of opening a free garage off the ground," he said.
Williams always had a heart for people and their car troubles. "I know what it's like to be short on money and long on car troubles," Williams explained. "I can't tell you how many times I've prayed that my car would start in the morning so I could get to work."
A father of two girls, Williams felt a calling for single moms, widows and military wives because of stories he'd heard of auto repair shops taking advantage of women.
Williams borrowed money and asked people he knew for donations to start his new ministry, and several months later, he opened God's Garage, a nonprofit that repairs vehicles for women in need—at no cost. The organization gives refurbished vehicles away, too.
Williams understood the economic bind being carless can cause, and how his nonprofit could help. "Car repairs can be expensive, and where I live, it's very rural," Williams explained. "So if you don't have a car, you can't get a job. And if you don't have a job, you can't buy a car. It's a cruel dilemma."
God's Garage ended that dilemma for a whole lot of women in the surrounding community last year: The nonprofit gave away 146 vehicles and repaired 127.
One of those recipients was Jeanne McGowan. "Several years ago, I became ill and could not maintain my job and I lost my car because I could not work," she told a local TV reporter. "I'm thrilled to be a recipient of one of their cars."
On any given day, five to 10 men gather at the 3,500 square foot repair facility and spend the day working on cars with donated parts. More volunteers come at night, giving their time. Some give their money, too.
When the keys are handed over to the new owners, the volunteers at God's Garage do their best to be there. "When women come to get the cars, they see all the old guys, and the tears start flowing all around," said Harvey Yaw, a volunteer. "The reactions to those ladies getting the car, that's what keeps you coming back."
But Williams is quick to point out that God's Garage does more than meet the car needs of the women they serve.
"When we're able to repair a car for someone, or give away a car, we're not just giving someone transportation. We're restoring dignity and giving them a new independence with respect—without begging or borrowing," Williams noted. "It's a big life change for the people we help."
Williams has a partner in his mission: his wife, who—without hesitation—gave her husband the green light to pursue his dream. Even though it would mean working full time for no money.
"My wife had a good job, and she said yes, this is what we're supposed to do," Williams said.
Faith is a fundamental part of life in the Williams family, as it is with so many millions of Americans. "We felt like God was orchestrating this," Williams said. "We called it God's Garage because it's his. It's his blessing. Not ours. It's not Chris's workshop. All of the glory goes to God, not to us."
When it comes to finding the donors and volunteers, Williams credits God with that, too. "All of the provisions, they've come from God," he laughed. "We can't conjure up the money ourselves, and so He provides that as well."
Williams, always a pastor at heart, wanted to make certain that one point above all was mentioned.
"Do something for someone else," Williams urges anyone who will listen. "No matter how small or big, get together with one other person—or five other people—and do something good for somebody. Because on our own, we can do good things, but when we do things as a group, we can accomplish so much."
It's a heck of a story, what Williams and his merry band of automotive volunteers are doing in a small town 45 miles north of Houston. And what's best about it is this: It's easy to imitate or replicate. It doesn't take a committee, or a government agency or big dollars to do it. Just a few people and a lot of faith and love. And a community is changed.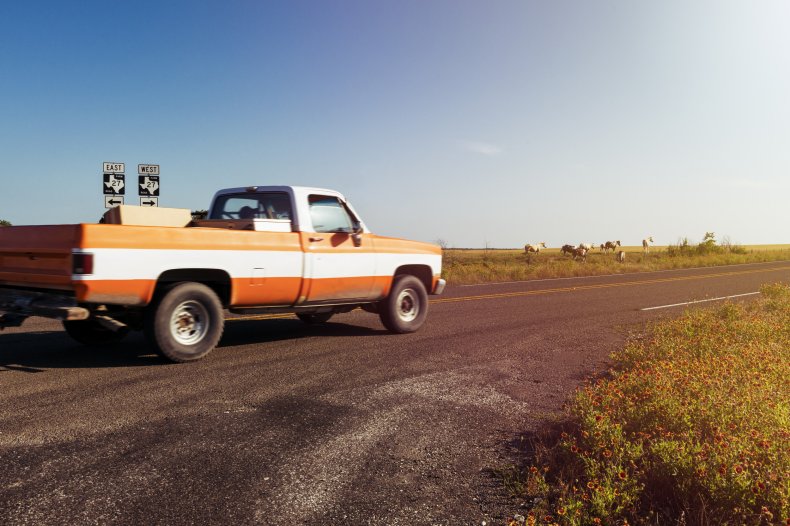 Indeed, stories like this happen around us every day, because the American people are the most generous in the world by any measure. In 2017, Americans gave away a whopping $410 billion, 2.1 percent of the entire gross domestic product, according to the Giving USA Foundation. Average household giving was over $2,200 among middle-class and lower-income Americans, an astounding figure. And that's not counting the value of all the hours Americans donate doing good work for a good causes.
Americans—despite the efforts by so many in the media to caricature us, and divide us politically, racially and in so many others ways—get along remarkably well. Just walk down a crowded city street, or a suburban strip mall, and look around. People of every race, creed, color and sexual orientation are carrying along beautifully and in harmony. And with open hearts and wallets, as God's Garage and so many stories like it in America reflect.
In a world of never-ending selfies, texts and Facebook posts, one that has grown increasingly angry and self-absorbed, Americans have always known deep down inside that helping others is good for the heart and soul. And you don't need to be a Christian or even religious to know such things.
"When we get outside of ourselves and help others, our problems diminish," Williams concluded. "They're not so big anymore."
Lee Habeeb is vice president of content for Salem Radio Network and host of Our American Stories. He lives in Oxford, Mississippi, with his wife, Valerie, and his daughter, Reagan.
The views expressed in this article are the author's own.​​​​​