'Godspeed, Majestic Warriors': #Area51 Trends As Americans Mock People Setting up Camp in Nevada Desert for 'Alienstock'
The hashtag #Area51 began trending on Thursday afternoon with tens of thousands of Americans mocking the #StormArea51 fans who have begun setting up camp in the Nevada Desert ahead of "Alienstock."
Crowds started setting up tents offsite this week, just off Route 375 in Rachel, Nevada in preparation for two #StormArea51-related events, "Alienstock," taking place in Lincoln County, and "Area 51 Basecamp," based in Hiko. The events are scheduled between Thursday and Sunday, according to the Las Vegas Review-Journal. The local newspaper released footage of people congregating in RVs, pick-up trucks and other vehicles near Route 375.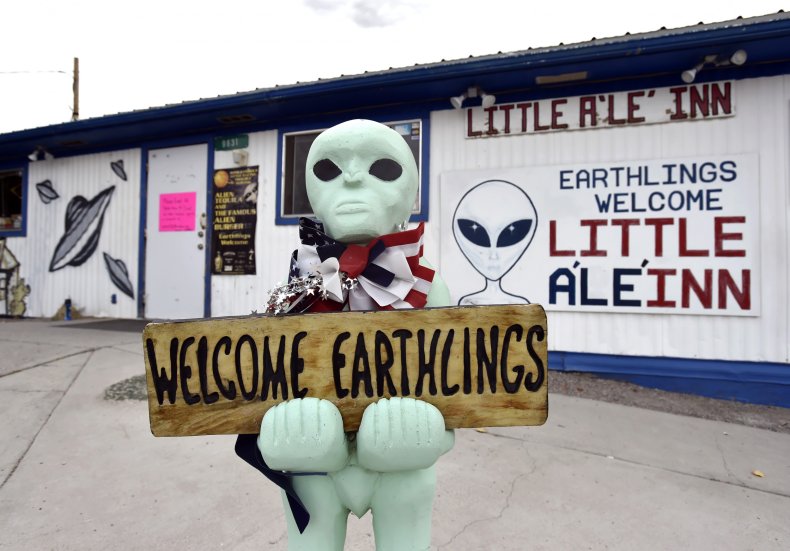 "We came out here camping, to ride the machines, because it sounded like a cool event," Ken Faulhaver, a 64-year-old camper from Las Vegas, told the paper. "We're here to see the people and look at the pretty young girls I used to have when I was that age."
"I'm hoping [aliens] show up. Come on, [aliens], and join the party," he added. "We're here for the spectacle."
The UFO-themed events come after hundreds of thousands of extraterrestrial enthusiasts clicked "attending" to a joke Facebook event, titled "Storm Area 51, They Can't Stop All of Us," which is scheduled to begin on Friday.
"We will all meet up at the Area 51 Alien Center tourist attraction and coordinate our entry," the event description read then. "If we naruto run, we can move faster than their bullets. Lets see them aliens." The phrase "naruto run" refers to a popular anime character, Naruto, who runs leaning forward with his arms stretched behind him.
Although the initial Facebook event was subsequently canceled, local officials still made plans to contain crowds that decide to show up regardless. When news began emerging of fans arriving at the location on Thursday, social media users quickly took to Twitter to ridicule the event and its attendees.
As of Thursday afternoon, 125,000 people had tweeted about the event in America.
"When going to Area 51, make sure to bring your beds to respawn and use creative mode. #Area51," Twitter user @GrimEmily wrote, alongside a meme that reads "Don't forget to put your beds down so we can respawn right on Area 41."
"Don't forget about the plan tomorrow, guys. We attack at dawn. Bring some snacks. We'll bring the #GFUEL. #Area51," the official G Fuel energy drink account tweeted.
"Florida man showing up to the #Area51 raid," Twitter user @DeffyDubs wrote, alongside an image of a man in a white singlet surrounded by white smoke
"Tomorrow's the day. Godspeed you majestic warriors. #Area51 #Area51storm," Twitter user @joeprocita wrote.
"People who say they're going to raid #Area51 vs. people who actually show up," The Daily Show tweeted, alongside an image of Trump's inauguration crowd.
"#Area51 Raid is tomorrow. Here is how I imagine the guy live streaming it will be," Twitter user @LazyGenGamers wrote, alongside a photoshopped image of a UFO shooting a blue beam onto what appears to be army troops.
"Dear #Area51 raiders, 1. This is a terrible idea. 2. Make sure you spend all your money on fries before you go. 3. Zig-zag," restaurant chains Checkers and Rally's wrote.
Read some more tweets below: