Goldzilla: This Is What Happens If You Set Your Pet Goldfish Free
Photos showing enormous goldfish caught in a harbor in Canada have been released by wildlife authorities, warning people that this is what can happen when pets are released into the country's waterways.
The images, shared by Fisheries and Oceans Canada, were taken after staff pulled two goldfish from Hamilton Harbour, about 20 miles south of Toronto, Ontario.
"Ever wonder what happens to a pet goldfish when it ends up in our waterways? This one was pulled from Hamilton Harbor, where we're studying this aquatic invasive species to learn how it's affecting our waters," Fisheries and Oceans Canada wrote in a Facebook post.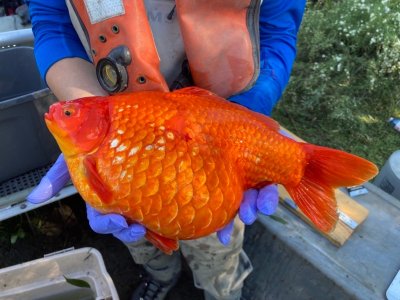 It said the team has been tracking goldfish using acoustic tags and their research shows the goldfish are now breeding in the harbor and are targeting spawning sites of some native species, including the Northern Pike.
"This is a big problem because in large numbers, goldfish can destroy aquatic habitats by tearing up aquatic plants for food and clouding the waters, which means less sunlight and less food for our native species," the Facebook post said. "They can also thrive on toxic blue-green algae and may even aid in toxic algal growth.
"Most goldfish likely end up in our waters after being released into local entry points like stormwater ponds, which is why it's so important to never release any pets into the wild."
The images of the goldfish show two individuals, with one about the length of a man's forearm and the other slightly smaller.
The Guinness World Record for the longest goldfish belongs to a Dutch specimen measuring 18.7 inches—which is over 1.5 feet—from snout to tail fin.
Huge goldfish are found in waters around North America as the result of them being set free. In November 2020, a goldfish weighing 9lbs was caught in Oak Grove Lake, South Carolina, during tests at the site to measure the health of the fish population there.
Greenville County Parks, Recreation & Tourism posted an image of the fish on its Facebook page, with one commentator, James Ward, saying: "That is probably my old gold fish. I had to move and when packing him up my brother broke the container. I had no other choice but to release him and hope for the best. Its name was Lucky. This was 11 years ago. I was so sad. I truly hope that this was my fish because that means he lived and had a good life."
"Lucky is still alive and happy in our healthy lake," said Greenville Rec in response, confirming it had returned the fish to the water after it was caught.