The world's first Godzilla Museum is now open in Japan. It is set to have an enormous statue of the iconic monster, with a zipline going into the beast's mouth.
Currently, visitors can view 80 rare monster figures, as well as movie props and a chibi Godzilla children's exhibit, at the new museum as part of its initial opening between August 8 - 31.
The most exciting stuff is still set to come, with phase two of the museum including a zipline that goes right into the mouth of a menacing 400-foot statue of the monster.
Guests can also try Godzilla-themed foods at the Awaji Island attraction, and bag some rare merchandise relating to the destructive, prehistoric sea creature.
As part of an upcoming immersive experience, visitors will act as scientists at the "Godzilla Interception Operation-National Godzilla Awajishima Research Center," helping placate the enraged beast fueled by nuclear radiation. Participants will monitor Godzilla's moves, having the chance to zipline into his "body directly from Godzilla's oral cavity" to carry out a mission. There is also a shooting game, in which guests fire at the beast with a special gun and dodge attacks from the monster.
Fans of the fictional character, made famous by Ishirō Honda's 1954 film Godzilla, can also try peculiar menu items as part of the "Godzilla Interception Strategy." Consume if you dare a sea-creature-themed hotdog, desserts with eyes and rice dishes with prehistoric paw prints on them. Dishes will be served at the Nijgen Nomori restaurant and at the Morino Terrace.
Fans who have managed to secure entry already have released pics from inside the exhibition on social media. Sneak peeks reveal cabinets of highly collectible figurines and movie posters from the Toho Visual Art Collection, used for Godzilla works throughout the ages.
Meanwhile, gift shop collectibles for fans include kaiju cups, Godzilla pin badges, gloves, T-shirts, gloves and memo pads.
It will cost around $10/7.50 for an adult/child ticket to visit the new Godzilla attraction inside the Awaji Island Anime Park, also known as Nijigen no Mori. Visit the park's official web page to buy tickets, and find out more about the attraction here.
The Awaji Island Anime Park, where the new Godzilla Museum is located, celebrates everything anime and is set inside Awajishima Park.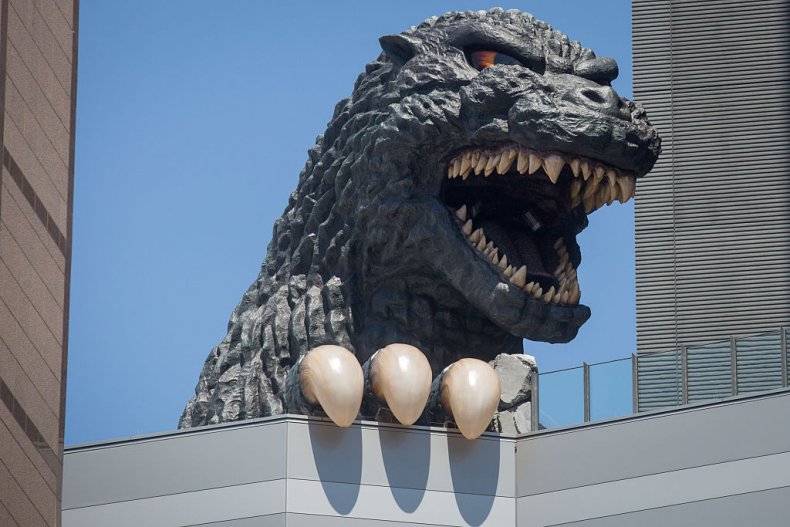 Radioactive reptile Godzilla is a fictional violent dinosaurian creature, which was awoken from the depths of the sea and mutated by nuclear radiation. The hugely popular monster has been immortalized in more than 30 films, plus video games, TV shows, comics and books.
A metaphor for nuclear weapons, and imagined in post-war Japan after World War II, Godzilla has the power to flatten cities and cause mass destruction. In 1945, the U.S. detonated two atomic weapons over the Japanese cities of Hiroshima and Nagasaki, causing hundreds of thousands of deaths and mass casualties.