GoFundMe for Billy Evans, Capitol Police Officer Killed in Car Attack, Raises $100k in 24 Hours
A GoFundMe for fallen U.S. Capitol Police Officer William "Billy" Evans, who was killed during Friday's attack at a security checkpoint, has been started to raise money for his children.
The donations page was created Wednesday by Capitol Police Officer Lindsey Taylor, who served with Evans. In less than 24 hours, the site collected more than $114,000 in contributions.
"Billy was a loyal friend, loving son and brother, and above all, a beloved Dad. Billy's two young children, Logan and Abigail, were his entire world," the GoFundMe page reads.
It continued, "All proceeds from this campaign will be put into a trust in Logan and Abigail's name and will be used for their health, maintenance, comfort, support, and education in the coming months and years."
Evans, an 18-year-veteran of the police force, was killed after a car rammed through the North Barricade last Friday. He was one of two officers struck in the attack. The suspect behind the wheel, authorities said, also exited the car and lunged toward officers with a knife in hand before being shot.
Evans' family said Tuesday his death "has left a gaping void in our lives that will never be filled."
"Billy was proud to be a United States Capitol Police officer. His colleagues from the North Barricade were the people he spent so many hours with, and their friendship was one of the best parts of his job. We hold them in our hearts, as we know they acutely share our grief," their statement read.
The family added that they were grateful for the "immense level of support " they've received from the law enforcement community, which they said is a "testament to Billy's sacrifice and dedication to the mission of which he was charged."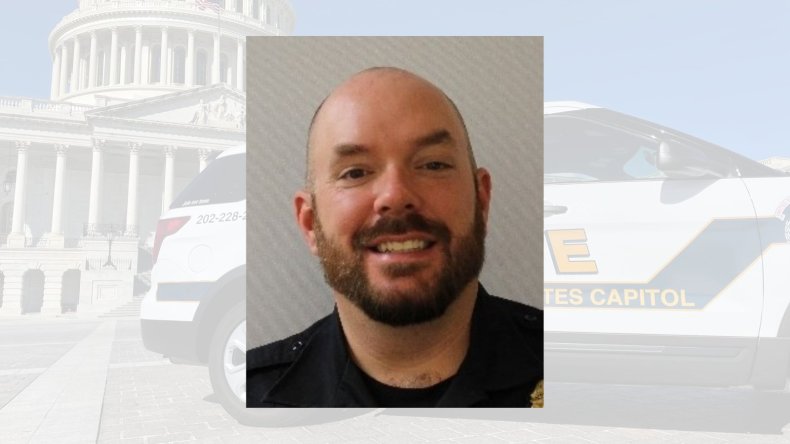 Law enforcement officers on Wednesday escorted the body of Evans past the West Front of the U.S. Capitol during a procession to the funeral home.
Next week, he will lie in honor at the Capitol Rotunda. House Speaker Nancy Pelosi and Senate Majority Leader Chuck Schumer said earlier this week that they hope the tribute will be a comfort to his family and to the police force.
"Giving his life to protect our Capitol and our Country, Officer Evans became a martyr for our democracy," the two Democrats said in a statement.
Evans is the second member of the U.S. Capitol Police to have been killed in the line of duty this year. Officer Brian Sicknick died a day after insurrectionists stormed the U.S. Capitol on January 6 to protest the congressional certification of President Joe Biden's electoral victory.
Newsweek reached out to Taylor for additional comment on the GoFundMe page but did not receive a response prior to publication.