GoFundMe Campaign for Nick Cordero's Family Raises Over $750K
A GoFundMe page to support the family of Nick Cordero—the Broadway star who died of coronavirus complications on Sunday—has raised more than $750,000.
The campaign was originally launched in April with a fundraising goal of $400,000. It was started to support Cordero, his wife Amanda Kloots and their 1-year-old son Elvis, after Cordero contracted coronavirus. In a July 5 Instagram post, Kloots announced that Cordero died that morning, from coronavirus complications. He was 41 years old.
"God has another angel in heaven now. My darling husband passed away this morning," Kloots wrote in her post. "He was surrounded in love by his family, singing and praying as he gently left this earth. I am in disbelief and hurting everywhere. My heart is broken as I cannot imagine our lives without him."
The GoFundMe page has been updated with a new message that reads, "We are heartbroken to update this account to a memorial." According to the campaign's page, the donations will be used to pay for Cordero's medical bills and his memorial.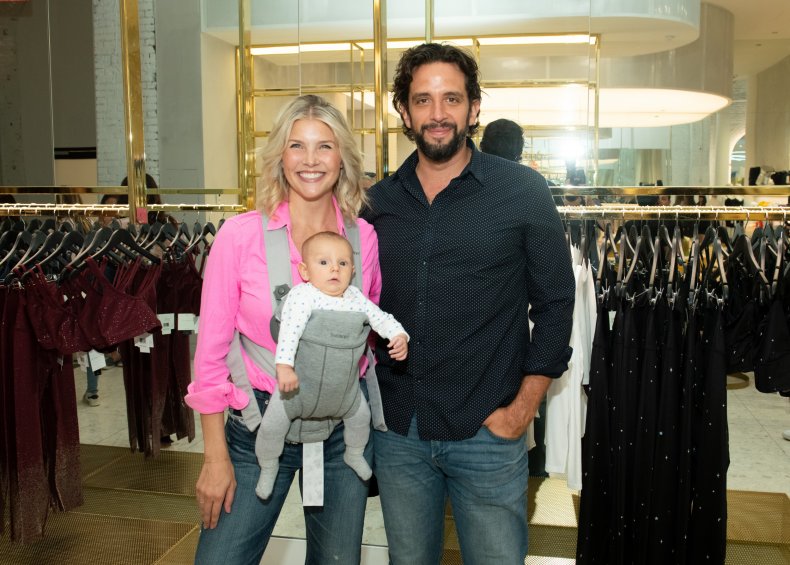 Cordero grew up in Hamilton, Ontario, and moved to New York in 2007, according to The New York Times. His Broadway credits include Waitress, Rock of Ages, A Bronx Tale and Bullets Over Broadway, for which he earned a Tony Award nomination in 2014. He also made appearances on television shows Blue Bloods, Law & Order: Special Victims Unit and Lilyhammer. He and his family had moved to Los Angeles in 2019 so that he could perform in Rock of Ages, as per CNN.
Cordero met Kloots, a fitness trainer, while they were both working on Bullets Over Broadway. They got married in 2017, and welcomed Elvis to the world in June 2019. Kloots kept her Instagram followers regularly updated on Cordero's condition.
Cordero initially fell ill on March 30, as per Kloots' Instagram update. He was originally diagnosed with pneumonia, and later the coronavirus. During his three months fighting the virus, he suffered many complications, including an amputated leg and severe lung damage.
"Nick was such a bright light," Kloots wrote in her July 5 Instagram post. "He was everyone's friend, loved to listen, help and especially talk. He was an incredible actor and musician. He loved his family and loved being a father and husband. Elvis and I will miss him in everything we do, everyday."
As of July 6, the GoFundMe effort has received more than $788,000 in donations.