GoFundMe for Family of Officer Brian Sicknick, Who Died After Capitol Riot, Tops $600,000
A fellow U.S. Capitol Police officer is raising money for the family of Brian Sicknick, who lost his life after the Capitol riot, and more than 13,000 people have donated a collective $600,000.
Sicknick was on-duty on January 6 and responded to the scene where a mob breached security and entered the building, making its way to the Senate and House floors and legislators' offices. He was injured while "physically engaging" with rioters, according to the Capitol police, and died after being taken to the hospital.
Officer Lindsey Taylor, who served on the same shift as Sicknick, wrote on a GoFundMe page that there were "no words" to describe the loss of the officer. In the wake of his death, Taylor said his fellow officers would remember Sicknick as being dependable and a person who could "always bring a smile or laugh to them."
"He will forever be remembered for his bravery and service to our country as a member of the military and a United States Capitol Police Officer," Taylor wrote.
To help support Sicknick's family with the costs associated with losing their loved one, Taylor created a GoFundMe that has raised more than $603,000 in the past three days. A separate memorial t-shirt was also created, and a portion of the proceeds will go to the family.
"He loved his job with the U.S. Capitol Police and was very passionate about it. He also had an incredible work ethic. He was very serious about showing up to work on time and refused to call out sick unless absolutely necessary," Sicknick's family said in a statement. "Our loss of Brian will leave a large hole in our hearts."
Newsweek reached out to the Capitol police department for comment but did not receive a response in time for publication.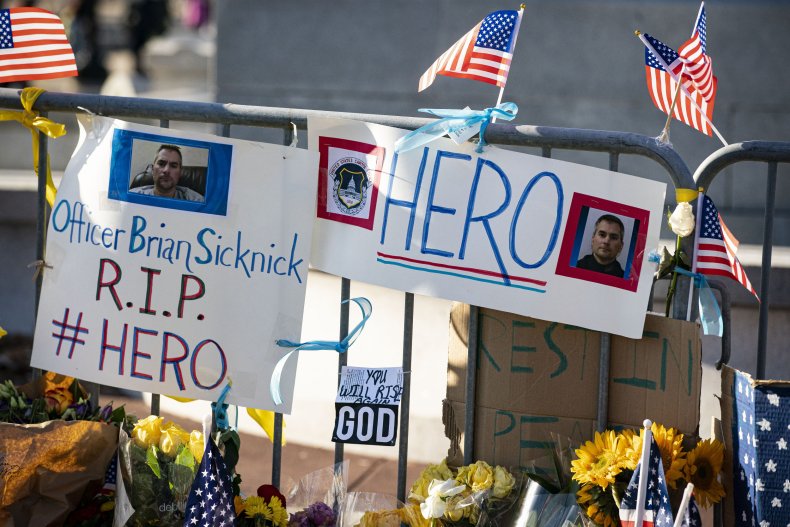 Sicknick joined the department in July 2008 and his first big assignment was President Barack Obama's inauguration in 2009, according to Reuters. Citing two law enforcement sources, the Associated Press reported Sicknick was hit in the head with a fire extinguisher during a struggle with rioters. He collapsed when he returned to the division office, according to the Capitol police, and died the next day at the hospital.
His father, Charles Sicknick, told Reuters his son had a clot on the brain and an operation would have turned him into a vegetable. Following his death, Charles said he spoke with Vice President Mike Pence and House Speaker Nancy Pelosi, who both offered their condolences. Pelosi invited the family to come to the Capitol to pick where a plaque in Sicknick's honor will be placed.
On Sunday, officers lined a Washington, D.C., street to pay their respects to Sicnick as a hearse carried his body from the medical examiner's office to a funeral home. Representative Elissa Slotkin is pushing for Sicknick to be granted special recognition and honors from the Department of Defense, including the privilege of being buried at Arlington National Cemetery, America's military cemetery. Before joining the Capitol police force, Sicknick was a member of the New Jersey Air National Guard and deployed to Saudi Arabi and Kyrgyzstan. He was honorably discharged in 2003.
"This week, Officer Sicknick gave his life in service to the same oath he took as an Airman: to protect and defend the Constitution of the United States," Slotkin wrote in a letter to military officials on Saturday. "He paid the ultimate price in fulfilling his oath."
President Donald Trump faced heavy criticism for firing up the crowd that stormed the Capitol during a rally shortly before the violence broke out. The president denied he had responsibility for the deadly mob, telling reporters on Tuesday that his speech on Wednesday was "totally appropriate."
On Sunday, the White House ordered flags to be flown at half-staff until sunset on January 13 as a "sign of respect" for Sicknick and Officer Howard Liebengood, who died by suicide, and all law enforcement across the country.
"If any good comes out of my son's death, I just hope that it stops all the lunacy that's been going on in this country," his father told Reuters.