Jacob Blake GoFundMe Raises More Than $650K in Less Than a Day
A GoFundMe campaign for Jacob Blake has raised more than $650,000 in less than a day.
Blake, a 29-year-old Black man, was hospitalized after he was shot by Kenosha Police on Sunday. Video that circulated widely on social media showed police shooting Blake in the back as he leaned into his SUV. Seven shots are heard in the video, but it isn't clear how many struck Blake.
On Monday, his family set up a GoFundMe page to raise money to cover Blake's medical and legal costs. The initial target of $250,000 was quickly surpassed and by early Tuesday, it had raised more than $660,000 towards its goal of $1 million with donations from more than 23,000 people.
"As we fight for Justice and understanding, our family has and will face many trials during this time," Julia Jackson wrote on the page, adding it was the only GoFundMe page made by the Blake family.
"Jacob Blake is a loving father of 6 that deserves proper medical attention and legal representation," she said. "We are looking to raise funds to supplement the moral support and prayers we have been receiving. These funds will go toward Jacob's medical bills, family expenses, legal representation, support for his children and therapy costs."
Jackson and GoFundMe have been contacted for comment.
The page was shared on Twitter by another relative of Blake's. The man, identified only as Pauly, wrote on Monday that Blake was out of surgery and in the intensive care unit.
"Jacob is out of surgery and In ICU. We will continue to pray as he fights. We will not excuse the actions of the Kenosha Police department, but his mother asks everyone to please remain peaceful," he tweeted Monday.
Civil rights attorney Ben Crump, who is representing the Blake family, told CNN on Monday night that Blake was in a stable condition but remained in intensive care.
He also said that Blake's three young sons will be forever traumatized because they were in his SUV and witnessed the shooting.
"Can you imagine the psychological issues these three babies are going to have for the rest of their lives, seeing their father shot these many times in the back from the people who were supposed to protect and serve him?" Crump said during his appearance on CNN.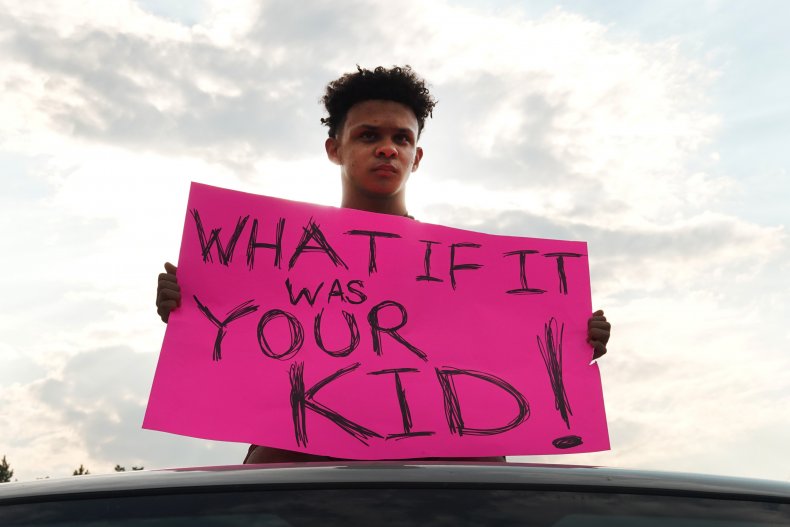 Police in Kenosha have said they were responding to a "domestic incident" when they encountered Blake shortly after 5 p.m. on Sunday. They did not reveal details about the incident, whether Blake was armed or what led up to the shooting.
The Wisconsin Department of Justice's Division of Criminal Investigation (DCI) said in a news release that it is investigating the shooting with the assistance of the Wisconsin State Patrol and Kenosha County Sheriff's Office. The department did not identify the officers involved in the shooting, but said they have all been placed on administrative leave.
Anger over Blake's shooting fueled destructive protests in Kenosha for a second night on Monday. Police fired tear gas at hundreds of protesters who defied an 8 p.m. curfew outside a courthouse and throughout the night, vehicles and buildings were set on fire.