GoFundMe for Luca Benedetti, San Luis Obispo Police Officer Shot and Killed, Raises Over $100k in Under 24 Hours
A GoFundMe for the San Luis Obispo police officer who was fatally shot this week has raised over $100,000 in less than 24 hours.
The fundraiser, set up by the San Luis Obispo Police Department Police Officers' Association and the San Luis Obispo Regional SWAT team, is collecting funds to provide financial assistance to officer Luca Benedetti's family in the wake of his death.
"On May 10, 2021, doing nothing more than his job, the life of Detective Luca Benedetti of the San Luis Obispo Police Department was taken tragically and senselessly while in the line of duty," the GoFundMe page reads.
"Luca left behind his beautiful wife and their two precious, young daughters. As a community, we cannot fix this loss, but we can provide love, prayers and financial support to those left behind tasked with picking up the pieces of this broken family," the fundraiser added.
On Monday evening, 37-year-old Benedetti was shot and killed while executing a search warrant with five other officers. Another officer, Detective Steve Orozco, was injured in the incident and the suspect was later found dead inside his apartment of an apparent self-inflicted gunshot wound.
"This is every law enforcement family's worst nightmare realized. In moments like these there are absolutely no words to convey the sorrow felt in the hearts of the Benedetti family, friends and law enforcement community," the GoFundMe reads.
The city declared that flags would be lowered to half-staff on Tuesday in honor of Benedetti and his family.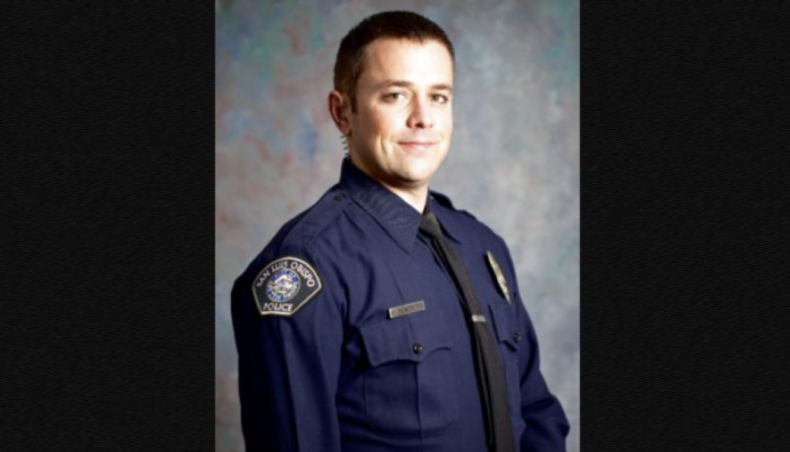 According to the fundraiser, Benedetti was raised in the Bay area but moved to the Central Coast, where San Luis Obispo is located, to study engineering at Cal Poly.
"Following his graduation from the Allan Hancock Police Academy, Luca began his career with the Atascadero Police Department in 2008 and was an Officer with the San Luis Obispo Police Department since 2012," the page says. "Luca was a proud member of the San Luis Obispo Regional SWAT team and his brothers and sisters in blue could not be prouder of his accomplishments as a sworn Officer, SWAT Operator and more importantly as the man he was to his family and friends."
County of San Luis Obispo District Attorney Dan Dow remembered the 12-year law enforcement veteran as "calm, professional, and caring," qualities he said made Benedetti the "best of the best" in the force.
"I first met Luca Benedetti when he was a rookie trainee with Atascadero Police Department," Dow told KSBY. "I was impressed then with how calm, professional, and caring he was in performing his duties as a police officer. I was not surprised when several years later, in November of 2012, to hear of him helping a woman in labor deliver her baby in the Atascadero police department parking lot."
"I have always thought of Luca as one of the 'best of the best' in law enforcement because of his calm demeanor, very professional work product, his deep care for the safety of our community, and his authentic friendship," he added. "We are a safer community today because of the excellent work of Detective Luca Benedetti and I am very proud to say that we were friends. God bless detective Luca Benedetti and his dear family, loved ones, and fellow law enforcement officers."