GoFundMe For Nicole Gee, Marine Killed in Kabul Blast, Raises $140,000 in a Day
A GoFundMe page set up to cover the costs of a funeral for a female Marine killed in last week's deadly attack at Kabul airport has raised more than $140,000 in a day.
An Islamic State suicide bomber detonated explosives at Hamid Karzai International Airport on Thursday, killing 169 Afghans and 13 U.S. service members, including 23-year-old Sgt Nicole Gee.
Gee, of Sacramento, California, was a maintenance technician with the 24th Marine Expeditionary Unit from Camp Lejeune in North Carolina and had been assisting in evacuating people out of the Afghan capital after the Taliban's takeover of Afghanistan.
Her sister Misty Fuoco set up a fundraiser on GoFundMe on Sunday, and it had collected more than $140,000 in donations as of early Monday.
"I can confidently speak for everyone who knew and loved my sister, Nicole Gee, that she was such a bright light to everyone she touched," Fuoco wrote on the page.
"I've always said she is the absolute light of my life and I would do anything for her, she was my first best friend, my partner in this crazy life, my absolute hero. There are no words that will express how much she will be missed."
Fuoco said her sister's husband is also a Marine and both "dedicated themselves to serving this country."
"They had a bond like nothing I've ever seen and I'm so devastated that he has lost the love of his life," she wrote.
"She gave the ultimate sacrifice. We will forever be changed and forever hurt with her absences but I know she wouldn't have had it any other way, she absolutely loved the work she was doing in Afghanistan and was excited to tell me more about it once she was back home."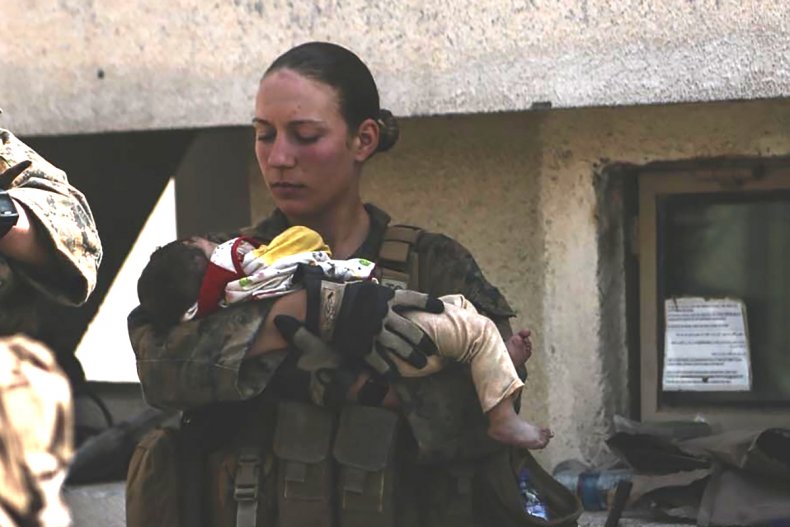 Days before she died, Gee had posted a photo on Instagram that showed her cradling an infant in her arms at Kabul airport. "I love my job," she had captioned the image.
Fuoco said the funds raised would be used to help pay for flights and other expenses for family and friends to "have a chance to say our final goodbyes" to her sister.
"She touched so many in her short 23 years of life and I want everyone who wants to be given the opportunity to see her one last time before she is put to rest," Fuoco added. "She will now be watching over us all."
Fuoco and GoFundMe have been contacted for additional comment.