GoFundMe for North Carolina Shop Vandalized by Man Allegedly Using Anti-Asian Slurs Tops $30K
A GoFundMe made for an Asian-owned convenience store in Charlotte, North Carolina that was robbed and vandalized by a man allegedly using racial slurs, has raised more than $30,000 in just two days.
Joyce and Mun Sung, the owners of Plaza Sundries convenience store in the Charlotte Transit Center, were attacked on Tuesday afternoon when a man came into the store with a metal bar and began damaging merchandise.
Video footage of the attack has since circulated on social media, showing the man aggressively hurling food onto the floor, whacking the sliding glass door of a refrigerator, and punching a plastic divider stationed at the register.
Along with attacking the store with the metal bar, the man allegedly used racial slurs, while another man yelled "That's what you get! That's what you get!" at the owners.
The man has since been identified as 24-year-old Xavier Rashee Woody-Silas, according to a statement given to WCNC by the Charlotte Area Transit System (CATS).
He was arrested by police on Friday and has been charged with damage to personal property, robbery with a dangerous weapon, communicating threats, misdemeanor larceny, disorderly conduct, resist, delay and obstruct, according to the statement.
Woody-Silas has also been banned from all CATS facilities and services, and police are pursuing a potential charge of "misdemeanor ethnic intimidation" due to his ant-Asian remarks.
"CATS strongly condemns any act of racism or violence and will continue to prioritize the safety of everyone," the statement added.
Mark Sung, the son of the store's owners, told WBTV on Friday that Woody-Silas was a "regular" at the store before the attack.
"He's a regular," Sung said. "But that day he just walks in the store with a metal pole. No one sees it at first until he starts hitting things with it. ... His friend came towards the end, stuck his head through the door and said 'That's what you get. That's what you get you Chinese motherf******.'"
Now, a GoFundMe page started by family members of the store owners has raised $31,682 in two days.
"My uncle's convenience store in Charlotte Transit Plaza got attacked yesterday," the fundraiser, which was started by Koun Han, stated.
"I feel so upset, angry, helpless, and guilty for being able to afford to be safe and stay home. But not everyone can afford to do that. I am not sure if GoFundMe is the best thing for them, but it is one thing I can do and one thing we can do to help."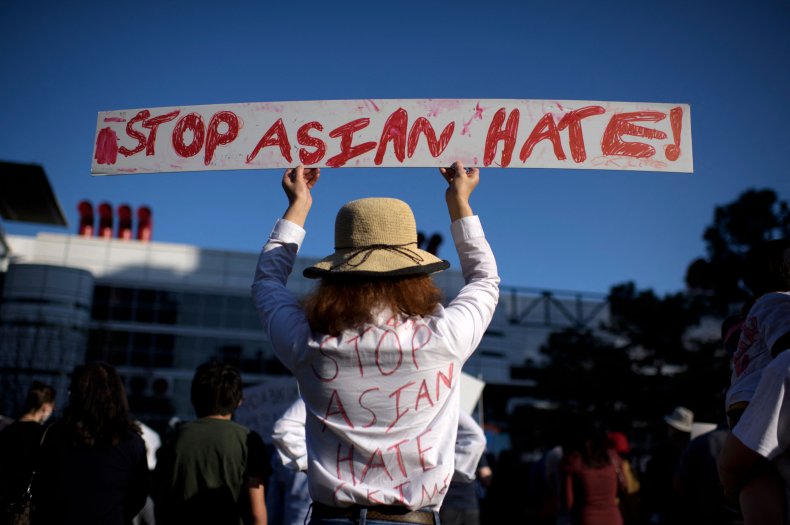 The fundraiser's page also includes a harrowing statement from Grace Sung, the daughter-in-law of the store owners, that states that the attack was nothing new for the family.
"My husband's parents get spit on, stolen from, threatened, and verbally AND physically attacked on a daily basis. Filing police reports are part of the daily routine at their store in the public transit," Sung wrote. "Things have gotten exponentially worse since the pandemic. Business is harder. People are angrier. Simply requesting customers to keep in compliance with the mask mandate frequently results in physical altercations."
"My father in law has been hospitalized more than once. My mother in law hasn't slept for more than three hours a night for the last few years, trying to keep this store afloat," she added.
Sung also shared her statement on Instagram, which has been viewed more than 44,000 times since Thursday.
Sung's statements come amid a rise of attacks and threats against Asians and Asian-Americans since the start of the pandemic.
A study from the Center for the Study of Hate and Extremism at California State University, San Bernardino reported last month that anti-Asian hate crimes surged 145 percent from 2019 to 2020.
Furthermore, the nonprofit organization Stop AAPI Hate recorded 3,795 separate hate crimes, including both verbal and physical altercations, between March 19, 2020 and February 28, 2021.
Newsweek contacted CATS for an additional comment about the incident.