'Going Against Feminism': Pregnant Woman Backed in Feud with Coworkers
Commenters on a viral internet thread sided with one expecting mother after she detailed her coworkers' seeming disdain for the daily assistance she receives from her husband.
In a post published on Reddit's r/AmITheA**hole forum, Redditor u/throwawaybabyqw (otherwise referred to as the original poster, or OP) said her husband drives her to and from work every day and recounted the unpleasant run-ins she's had with multiple coworkers as a result.
Titled, "[Am I the a**hole] for saying 'Sorry my husband loves me?'" the post has received nearly 8,400 votes and 95 percent upvotes in the last day.
Writing that she is 15 weeks pregnant with her first child, the original poster said that, in addition to daily transportation, her husband carries her work supplies in and out of the office on a regular basis. Assuring that her husband volunteered for these extra duties, the original poster also said that her coworkers have taken a disliking to the entire situation.
"I am not the first person in my department to be pregnant or have kids, but I am the youngest," she wrote. "My colleagues seeing this every day have made comments, but nothing rude."
"However, their comments are becoming incredibly repetitive and annoying to hear as it feels as though they're blaming me," she added.
Continuing to explain that two specific coworkers (labeled "A" and "B") have told her to "stand up to [her] husband" and "take control of doing things [herself]," the original poster revealed the pointed comments that caused her to lash out at work.
"A keeps recounting her own pregnancy and how her husband never did these things for her, whilst B thinks I am going against feminism," she wrote. "B has even drunk called me on a weekend to inform me that I am going against the core values of feminism, which rubbed me the wrong way because it makes no sense."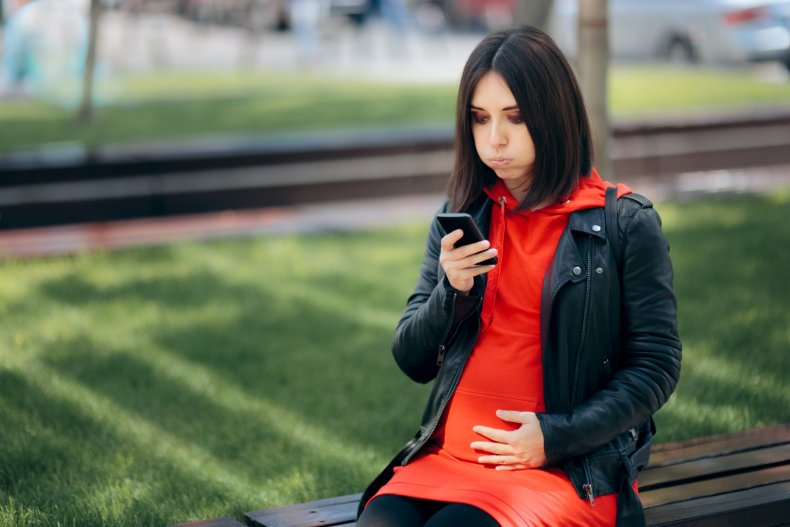 "Yesterday, A and B were at it again with their comments, and I finally snapped back saying, 'Sorry it bothers you guys that much that my husband loves me,'" she added. "They both didn't take it well."
In the United States, the Pregnancy Discrimination Act provides protection for expecting mothers inside the workplace.
The Pregnancy Discrimination Act, initially approved in 1978, "forbids discrimination based on pregnancy when it comes to any aspect of employment," according to the U.S. Equal Employment Opportunity Commission.
But while the PDA protects pregnant women from improper treatment by employers, harassment by coworkers is less-easily regulated and can even go undetected, especially when hostile acts—like drunken weekend phone calls—happen outside of the workplace.
Throughout the viral Reddit post's comment section, Redditors responding to the original poster pointed at her coworker's phone call as a cause for concern and speculated that her husband's actions are indicative of his love and care.
"If anybody is drunk calling you on a weekend, that's going way too far," Redditor u/Hash_Tooth wrote in the post's top comment, which has received nearly 14,000 votes.
"They could probably get fired for that," u/Hash_Tooth added.
Redditor u/bustakita, whose comment has received more than 3,600 votes, echoed that sentiment.
"Though it happened after work hours, I'm sure she only has your phone number due to the team members/coworkers phone tree which is ONLY supposed to be used for work-related calls/business/emergencies," they wrote.
"RULE OF THUMB: Report harassment to your employer as soon as possible," they added.
In a separate comment, which has received more than 2,500 votes, Redditor u/Neenknits said the comments issued by OP's colleague's were unnecessary and applauded her husband for caring for his wife.
"How you and your husband manage your pregnancy is up to you and your husband," they wrote.
"Sure, if there were scary/creepy things going on, a friend should say something, but, just driving you and helping carry stuff when you are nauseous and tired? What on Earth is wrong with that?" they added.