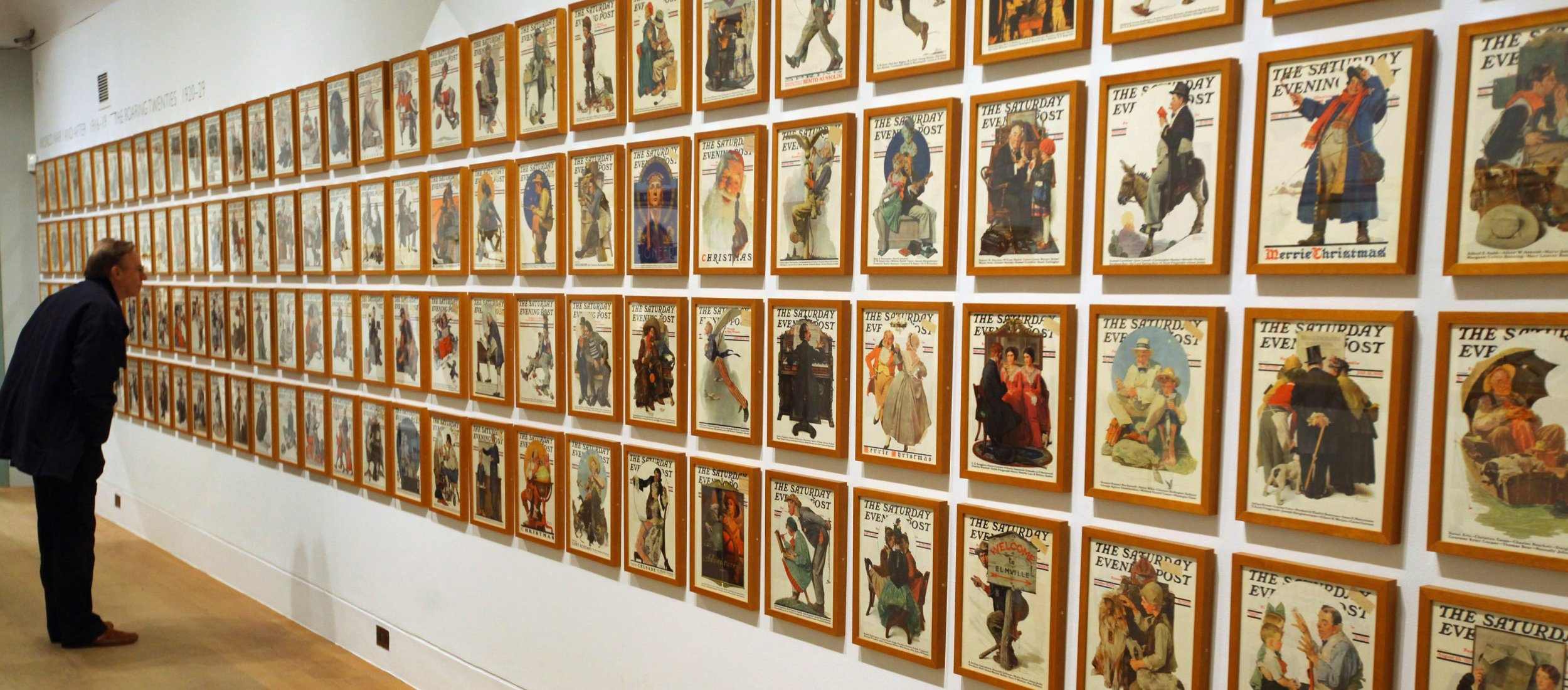 It is like something out of a Norman Rockwell painting.
Picture this: Three feuding brothers stand at the back of an auction room and watch anxiously as famous pictures their father gave them go under the hammer.
Or this: Four super-rich celebrity art collectors ready their checkbooks to spend tens of millions of dollars in a race to snap up some of the last remaining pictures of the artist they love.
Or this: A clutch of curators of American 20th century art cross their fingers and pray that an important American art collection hurriedly put on sale is bought by Americans so the pictures stay in the country.
All three scenes, so redolent of the "every picture tells a story" style of the master artist and illustrator Rockwell, will spring to life next week when pictures that have long been hanging in the Norman Rockwell Museum in Stockbridge, Mass., are sold in New York.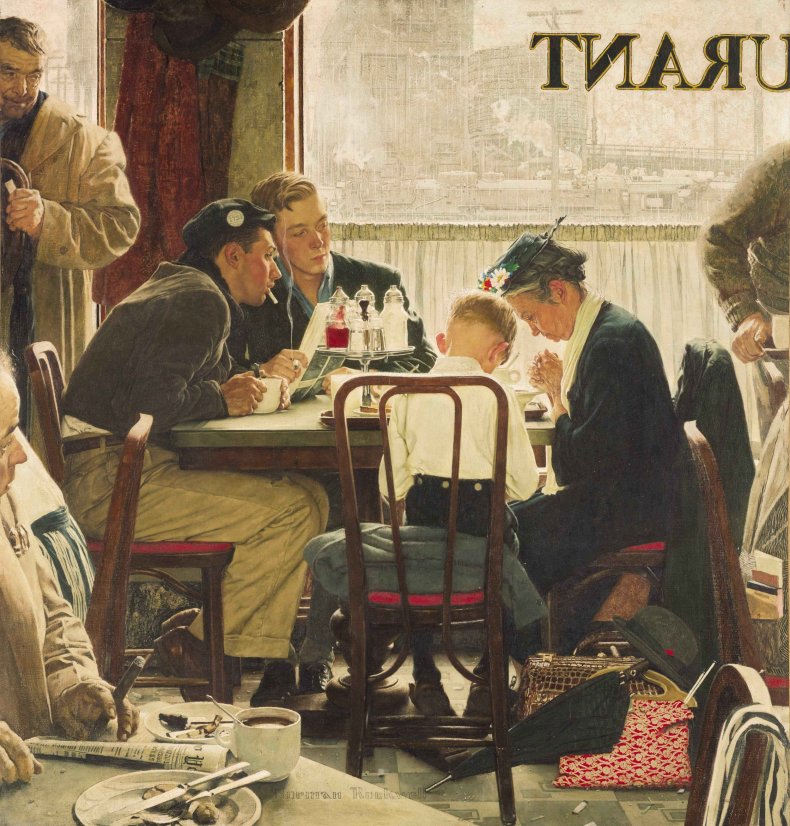 The pictures up for sale are some of Rockwell's best known and loved. There is Saying Grace, painted as a cover for The Saturday Evening Post in 1951. It was inspired by a reader's letter about a Mennonite family seen praying at a restaurant and depicts a gray-haired woman and a young boy locked in silent prayer at a diner, while cigarette smoking youths look on in skeptical rapture. It is expected to raise up to $20 million.
Almost as famous is The Gossips, a 1948 Post cover, that shows 15 sets of neighbors looking at each other, aghast, as they eavesdrop on a shared telephone line. For many, the painting conjures up a familiar scene across America 60 years ago.
"I have vivid memories of my grandmother sitting on the chair with one hand on the receiver, looking out the window and listening in on the conversation of her neighbors," said Douglas Hunt, an art analyst at Art Experts, an art appraisal company. Sotheby's, who is selling the Rockwells to the highest bidders on December 4, estimate The Gossips will fetch up to $9 million.
Together with Walking to Church and four lesser-known works, the quality of the pictures suggests they will reach a record price. "They would certainly be works on the caliber of the greatest works of our collection," says Laurie Norton, director of the Norman Rockwell Museum.
Sotheby's expects the haul of Rockwell pictures to raise more than $24 million, which is a conservative estimate. "It's unusual to have the best of the best," said Elizabeth Goldberg, director of American art at the auction house, "and this certainly falls into the category of iconic masterworks."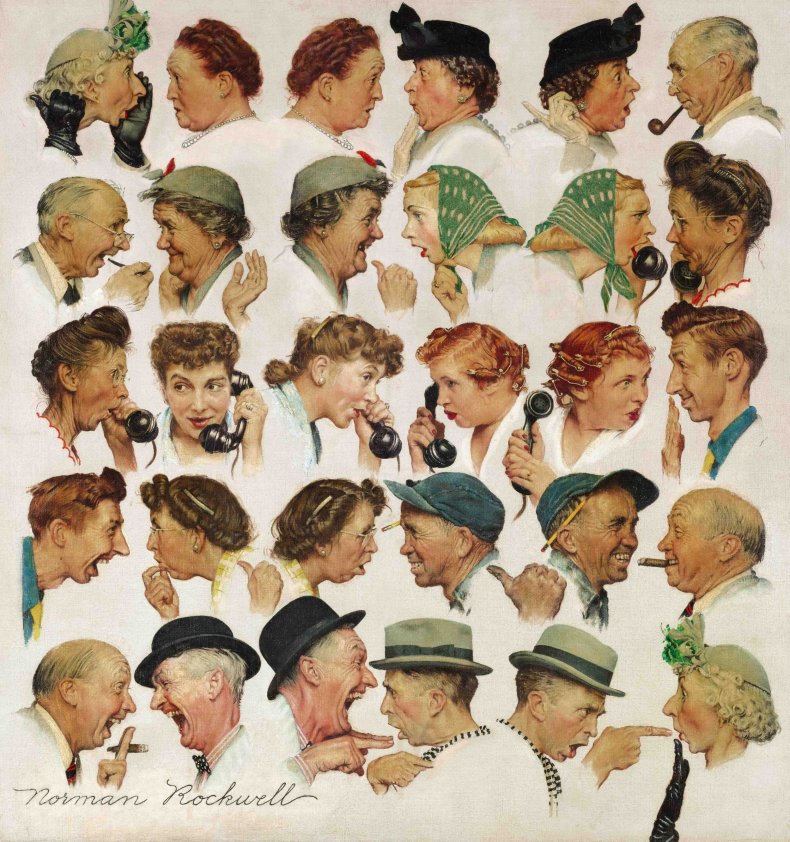 Some believe the pictures will sell for even more. Deborah Solomon, a Rockwell biographer and art critic, thinks the total price will reach about $41 million. Asian collectors of Rockwell have expressed great interest, said Goldberg. "We just brought the pictures to Hong Kong, and it was incredible to see the response. Even though these pictures are quintessentially American, there is something about them that everybody responds to."
Banging heads with international art collectors, and each other, will likely be the most prominent and devoted American collectors of Rockwell – Steven Spielberg, director of ET, George Lucas, who made Star Wars, the Walmart heiress Alice Walton and the Texas billionaire and former presidential candidate Ross Perot.
They are all keeping mum about their intentions, but Rockwell scholars suggest the pictures are so exceptional and rarely come on the market that the auction is bound to draw the painter's most passionate collectors. The sale is expected to blow past the previous record for a Rockwell picture: $15.4 million for Breaking Home Ties, which went for three times the Sotheby's estimate in 2006.
The sale will also finally resolve a bruising family feud and two expensive lawsuits that have lasted for two decades.
Rockwell painted the pictures for The Saturday Evening Post, one of approximately 320 covers for the magazine over 47 years, when Kenneth J. Stuart was the magazine's art director. "Everything I am, everything I have ever done, everything I hope to be I owe to Ken," Rockwell wrote.
But, according to some, the relationship between the two was not always so sweet. Solomon said they had a huge blowup in 1949 when Stuart removed the image of a horse from Before the Date, a cover Rockwell had painted. The rift grew larger as Rockwell began to feel overwhelmed by tight deadlines and editorial tampering.
The nature of the relationship came under scrutiny in 2001, when Stuart's sons and the Post's parent company, Curtis Publishing, became embroiled in a lawsuit over who owned the paintings that were used as Post covers. Stuart's sons, Ken Jr., William, and Jonathan, claimed Rockwell had given the paintings to them. Curtis said that was impossible since Rockwell did not own the pictures; commissioned by the Post, they were Curtis Publishing's property.
"I know that Curtis bought it," said Joan SerVaas, president and attorney for the Post. "I don't have any record of Curtis transferring to Ken Stuart." After a protracted legal battle, a Connecticut judge eventually ruled in favor of the Stuart brothers.
Meanwhile, the Stuart brothers were engaged in a legal feud between themselves. According to Ken Jr., shortly before his father's death in 1993, Ken Sr. named him executor of his estate, which at that time included between 15 and 20 Rockwell paintings.
Saying Grace hung in a living room in the Stuart home in Connecticut and Walking to Church was on the wall of a guest bedroom. The Gossips, Ken Sr.'s favorite, was hidden in an attic for safekeeping, because the house was not secure enough for such a famous work of art, explained Ken Jr.
According to Ken Jr., shortly after their father died, the brothers began to quarrel. "It was a lot of sibling rivalry that just bubbled to the surface," he said.
William and Jonathan, who wanted to sell the paintings right away, sued Ken Jr., who wanted to wait for the pictures to become even more valuable. Years of court battles ensued until William, the middle brother, developed serious health problems. Hoping to settle the matter quickly, the brothers decided to sell the paintings, which had been loaned to the Norman Rockwell Museum where they were enjoyed by millions of visitors.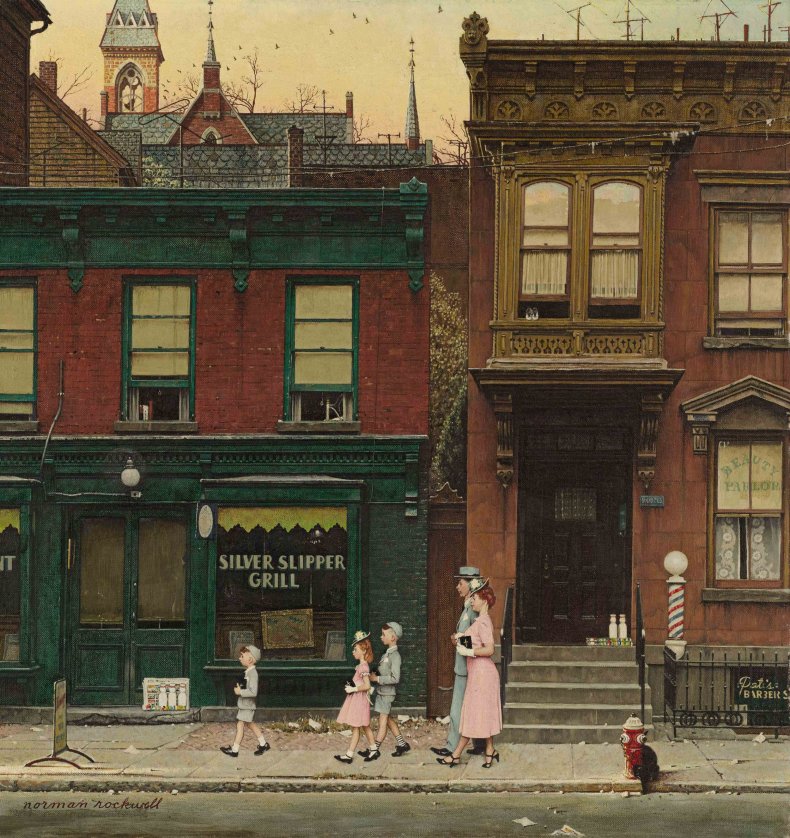 The day of the auction may prove awkward for the three brothers. The chill between Ken Jr. and Jonathan, the youngest of the siblings, has persisted and they have communicated only by email in recent months. Still, the sale will bring closure to a long, miserable period for the Stuarts, who will split the proceeds three ways. "I'm glad to get Norman Rockwell out of my life," said Ken Jr., 71.
But the Rockwells in question may soon be out of the lives of ordinary Americans, too. Even if the paintings are bought by one of the Big Four Rockwell collectors and remain in the United States, there is no guarantee they will continue to be accessible to the general public.
Which of the Big Four – if any – will walk away with the pictures is anyone's guess, but Solomon said Perot, who used to be a newspaper delivery boy, might have an emotional connection to them. However, she would prefer Lucas to buy them as he is planning a museum of illustration in San Francisco where the pictures would likely be put on display.
SerVaas said that while the Post, riven by financial troubles, neglected much of the artwork it bought, it would be a shame if such important pictures by an American master of everyday American life were to end up behind closed doors where American eyes cannot see them.
"I wish we could have been better stewards of this artwork," he said. "But does that mean that it should be yanked off the walls and sold?"