'I'm Going to Kill You': Man With Gun Arrested at Pramila Jayapal's Home
A armed man was arrested outside of Representative Pramila Jayapal's home over the weekend after he threatened to kill her if she didn't "go back to India."
According to the most recent data from the FBI on hate crimes, "62 percent of victims were targeted because of the offenders' bias toward race/ethnicity/ancestry, which continues to be the largest bias motivation category." Reported hate crimes increased by nearly 1,000 between 2019 and 2020.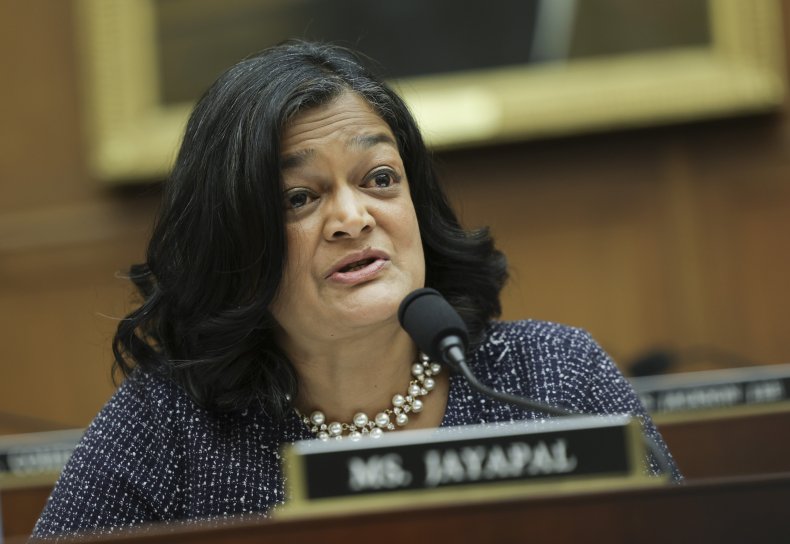 Seattle police responded to the congresswoman's home on Saturday night after she called 911 and reported an unknown person in a vehicle outside.
Authorities arrived at the scene to find a 48-year-old man who had a handgun holstered to his waist "standing in the middle of the street with his hands in the air," according to a police document.
A neighbor told police that she heard the man yell something to the effect of, "Go back to India, I'm going to kill you."
Jayapal, who was born in India and moved to the U.S. as a teenager, became the first Indian American woman elected to the House of Representatives in 2016. The progressive Democrat represents Washington's 7th Congressional District, which includes most of Seattle.
The neighbor also saw and heard him drive by Jayapal's residence at least three times yelling profanities. Upon his arrest, he confirmed to police that he knew who lived at the home, that he had wanted to pitch a tent on the property and that the victim he was targeting was of "Indian descent."
Public records show that the man lives within half a mile of Jayapal's home.
According to the probable cause statement, the suspect was arrested for malicious harassment, which, under state law, is a Class C felony.
On Monday, a judge ordered the man to remain jail in lieu of $500,000 bail but denied a request from prosecutors to issue an anti-harassment, no-contact protection order, King County prosecutors spokesperson Casey McNerthney told Newsweek.
McNerthney said said that prosecutors expect to file criminal charges Wednesday afternoon and that the case remains under investigation by the Seattle Police Department (SPD).
This would be the 10th filing of a hate crime in King County this year. Data from SPD indicates that there were 140 hate crimes in 2021 and that of the nearly 1,000 bias-related crimes committed last year, roughly 12 percent were classified as anti-Asian incidents.
A spokesperson for Jayapal confirmed to Newsweek that she was present at the time the armed man was outside her home.
"The Congresswoman and her family are safe and appreciate the many calls and good wishes she is receiving from constituents," spokesperson Siham Zniber said on Monday.
"She is very grateful for the swift and professional response from the Seattle Police Department, the U.S. Capitol Police, and the FBI investigators who are working together diligently on the investigation and ensuring that she and her family stay safe," Zniber added.