Gold Cup Final 2019: Latest Odds, Expert Predictions for USMNT vs. Mexico
The Gold Cup final CONCACAF wanted to see has come to pass, with the U.S. men's national team (USMNT) taking on Mexico this Sunday.
The U.S. and El Tri have met in the final five times before but not contested the trophy in eight years, which is almost an eternity as far as this rivalry is concerned.
Mexico has won four of the five previous meetings in the final, with the most recent success coming in 2011. El Tri has won seven Gold Cups to the U.S.'s five—but Carlos Salcedo insisted history will count for nothing on Sunday.
"In football, there aren't any giants anymore," he said after the game against Haiti. "You have to play the games. History says we've won a lot of Gold Cups, but that isn't going to help us win on Sunday. We can only show our quality by lifting the cup."
USMNT's only success against El Tri in a Gold Cup final came in 2007 at Soldier Field in Chicago, the same venue that will host the final this year. Like Salcedo, USMNT coach Gregg Berhalter knows better than relying on omens.
"As a coach you're always searching for something better, you're always searching for greatness, and the team is always striving for greatness," he told ESPN after the 3-1 win in the semi-final against Jamaica.
"There were some good things today for sure. I think we want to continue to grow. It's hard to say that was our best. I think it was a step in the right direction against a more physical team than what we've been experiencing. I think it was good to get a win for confidence."
If there is work to be done for the USMNT, the same can be said about Mexico. After eliminating Costa Rica on penalties in the quarter-finals, El Tri needed extra time to beat Haiti in the semi-finals.
Worryingly for Gerardo Martino, his side's attacking weapons appear to have turn blunt at the worst moment.
Mexico plundered in 13 goals in the group stage but has found the net just twice in the knockout phase, with Raul Jimenez on target against Costa Rica and Haiti.
Here's what experts believe will decide the game on Sunday.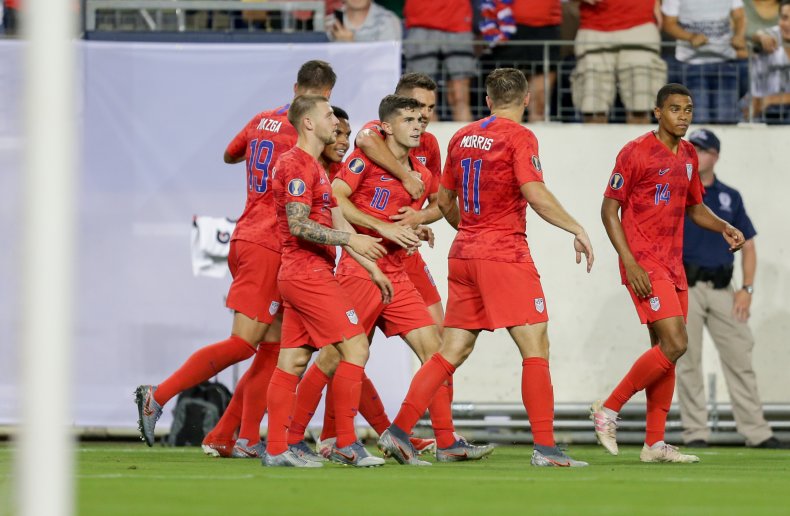 Roger Gonzalez—CBS Sports
Jozy Altidore started in the semifinal and Gonzalez believes his impact could convince Gregg Berhalter to include him in the starting XI against Mexico.
"After some shaky performances over the past couple of weeks, this U.S. team looked strong after Berhalter made some changes," he wrote.
"Reggie Cannon started at right back and looked good, but the big story was Jozy Altidore getting the start at striker over Gyasi Zardes. Altidore didn't score, but he was key on the opening goal by [Weston] McKennie
Brian Straus—Sports Illustrated
Christian Pulisic is hitting form just at the right time and Straus believes he remains the USMNT's main attacking weapon.
"Pulisic's quality is pretty much constant," he wrote.
"He scored twice on Wednesday on precise, well-taken rebounds and was a danger throughout. His consistency remains the national team's most important asset."
Tom Marshall—ESPN
Throughout the tournament, Mexico's performances have not been entirely convincing and Marshall suggests the win over Haiti in the semifinal showed a side going in the wrong direction.
"This was a case of getting the job done after a quick turnaround following Saturday night's 120-minute plus penalties quarterfinal against Costa Rica. The alternative narrative is that Mexico's performances have declined as the tournament has gone on."
Henry Bushnell—Yahoo Sports
Weston McKennie has been one of the players of the tournament, scoring in the quarterfinals and in the semifinal and Bushnell believes the 20-year-old has flourished since Gregg Berhalter has deployed him in a deeper role.
"McKennie opened the Gold Cup as something close to a No. 10. He was pushing high, lurking in between lines, looking to receive a forward pass on the half-turn and play another one," he wrote.
"Since, he has dropped deeper, from a Christian Pulisic-adjacent position to more of a Michael Bradley-adjacent one. And it has unleashed him. Opened up his soccer toolbox.
"On Wednesday against Jamaica, he pulled out all the tools. He sunk into a No. 6 position and sprayed the ball around the field."
Odds
There is little to separate the two pre-tournament favorites going into the final, but Mexico has a slight advantage in the eyes of bookmakers.
According to data compiled by Oddschecker, El Tri is a 4/7 favorite to lift the trophy, while USMNT is an 11/8 outsider to defend the trophy it won two years ago. The Gold Cup final has been decided in regulation in the last six editions and bookmakers expect the trend to continue on Sunday.
Mexico is 11/10 to win in 90 minutes, while USMNT is 5/2 and the odds on the draw currently stand at 23/10.