The price of gold reached record levels when it reached a trading price of $1,943.93 per ounce—the highest price since September 2011—with the spot gold price rising 2.2 percent on Monday morning. But why is the price of gold going up?
The coronavirus pandemic has resulted in global uncertainty, with rising political tensions between the U.S. and China exacerbating investors' concerns.
Economies are struggling to reopen after lockdown and there is a threat of a large global recession. In the U.S., amid the pandemic and stay-at-home orders, businesses closed and employees were furloughed, so the U.S. government borrowed money to support its economy.
The U.S. dollar has fallen to its lowest level in years, increasing concerns about the U.S. economy. Investors are increasingly worried about the purchasing power of the U.S. dollar.
Gold tends to move inversely with the U.S. dollar, so a weaker dollar means an increase in the value of gold. Therefore, gold is seen by some as a safer investment than other assets in uncertain times.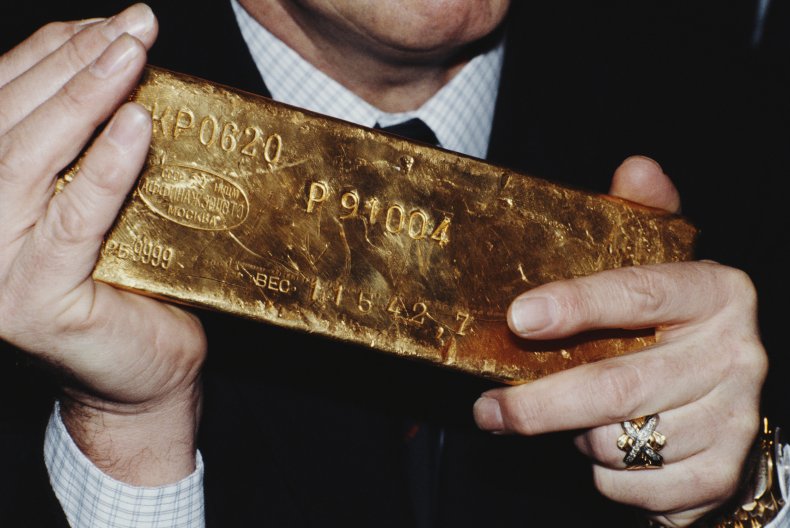 As CNBC Asia Markets Editor Weizhen Tan wrote: "There is an inverse relationship between gold prices and real yields. Real yield is an investment return that has been adjusted for inflation.
"When real yields go down, gold prices will go up, and vice versa. In such a scenario, the opportunity cost of holding gold, a non-yielding asset, is lower as investors are not foregoing interest that would be otherwise earned in yielding assets."
As the dollar drops in value, the price of gold tends to increase. With investors nervous about the future of the economy and the power of the U.S. dollar, experts predict that the value of gold will increase further. Some analysts believe that the price of gold will even reach $2,000.
Mark Haefele, the chief investment officer at UBS Global Wealth Management, told The Guardian: "In our view the primary drivers of the gold price are its negative correlation to real interest rates and the dollar.
"We think these factors, in combination with limited supply growth as miners continue to restrain capital spending, will drive gold prices higher."
Joshua Rotbart, managing partner at precious metals dealer J. Rotbart & Co., also predicted that gold prices will reach beyond $2,000 by the end of the year. He told CNBC: "Investors are nervous, they are afraid, there's a fear factor and they are rushing to gold."