Gold and Silver Treasure Recovered From an Atlantic Wreck Might Finally Reveal Location of Long-Lost Pulaski Steamship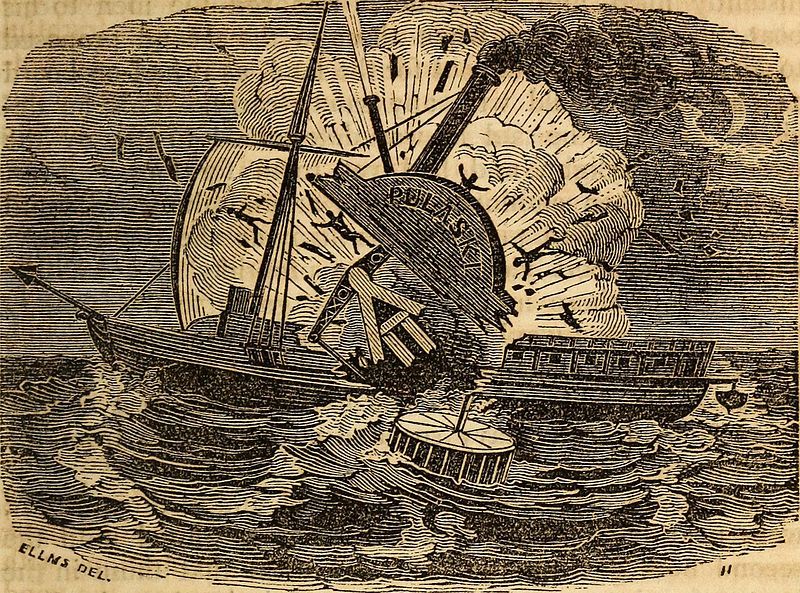 Gold and silver coins recovered from the sunken shipwreck approximately 40 miles off the coast of North Carolina might be the missing link needed to confirm the ship's identity—the doomed American steamship Pulaski, which sank in 1838 after one of its boilers exploded.
Divers retrieved a cache of 14 gold and 24 silver coins from the ship, according to the Charlotte Observer. All of them are older than 1838 and could help determine once and for all whether the sunken shipwreck is that of the Pulaski. One coin in particular could be worth up to $100,000, according to the Charlotte Observer. The others are likely valued at approximately $10,000 to $12,000. All were found contained to an area of the ship no bigger than a cigar box.
"This evidence supports reports that valuables, including gold and silver, were aboard the Pulaski when she sank," James Sinclair, a marine archaeologist involved in the project, said according to the Charlotte Observer.
The Pulaski killed more than half of the roughly 200 people on board when it sank, according to the International Business Times. The victims included New York Congressman William B. Rochester and various members of wealthy Southern families. It remains one of the country's deadliest maritime accidents.
Experts believe the coins could finally determine if the lost-lost ship has been located because of accounts of a Pulaski passenger named Charles Ridge. Ridge survived the accident but lost $20,000 in gold coins, according to the Charlotte Observer's account:
Ridge's fate is legendary, because he rescued a wealthy heiress by holding her atop a "floating piece of parlor furniture." He proposed marriage as they drifted along for four days. She accepted, even though he'd lost everything when the ship exploded and sank.
But not everyone is so optimistic. Keith Webb, founder of Blue Water Ventures, a shipwreck exploration company involved in the discovery, doesn't think the coins are Ridge's lost fortune, according to the Charlotte Observer. He believes such coins would number in the thousands, and be worth millions of dollars.
"When we find his money, it won't be the size of a cigar box. It will be the size of a chest," Webb said according to the Charlotte Observer. "We will find it, I assure you, and it will be in one pile. And that will be gold coins with a specific history attached–an actual story of a man whose riches are lost and a woman still committed to marry him...It's romantic. It's exciting."