One scheduled match for this year's SummerSlam has changed dramatically. WWE Hall of Famer Goldberg returned in the final segment of Monday Night RAW to become Dolph Ziggler's opponent on Sunday instead of The Miz.
The August 5 episode of Monday Night RAW ended with a segment of Miz TV, which acted as the stage for Miz and Dolph's contract signing. For weeks, Miz and Dolph have argued on RAW and SmackDown over how Ziggler has become someone who believes the world owes him everything.
Dolph would arrive for the signing, giving his usual speech before signing the contract. Miz states that he looks forward to facing Dolph at Monday Night RAW next week, which confuses Ziggler. Miz tells Dolph he should have read the contract before signing because he's not his opponent at SummerSlam. Dolph looks at Shawn Michaels, who was present during the segment, thinking it to be him but the "heartbreak kid" tells Ziggler it's not. That's when Goldberg's music hits.
Check out Goldberg's return to take on Dolph Ziggler below.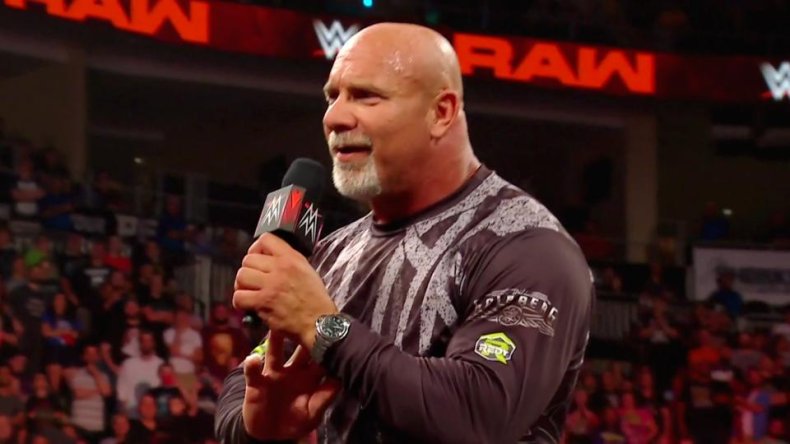 The road to Dolph vs Goldberg began after Ziggler's loss to Kevin Owens in less than a minute at Extreme Rules. Ziggler would get into a heated confrontation with The Miz on Monday Night RAW about his place in the company, looking to start a fight. The feud between the two long-time rivals would ramp up when Shawn Michaels was a guest a couple of weeks ago on SmackDown Live. During the segment, Ziggler would end up hitting Shawn Michaels with the Sweet Chin Music.
For weeks leading up to that point, and after, Dolph would besmirch the WWE Legends especially Goldberg - who he would bring up each time he spoke. Ziggler's favorite mention of Goldberg was when he had his match against The Undertaker at Super Showdown in Saudi Arabia, back in June.
In that match, Goldberg would become concussed after spearing his head into the post. This accident would lead to he and Undertaker taking dangerous bumps.
Afterwards, Goldberg would take to Twitter to acknowledge what happened.
Goldberg and Dolph's match is one of eight confirmed bouts at this year's SummerSlam. It joins Kofi Kingston vs Randy Orton, Seth Rollins vs Brock Lesnar, AJ Styles vs Ricochet, Finn Balor vs The Fiend, Becky Lynch vs Natalya, Charlotte Flair vs Trish Stratus, Bayley vs Ember Moon, and Kevin Owens vs Shane McMahon.
SummerSlam takes place Sunday, August 11 on the WWE Network.
What do you think of Goldberg vs Dolph Ziggler? Let us know your thoughts in the comments section below.
About the writer
Phillip Martinez is a game and culture reporter for Newsweek. Prior to joining Newsweek in 2018, he was a reporter and editor for iDigitalTimes and Player.One. A Bronx native, he graduated with his Bachelor's degree in Journalism from St. John's University in 2010. An avid Nintendo fan and wrestling mark, he's always looking to become a Pokémon Master while fantasy booking this year's WrestleMania. You can contact him at p.martinez@newsweek.com