Goldberg Wins Universal Championship After Defeating 'The Fiend' at WWE Super Showdown
Goldberg defeated "The Fiend" Bray Wyatt on Thursday at the WWE Super ShowDown in Saudi Arabia to win the Universal Championship.
The WWE Hall of Famer delivered four spears to "The Fiend," but it wasn't enough to keep Wyatt down. Goldberg escaped the Mandible Claw on two occasions before hitting the Jackhammer for the win. This is "The Fiend's" first time being pinned since his repackaging in 2019.
Wyatt has defeated anyone who has come his way, including Seth Rollins, whom he defeated at the pay-per-view WWE Crown Jewel this past October for the Universal Championship, and Daniel Bryan.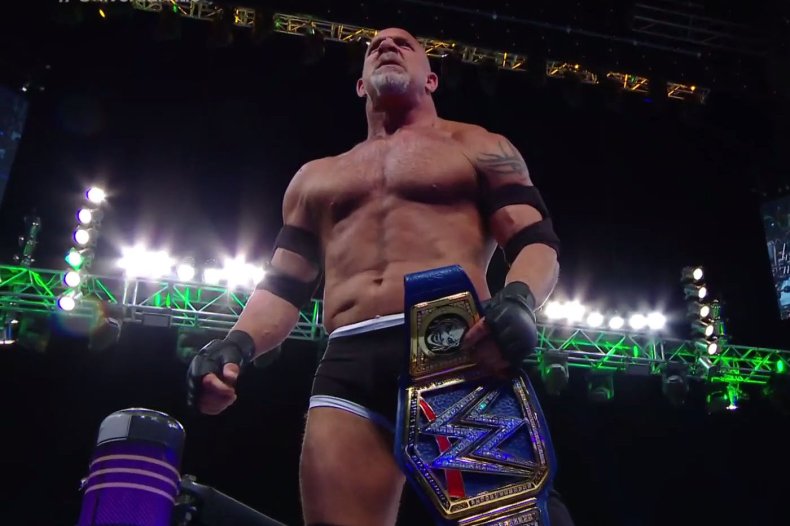 Goldberg appeared on WWE television via satellite on a recent episode of Friday Night SmackDown when he was interrupted by Wyatt. Not having any of Wyatt's shenanigans, Goldberg challenged him to a match.
The WWE Hall of Famer showed up live on SmackDown a week before Super Showdown when "The Fiend" confronted him. Goldberg hit Wyatt with a spear, but "The Fiend" got up, albeit noticeably hurt. Before Goldberg could continue, Wyatt teleported out of the ring.
Goldberg is actually the third-ever Universal Champion, after Finn Bálor and Kevin Owens. He defeated KO at WWE Fastlane in March 2017. This would lead into a program with Brock Lesnar, whom he would lose to at that year's WrestleMania.
Goldberg's last match was at WWE SummerSlam in August 2019, where he defeated Dolph Ziggler.
In a match at last June's Super Showdown, Goldberg lost to The Undertaker. Unfortunately, that match was known more for both competitors getting injured in the ring than for the result.
Where Goldberg and "The Fiend" go, on the way to WrestleMania, is unknown. It's rumored that Goldberg will go on to face Roman Reigns, with the Universal Championship on the line at WrestleMania.
On the February 28 episode of Friday Night SmackDown, John Cena will return, and that's where a lot of speculation involving "The Fiend" comes in. Wyatt and Cena have a lot of history, and, heading into WrestleMania, they would be a program with a lot of background.
Fans will have to tune in to SmackDown and Cena's appearance to see the fallout from Super Showdown. WrestleMania 36 is set for April 5 in Tampa, Florida.
What do you think of Goldberg winning the Universal Championship? Where do the Hall of Famer and "The Fiend" go from here? Let us know in the comments section.