'I Am the Night' Premiere: Golden Brooks Talks TV Return With 'Intense, Dark' Role on TNT's New Limited Series
It's been years since Golden Brooks first won viewers over with her weekly doses of comedic relief and attitude as Maya Wilkes, the outspoken and motherly counterpart of the highly acclaimed and long-running sitcom, Girlfriends. From the series's beginning in 2000 to its 2008 finale on CW, Brooks brought finesse, spice and charm to the life of a working mother while remaining a loyal and patient friend to her troupe of gal pals, despite the many life upsets and tests each of the women experienced.
Now Brooks is returning to the small screen and giving viewers a glimpse into a much darker character—perhaps the darkest fans have seen from the actor yet—when she appears in TNT's new limited series, I Am the Night, alongside Chris Pine and India Eisley.
Inspired by true events, the Patty Jenkins-directed series follows Fauna Hodel (Eisley), a young woman who was sold off at birth. As Fauna's curiosity surrounding her mysterious origin begin to mount, she sets off down a path of self-discovery that leads her to Jay Singletary (Pine), a washed-up investigative reporter still agonizing over the case that ruined his career. While examining Fauna's past, they'll make an interesting discovery that links her background to an infamous Los Angeles gynecologist suspected of partaking in some of Hollywood's most ominous moments and biggest unsolved mystery.
Brooks plays the role of Jimmy Lee, Fauna's violent, abusive and often drunk mother who struggles to raise her white daughter in an impoverished and predominately black neighborhood of Reno, Nevada. It's a role far different from the boisterous and sassy characters the actor has played before, but it's one Brooks tells Newsweek she was excited to dive into.
I Am the Night premieres on Monday at 9 p.m. ET. Read on for Newsweek's interview with Brooks below.
How did you get involved in the show?
I was going through the motions as an actress, going to so many auditions and this was just one of those auditions where I read the script and was like, "Oh my goodness. This is so intense, so dark." I'm still pinching myself that I was even able to read something that Patty Jenkins and her husband [Sam Sheridan] had their hands on. And I was just thinking, "God this is so different from Maya from Girlfriends." I started out doing drama in college in New York and doing off off off Broadway. So this was kinda like getting back to what was really comfortable for me. I did what I needed to do in terms of my emotional work, and I had maybe two or three auditions before I got that final word. I read for Patty and her husband and her producing partners. It was an intense audition. She kinda took me through a lot of different emotional spaces during the audition and filming process. She was very thorough. She's probably one of the best directors I've ever worked with.
What did you find most interesting about your character, Jimmy Lee?
It's a true story. From what I've been told—and even from the book [One Day She'll Darken: The Mysterious Beginning of Fauna Hodel, by Fauna Hodel and J.R. Briamonte]—Jimmy Lee is a lot more damage than what you see in the miniseries. She basically buys Fauna in a Las Vegas hotel bathroom in the 1950s. She's an alcoholic. She had dreams of being a jazz musician, a jazz vocalist. She never made it. All the things that never happened to her, all those dreams, all of those hopes just completely gone to now raising this little white girl as an African American in Reno, Nevada. I believe she really loved Fauna, I do, but I believe she resented Fauna's chance of a future. [Fauna] has possibilities and she represents everything Jimmy is not. Maybe because [Fauna] is white and she can go out into the world and do all of these things, she resents that. But she still wants her. This character just really resonated with me just in terms of race relations. I'm African American but my mother is very light, so there was always that esthetic disconnect. I used a lot of [my own experiences with colorism]—being 8 years old and looking at your mother like, "Wow, I don't look like her." Not that it angered me, but there was something there and as I grew up I worked on that. I tried to heal that part of myself. We all have parts of our upbringing we call dark times and I just pulled from that.
Do you think viewers will empathize with Jimmy Lee, despite the way she mistreats Fauna?
I tried very hard to not compromise the pain, and I tried very hard to show even through her dysfunction that there's a sadness in Jimmy Lee. You know that saying, "Hurt people hurt people?" I do believe you'll really see that Jimmy Lee honestly did the best she could. I think we all have someone in our family, if not in our homes, a distant relative that is a sad person. They did the best they could, but they just didn't have the tools to do better. That's who Jimmy Lee is. She is that woman that doesn't know any better, and this is the best she can do. I think viewers will have a sense of empathy for that.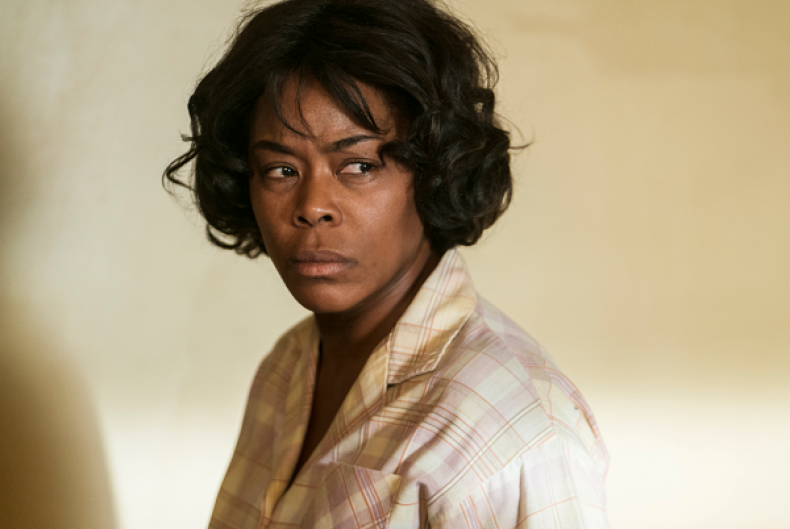 When you take on a role that is dark like this, how do you pull yourself out of that emotional place when the cameras aren't rolling? Is there anything that you do to help get back to Golden after portraying an embattled character like Jimmy Lee?
Yeah, if you just drink about two pints of tequila [laughs]. I'm kidding. I am method, but I'm not so method to the point where I don't know how to weave out of it. Being a mother in real life, it was hard coming home and still having a lot of that Jimmy Lee energy, the dark, the heavy. My daughter could see it. She would be like, "Mommy I'll be so glad when you're finished with this project." She knew it was a heavy emotion I carried with me [for the role], and I did what I could do to leave it on the set. But you have to kind of stay in that space to continue that emotional world. [Jimmy Lee] wasn't kind. She wasn't kind to Fauna.
How aware of the Black Dahlia and that era were you before taking the part?
I have always been a fan of that film noir era of Hollywood, especially by living here in LA. Going on the East Side of LA, there's so much of that era that's still so present. It's in the architecture we shot, Leimert Park [neighborhood where Elizabeth Short's body was found], in a home where an actual murder happened. The architecture and just being in LA really lent itself to this story, and visually, Patty and Sam [Sheridan] incorporated that style. I have always been a fan of that era, the esthetic and architecture. I knew bits and pieces about [Short's murder] through the architecture [that's still in LA] and the history of old Hollywood.
How was your experience working with India Eisley?
I love her. It's so funny because she was on this show called The Secret Life of an American Teenager, and my daughter loves that show. I would binge watch that show with my daughter, and subsequentially, I kept peeking into all of these characters and ask my daughter [in reference to India's character], "Who is that girl? She's really good!" As life would have it, she and I came together and worked together. She was such a joy. It was so hard throwing ice at her and manhandling her just because she's such a sweet, delicate, actress and so giving. She was such a joy to work with.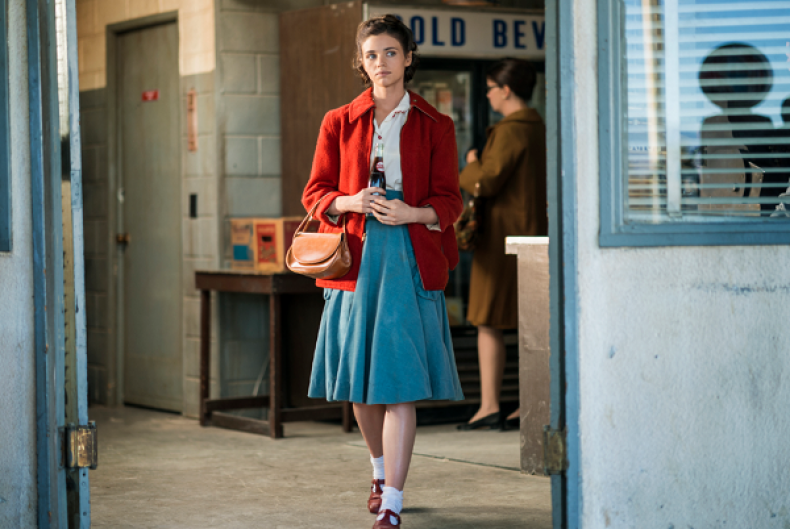 What about Patty Jenkins? I know it must have felt incredible working with such an acclaimed director and a woman director at that.
Patty Jenkins, the director of Wonder Woman, can you believe it? She's one of the most respected directors in Hollywood, and on top of that being a woman, which just adds so much to her pedigree. I would wake up every day and couldn't believe I was going to go work with her. I've been a fan of her since Monster. Patty has a gift—she's very drawn into things visually like most directors are, but then she knows how to strip that down and bring out the bare bones of who you are. That's what she did with all of the characters. Patty really broke down every scene and every moment. She's such an actor's director, and I love that. She and Chris Pine, the two of them together is liquid gold. He was another one that was so giving, such a great actor and I'm so blessed and fortunate to work with him. We didn't have a lot of scenes together, but the couple scenes we did have was just a dream come true. He's such a giving and focused actor. On episodic TV, you get a different director each week, and all the directors that Patty chose for the other episodes were just as amazing as her. Victoria Mahoney is a director that really stood out to me during this process, and she was amazing to work with.
Is there any particular moment your excited for viewers to see?
I don't know how they cut it and you never know what happens in post-production, but I do have a secret talent that will be showcased. I'm excited for people to see that side of me, depending on how they piece it together.