How to Watch the Golden Globes 2020 Nominations Announcement: Live Stream, Air Time, Presenters and More
The 77th annual Golden Globe Awards will soon kick off the 2020 awards season, but before the biggest stars in television and film flood Hollywood for the lavish ceremony, the Hollywood Foreign Press Association will reveal the top contenders.
The nominees are set to be announced live in Los Angeles on Monday at 8 a.m. EST. TV and film buffs can tune into the announcement ceremony via live stream on the Golden Globes' website and Facebook page. Entertainment Weekly will offer live-stream coverage of the announcement on its website.
Last year, actors Terry Crews, Leslie Mann, Christian Slater and Danai Gurira revealed the top nominations. This year, Hollywood darlings Dakota Fanning, Susan Kelechi Watson and Tim Allen were enlisted to deliver the nominations along with Hollywood Foreign Press Association President Lorenzo Soria and Barry Adelman, executive producer and executive VP of television at Dick Clark Productions. Pierce Brosnan's sons, Dylan and Paris, who were made 2020 Golden Globe ambassadors, will also be on hand to help announce the nominations.
Actors and crew members will be nominated in more than 20 categories in television and film, such as best performance by an actress in a motion picture, best performance by an actor in a motion picture, best supporting role, best television series and best original song.
Meanwhile, Tom Hanks—who's predicted to receive nominations for his role as Fred Rogers in A Beautiful Day in the Neighborhood—will be honored with the iconic Cecil B. DeMille Award, which recognizes actors for their dedication and achievement in film. The Carol Burnett Award, which celebrates work in television, will be awarded to Ellen DeGeneres.
Despite hosting a particularly entertaining show in 2019, Sandra Oh will not be back in that role in 2020. Instead, Ricky Gervais returns to host the January ceremony. He previously served as host in 2010, 2011, 2012 and 2016.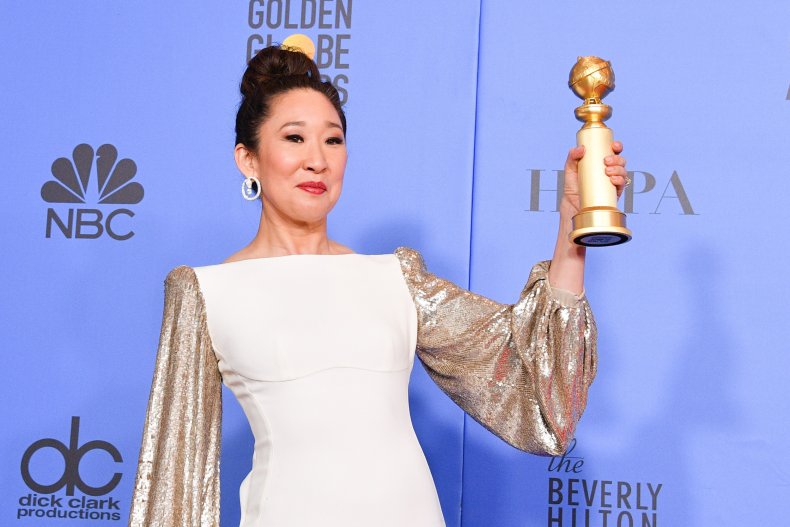 The actor and comedian said the upcoming awards would mark his final time hosting the three-hour show, although he previously said he wouldn't host again after the last time.
"Once again, they've made me an offer I can't refuse," he said in a statement. "But this is the very last time I'm doing this, which could make for a fun evening."
The Golden Globes Awards will air live on NBC on January 5 at 8 p.m. EST.