Golden Globes 2020: Who's Hosting and Presenting at the 77th Annual Awards Show?
Hollywood's awards season is finally underway starting with the 77th annual Golden Globes on Sunday.
The lavish ceremony, which will be held at the Beverly Hilton in Los Angeles, will celebrate some of the biggest movies and television series to grace the big and small screen over the last year. Netflix is the ring leader for Golden Globe nominations this year, with titles including Noah Baumbach's Marriage Story racking up six nominations and Martin Scorsese's The Irishman receiving five. Meanwhile, Netflix's highly-acclaimed series The Crown, based on the life and powerful rise of Queen Elizabeth II, scored four nominations.
Before the awards are handed out, the show will open with a grand presentation featuring Ricky Gervais, who—despite claiming 2016 was his last time presiding the awards show—is back to host again for the fifth time. Gervais hosted the Golden Globes in 2010, 2011 and 2012, before Tina Fey and Amy Poehler took over for three years.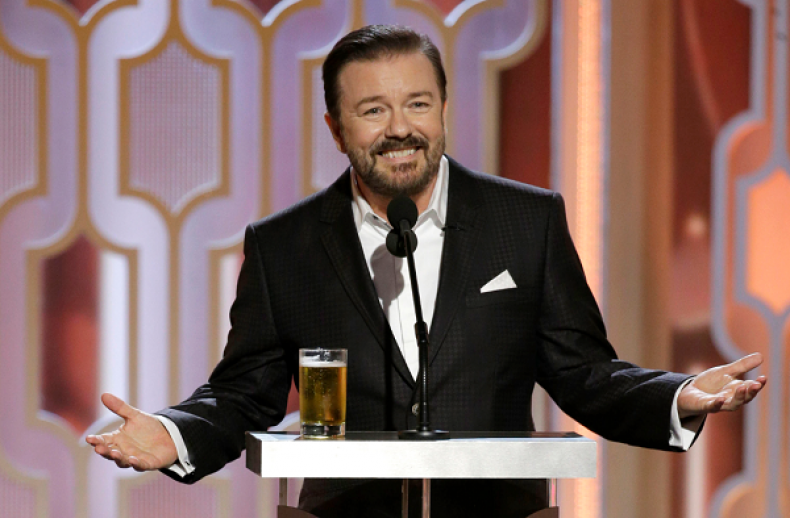 Gervais now claims 2020's show will be his final gig as Golden Globes host, and he's prepared to lead the night of incredible entertainment. The actor and comedian recently told The Hollywood Reporter that he begins to start writing his material for the show immediately.
"Before I decide to do it, I have to go, 'Have I got anything? What's happened? I write jokes and they're considered and I make sure they're bulletproof," Gervais said. "Nowadays, you've got to make sure they're bulletproof in 10 years' time, with people going through saying, 'He said this once, 10 years [ago].' Kevin Hart [lost] his job [as Oscars host] for 10-year-old tweets that he said he was sorry about and deleted at the time. So there's more pressure on making [the jokes bulletproof]. It's the world [watching]. This isn't me in a comedy club."
The pressure to keep the event afloat won't just fall on Gervais' shoulders. Dozens of Hollywood darlings are expected to hit the stage to hand out awards throughout the night, including Tim Allen; Antonio Banderas; Jason Bateman; Pierce Brosnan; Glenn Close; Ted Danson; Ansel Elgort; Chris Evans; Dakota Fanning; Will Ferrell; Lauren Graham; Tiffany Haddish; Salma Hayek; Nick Jonas; Harvey Keitel; Kate McKinnon; Amy Poehler; Octavia Spencer; Sofia Vergara; Kerry Washington; Naomi Watts; and Rachel Weisz.
Golden Globe nominees Ana De Armas, Cate Blanchett, Daniel Craig, Leonardo DiCaprio, Rami Malek, Margot Robbie, Charlize Theron and Reese Witherspoon are also expected to present awards.
The three-hour awards show will air live on NBC on Sunday beginning at 8 p.m. ET.