Here Are the Favorite Movies To Win at the 2020 Golden Globes, According to Betting Odds
Another awards season is about to begin again, with the 77th annual Golden Globes leading the way.
The 2020 Golden Globes will be televised live on NBC Sunday, January 5 at 8 p.m. ET. Ricky Gervais is scheduled to take his fifth turn as host, joined by an all-star list of presenters including Tiffany Haddish, Will Ferrell, Daniel Craig, Octavia Spencer, Charlize Theron and Kerry Washington. The ceremony will honor some of the greatest movies to grace screens in 2019, and the competition is stiff.
As speculation builds ahead of the big night, Newsweek has compiled a list of odds-on favorites to win at the Golden Globes across several categories, as predicted by popular sports betting sites My Bookie and Odds Checker.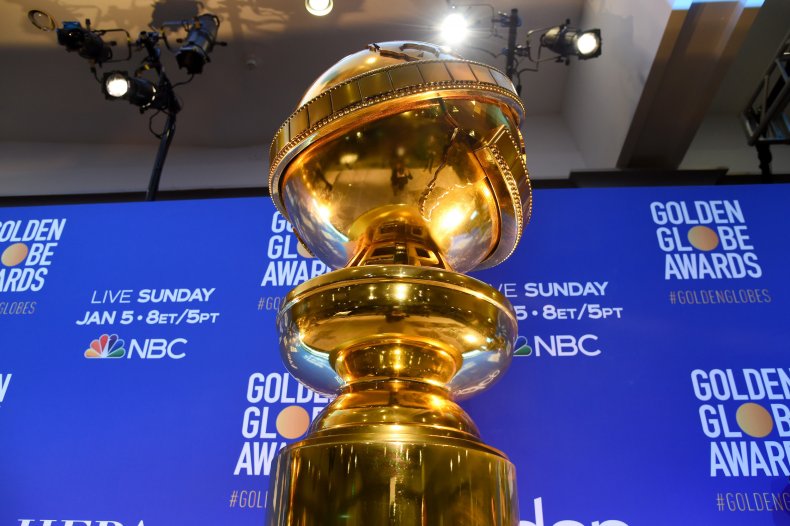 Best Motion Picture, Musical or Comedy
Once Upon a Time in Hollywood has the likelihood of taking home the award in this category, but if you're the type of betting person who enjoys high-risk, high-reward stakes, betting blogs will tell you to go with Rocketman. The Elton John biopic is the least likely nominee to win the Best Motion Picture (Musical or Comedy) category, according to most betting sites, although some people wouldn't bank on the film walking away empty handed just yet.
"Starring in a musical biopic is a good way to win Best Film Comedy/Musical Actor at the Golden Globes," according to entertainment site Gold Derby. "Jamie Foxx did it by playing Ray Charles in Ray (2004). Joaquin Phoenix did it the very next year as Johnny Cash in Walk the Line (2005). Now Taron Egerton could do it as Elton John in Rocketman."
The odds for other contenders, Jojo Rabbit, Knives Out and Dolemite Is My Name all fall in between Once Upon a Time in Hollywood and Rocketman, in that order.
Best Motion Picture, Drama
Of the five nominated films for best motion picture in the drama category, The Irishman is the odds-on favorite according to popular betting sites MyBookie and Odds Checker. Those sites have also placed Marriage Story as a reasonable second, with 1917, Joker and The Two Popes trailing behind.
"People have also come out for The Irishman (another Netflix release), claiming it's Martin Scorsese at his best," wrote betting news site Sports Betting Dime. "Many in the entertainment business wonder if this could be a long-overdue chance for Scorsese to sweep an awards season."
Despite the odds favoring The Irishman, Sports Betting Dime went for Marriage Story. "But you can't deny a film festival darling, and Marriage Story was exactly that. The Scarlett Johansson and Adam Driver-led film is a modern-day masterpiece and will win, deservedly so," the outlet declared.
Best Actor in a Motion Picture, Drama
According to Odds Checker, Joaquin Phoenix has the best chance of taking home a Golden Globe for Joker, followed by Adam Driver for Marriage Story, Antonio Banderas for Pain and Glory and Christian Bale for Ford v Ferrari in that order. Jonathan Pryce's nomination for The Two Popes was notably absent from the ranking.
Who will win? "Phoenix," USA Today writer Brian Truitt opined. Who should win? "Driver," he wrote.
"The late Heath Ledger's showy performance in The Dark Knight as the iconic comic-book villain took Globes gold 11 years ago, and it's likely to happen again with Phoenix's similarly excellent descent into madness," Truitt continued. "Between now and the Academy Awards, he'll tussle often with Driver, whose wider-ranging performance as an embattled dad going through a divorce is more subtle in its emotional power."
Best Actress in a Motion Picture, Drama
My Bookie named Renée Zellweger as the most likely winner among all of the Best Actress in a Motion Picture Drama nominees for her portrayal of Judy Garland in Judy. Scarlett Johansson (Marriage Story), Saoirse Ronan (Little Women)Charlize Theron (Bombshell) and Cynthia Erivo(Harriet) have also been nominated.
"One of the night's few mortal locks, Zellweger came on strong early this season with her passionate performance as Judy Garland and she has never given up her place as the best-actress front-runner," The New York Times speculated. "Though Johansson is the only nominee who's also fronting one of the best-drama contenders, this is Zellweger's to lose—and she won't."