Golden Globes Hosts 2019 And Everything You Need to Know About Awards Show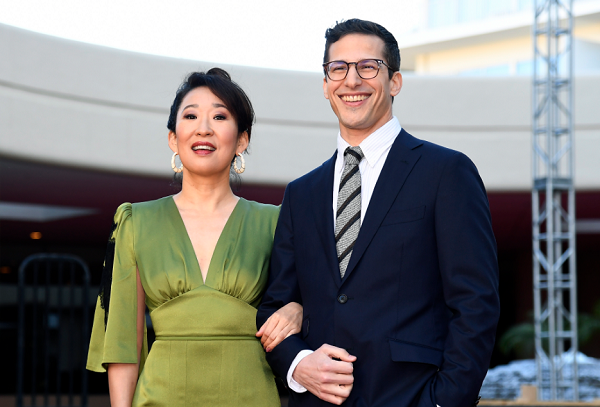 The 2019 Golden Globes are set to air on NBC on Sunday. For the first time ever, actors Andy Samberg and Sandra Oh will host the 76th annual awards show together.
While the lavish event will mark Oh's first time hosting an awards show, the Globes will be the fourth hosting gig for Brooklyn Nine-Nine star Samberg, who has previously hosted the Emmys, the Spirit Awards and the MTV Movie Awards. George Cheeks and Paul Telegy, NBC Entertainment co-chairmen, told The Hollywood Reporter the pairing was the networks efforts to bring the Tina Fey and Amy Poehler-esque pizazz back to the Globes. Fey and Poehler hosted the show in 2013, 2014 and 2015.
"We thought, 'What a coup it'd be to get them,'" Cheeks said in The Hollywood Reporter's cover story on Samberg and Oh, released online on Wednesday. "And then the stars aligned, and we feel like we've won the lottery."
Samberg and Oh will likely make for one entertaining duo as they announce presenters and performers in addition to handing out awards to the night's nominees—one of which could very well be Oh, who is nominated for her performance in the BBC hit series, Killing Eve.
Read on for everything else to know about the awards show below.
When Golden Globes will air: The 2019 awards show is set to air on NBC at 8 p.m. ET on Sunday. NBC's red carpet coverage will kick off the hour before at 7 p.m. while E!'s annual Live From the Red Carpet: The 2019 Gold Globe Awards pre-show with hosts Ryan Seacrest and Giuliana Rancic will air at 6 p.m. ET.
Who are the nominees: With 24 categories, including 16 motion picture and 11 television slots, there are dozens of Hollywood darlings contending for gold at the Golden Globes this year. While Bradley Cooper's A Star is Born is considered one of the top contenders of the night with five nominations, there are a number of shows and movies in the running to win awards, including Black Panther, Crazy Rich Asians and BlaKkKlansman in film categories and Sharp Objects, The Good Place and Pose in TV categories. See full list of nominees HERE.
Who will present: The Beverly Hilton Hotel, where the ceremony is scheduled to be held, will be flooded with celebrities on Sunday, some of whom will accept awards, others who will hand them out. Along with Sam Rockwell and Jessica Chastain, actors including Richard Gere, Nicole Kidman, Steve Carell, Sterling K. Brown, Halle Berry, Jamie Lee Curtis, Lupia Ny'Ongo, Chrissy Metz, Dick Van Dyke, Kristen Bell, Saoirse Ronan, Jim Parsons, Octavia Spencer, Allison Janney, Felicity Huffman, Taraji P. Henson and Idris Elba are just some of the few who are expected to present during the awards show.
Can the show be live streamed: Folks without access to TV can still get in on all the Golden Globes fun. NBC will live stream the show on the network's website and app as well as the NBC Facebook page. The Globes will also be available for streaming on Hulu Live TV, DirectTV Now and YouTube TV for those with proper subscriptions.